Media houses and groups can multiply their revenue by increasing engagement on their digital platforms through daily fantasy sports software. Read how.
If you are a news media company, you know the challenges of keeping engagement and traffic constantly on your digital platforms. Much of the revenue of your digital platforms comes from display ads, affiliate advertising, influencer marketing and such ways. The more the traffic and engagement on your website, the more the revenue.
But since the whole media industry has now gone digital, you are forced to share digital traffic and engagement with other media houses. So how do you ensure increasing engagement continually and smoothly?
An active readership on media digital platforms is arguably of sports lovers. This is a demographic that's always hungry for more. When you find a way to constantly charm sports lovers, you have landed on a solution. Here's how.
How fantasy sports convert your sports lovers?
Fantasy sports have been a modern age growth accelerator for media groups. While the male demographic has been the most sport-friendly, women are increasingly becoming a huge audience of sports too. Daily fantasy sports software enhance this enjoyment by allowing active participation of fans. Among all fantasy players, 66% are males where with 34% females. And this is a growing base.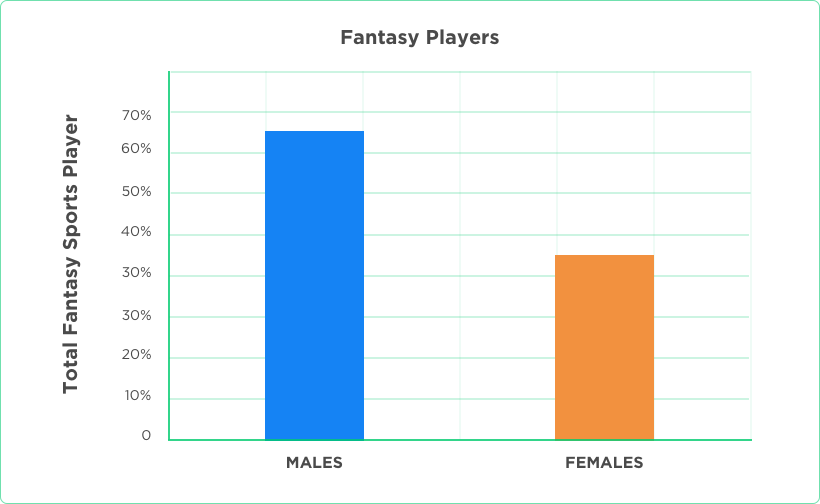 How daily fantasy sports software can help upscale media houses?
//More fantasy sport followers
As we said before, fantasy sport players are part of a growing demographic. Every new fantasy sports player starts following it closely and recommends it to family, relatives, friends and co-workers. This results in a visible increase in unique traffic. Daily fantasy sports software offers great fun, by allowing people, to become team owners/managers and enjoy real games more closely with their favorite players. Some facts -
/ESPN, for all of calendar year 2016, reached an average of 112.1 million unique fans globally each month, up 5 percent over 2015.
/51.8 percent fantasy sports players were in a league with a coworker which means that any person starting to play fantasy sports would convince almost half of their co-workers to involve in fantasy sports.
//Committed at first sight!
Once someone starts participating in fantasy sports, they look forward to involving more and more since they want to win and display their fandom for their favorite players. People take up more and more games, involve in various activities like choosing teams and predicting game events. And to ensure that they are winning the games, they start following the actual sports more. Whether it is watching live telecasts, or catching the highlights, or getting match summary before and after matches or checking news and updates related to our favorite players, players do it all. Studies have shown that fantasy players watch at least two more hours of sports than those who don't play fantasy sports. Daily fantasy players consume 40% more sports content (shows, news, stats, analysis, updates, forums, discussions etc.) after becoming players.
Table: Activities of fantasy sport players. 40% of these account for media groups.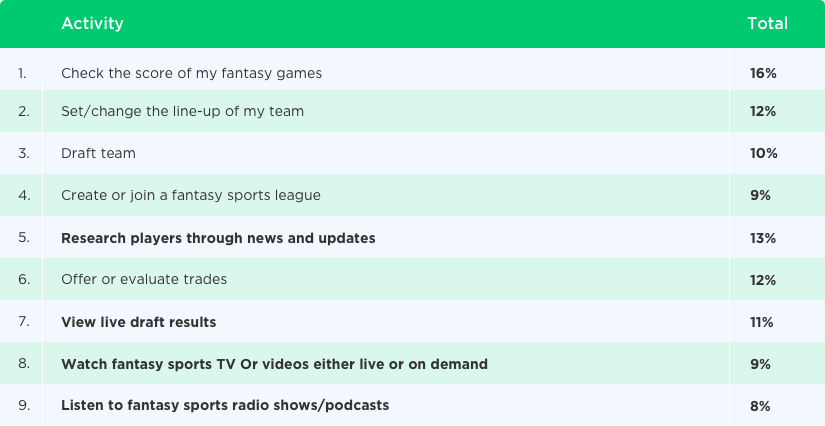 //Fantasy sports players are media consumers
People love to follow sports by watching live telecasts, cheering for favorite players and teams, reading news related to them. Daily fantasy sports software are a fantastic way of entertainment. An ESPN integrated media research arm official shared recently that fantasy sports players are among the heaviest users of media across platforms and a critical group for understanding media usage among consumers of information through television, radio, print, the internet and mobile devices.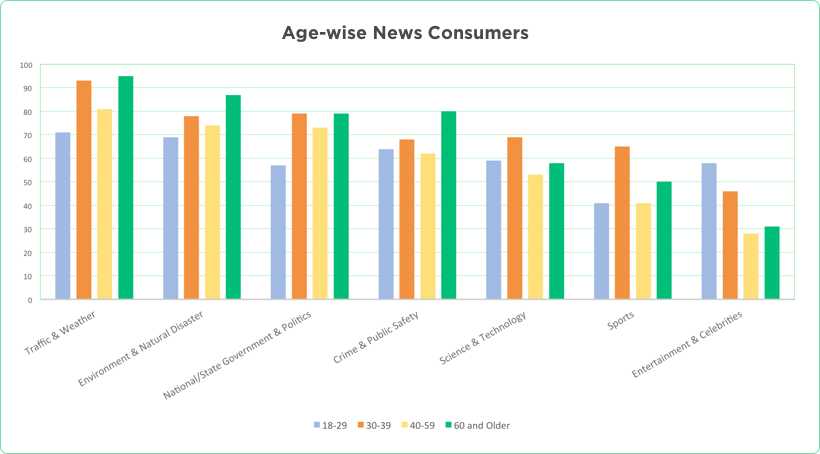 Players are more interested in sports because of fantasy -
/64% say they are watching more live sports because of fantasy
/61% say they read more about sports because of fantasy
//More fantasy = more engagement + more revenue
Compared to usual fans, fantasy sports players attend more games and watch more televised sports thus engagement through sport telecasts, stats and analysis discussion, sports highlight has shown increase in revenue of these media houses. Thus, the engagement and session time on website nurtures organically without paid marketing. This helps media groups to rank better on search engine page results (SERPs) thus driving more traffic to the site and gaining the popularity over the competitors. Since all these are self-driven activities and none are gained by paid means, the position on SERPs is maintained well enough for long durations. The fluctuations in the position are negligible and don't affect much even if the site is a few ranks down.
Media groups can sell premium fantasy packages to fantasy sport participants since, fantasy sport is a key financial resource. By offering free leagues, media groups can draw more traffic and more advertising revenue to their websites. By organizing a fantasy football contest on the sites, the media house gets 7% to 15% rake rate on every contest that is completed.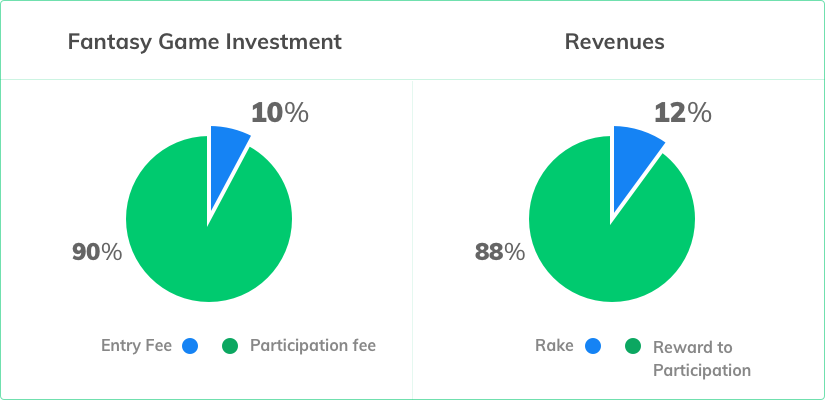 Over time the average spending on daily fantasy sports software has changed rapidly.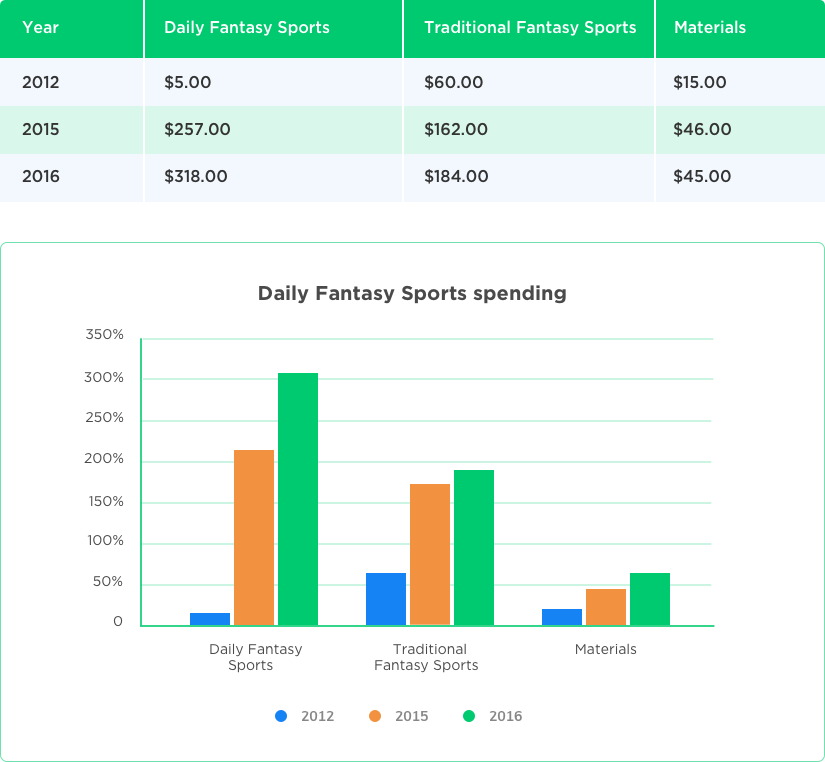 With increase in average spending per player in daily fantasy sports software, the media groups which offer daily fantasy sports software have also made huge revenues.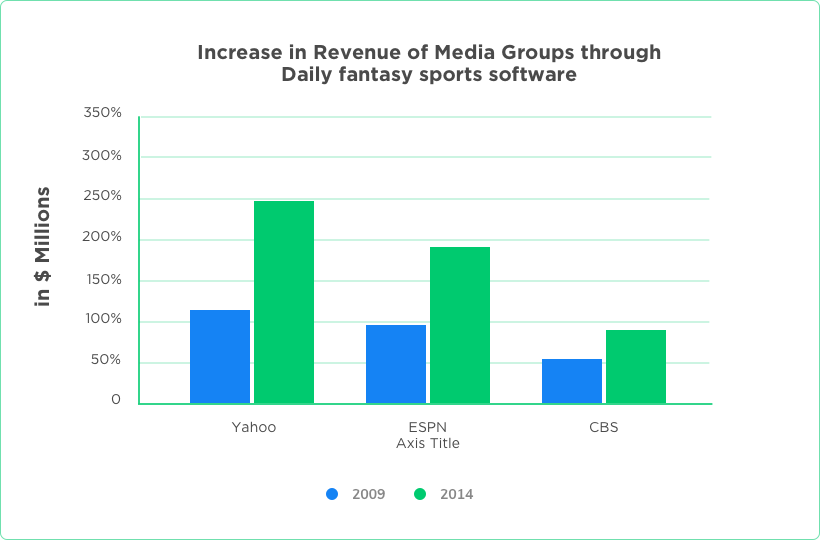 Media houses and groups can make so much by investing in a great daily fantasy sports software towards better reader engagement. We have built daily fantasy sports software for leading digital platforms and we can help you too. Give us a call.