Fantasy sports app development is in high-demand in the United Kingdom. Let's deep dive and understand the popularity, dominating factors of the growth, market potential, legalities and business operations.
Fantasy Sports was already a huge deal in the US even before the new phenomenon made its entry into the UK market. Considering how popular fantasy football was and the unbridled fan-fare football enjoyed in the country, it was only about time until fantasy sports made its stunning debut in the still untested but wildly potential UK market. To understand why the UK market is so important to the growth of the fantasy sports sector, we must take a trip down memory lane and understand the brief but informative history of fantasy sports in the UK.
The History of Fantasy Sports in the UK
People in the UK like the rest of Europe grew up with newspaper versions of fantasy sports, in which fans mailed in their team of the week and the newspaper published where the fans finished in the rankings. Today, that model is available online in a number of European nations. Fantasy Sports platforms in the UK only had to follow the blueprints already laid out for them by American staples like FanDuel and DraftKings. As such, the sector started growing immensely in the early 2000s. Many UK and European operators began rolling out fantasy football platforms heavily influenced by the official Fantasy Premier League, albeit with the addition of monetized gameplay and prizes similar to their American counterparts.
The newly launched online and season-long Fantasy Premier League garnered positive attention from sports fans and football enthusiasts alike. This popularity helped encourage new operators to enter and partake in the spoils produced by the fantasy sports sector. They jumped into the market by incorporating FPL elements that many UK audiences were already familiar with. In time, contest duration became shorter as new companies emerged that were more audacious in cash prize offerings. Fast forward to the year 2021, the UK fantasy sports market currently enjoys a player base in the range of 8-12 million users.
Suffice to say, fantasy sports are extremely popular in the UK, proving to be a lucrative endeavor for aspiring entrepreneurs in the country. However, you need a well-devised strategy in place to make sure you launch a fantasy sports platform that has the potential to attract a strong and loyal player base. In this article, we will leave you with a few tips, legal facts, and valuable insights pertaining to the fantasy sports sector in the UK. We hope this information will help you better understand the UK OFSP market so you can exploit it for prestige and monetary benefits.
The Untapped Potential for Fantasy Sports in the UK
As we've mentioned before, there is a substantial player base for fantasy sports in the UK. However, the platforms open to them for play are pretty slim. You still have your familiar apps like DraftKing and FanTeam, both of which are still going strong. There are also some new platforms that are quickly gaining momentum on both web and mobile platforms. However, there is still a massive drought in the country with regards to options players have to satisfy their itch for fantasy sports gaming.
The limited and strong lack of competition is precisely why this is such a good time to start a Fantasy sports app of your own in the country. Aspiring entrepreneurs can benefit immensely by creating competition in a market that is severely lacking in it. New fantasy sports platforms have the potential of modifying the entire ecosystem surrounding this sector in the UK, thus delivering a better experience for OFSP players.
The Legal Situation of Fantasy Sports Sector in the UK
Unlike the US and many other countries across the globe, the legal situation facing OFSP in the UK is extremely clear and stable. This clarity means that the UK harbors laws that are more relaxed, comprehensive, and favor the interests of fantasy sports operators. The legal structure is relatively easier to navigate compared to other countries like the United States of America.
Under UK law, fantasy sports operations are covered under the Gambling Act of 2005's jurisdiction. The Gambling Commission acts as the regulator and fantasy sports betting is considered pool betting. As such, Fantasy Sports operators are required to get a gambling software license as well as a pool betting operating license. Without these licenses, the fantasy sports operators cannot launch their web and mobile platforms or advertise them to the UK public. It is imperative for fantasy sports operators to comply with the regulations, provisions of Licensing conditions, code of practice, and pay gaming duty mentioned in the Gambling Act of 2005.
Popular platforms like DraftKing and FanTeam possess a valid UK Gambling Commission License. With the pool betting license and gambling software license taken care of, fantasy sports operators can expect smooth uninterrupted operation in the UK.
Legal Procedures in different parts of the Europe
Given the structure of the European Union, one might think that you could go and get a gaming licence that would allow a corporation to do business across the EU, but gaming licences are a matter of domestic law, and we must adopt a country-by-country approach. Italy, Spain, France, and Germany, to name a few, are highly controlled. In Italy, for example, rather than obtaining your own costly and time-consuming gaming licence, you can collaborate with a company that already had one. Your partners will be in charge of some business processes and will be able to operate outside of Italy.
You can run a fantasy sports site for money in Brazil as long as you are not based there. The main issue in Brazil right now is that the market is not as developed in terms of people using the Internet in general, and credit card penetration is also significantly lower. However, because Brazil is such a large soccer country, it is unquestionably a high-priority market.
Popular Sports to Incorporate to Successfully Penetrate the UK OFPS market
It is imperative for OFSP's to understand and offer contests in sports that are popular with their target audience. You cannot possibly hope to succeed in the UK by incorporating sports that the general UK audience feels no affinity towards. Here is a small list of sports that enjoy massive fanfare in the country, the inclusion of which can be crucial in creating a successful fantasy sports platform.
1 – Football
Football is arguably a national sport in the UK. The country is home to over 7000 clubs that compete with each other almost every week. In fact, the professional leagues in the country are worth £22 million. The famous English Premier League is viewed around the world in 188 out of 193 countries. Football is not only a popular attraction for fantasy sports in the UK but also a major draw in other prominent OFSP markets like the US, India, and other European countries.
2 – Cricket
Cricket also enjoys a loyal fan base in the UK, right after Football. It is estimated that almost 65% of UK residents have watched some form of cricket in their lifetime. The national cricket team has also enjoyed much success in recent years, with England being crowned the most recent world cup champions with their win over New Zealand in 2019.
Although those playing the game have reduced significantly, Cricket still remains popular in the country with the introduction of shorter games like Twenty20.
3 – Other Sports
The Rugby Union in the UK enjoys a lot of prestige, with the country's national team garnering the most attention. It enjoys substantial fan adoration, thanks to its consistent participation in the Super League that spans Europe. Tennis is another sport that the UK audience enjoys, with the national team's recent win at the Davis Cup along with constant presence at Wimbledon and Grand Slam tournaments solidifying its place in the heart of many Tennis lovers across the country.
Things to Consider When Starting a Fantasy Sports Business in the UK
To enjoy a hassle-free experience in your journey in the OFSP sector, you must pay heed to certain crucial aspects of the business. Doing so will put you on the right path towards unstoppable growth and tempting profits.
So here are a few tips to guide you in your efforts of building a successful fantasy sports business in the UK:
1 – Have a Clear Objective
This goes without saying; you must have clearly established plans and goals in place when undertaking the behemoth task of starting a fantasy sports business. Startups should focus on goals that pertain to steady revenue generation. These businesses must try every trick in the book to entice users into paying for their services. For instance, offering promotional bonuses can be a neat trick for startups to create a stable stream of revenue for themselves.
Established Fantasy Sports Platforms must emphasize enhancing their brand image and implementing innovative and trendy strategies into their existing business model. The targeted goals and plans must help add extra value to the business's already established system or improve it considerably, thus aiding in retaining new customers and attracting new ones.
2 – Analyze the Target Demographic
You must analyze your Target Demographic to understand the interests of your targeted locations more clearly. This clarity will help you devise effective plans that click with your prospective customer or client base. Understand the fantasy sports fundamentals that the UK audience shows particular affinity towards, for example, what game types or draft types they prefer. These preferences will vary according to the location you're targeting. So it is imperative to indulge in thorough research and understand the interests specific to the audiences you are targeting.
3 – Analyze the Targeted Age Group
The fantasy sports sector caters to audiences of varying age groups around the world. So it is in your best interest to analyze the preferences of age groups that you are trying to target. Understand what age group is most likely to get engaged with the content you are offering. For example, it is advisable to target a younger UK audience falling in the age group of 18-35 or 40 to witness substantial footfall. Conduct proper surveys on the different age groups existing in your targeted location, understand their interests and identify their expectations to offer a satisfying user experience on the platform. With clear insights on demography and age groups, you can create a platform tailored towards the specific needs of the targeted user base.
4 – What Sports do Your Plan to Offer
This is of course an extremely important part of building a fantasy sports platform. What sports are you planning to offer to your customers? As Football, Cricket and Rugby are extremely popular in the UK, you must incorporate these sports into your platform. You cannot possibly hope to succeed if the app you've launched does not offer fantasy football or cricket. You can start by offering one or two sports contests to your customers. However, it is advisable to make room for multiple sports types to cover more territory in the fantasy sports market. You must also concentrate on the leagues in which the users can participate. This will define the scope of your fantasy sports company. You can also go for
5 – Remain Updated on Current Trends
A businessman cannot afford to remain oblivious to the trends transpiring around his business. The consequences of such ignorance can be disastrous. So track the recent developments happening in the OFSP sector. The information can be later harnessed to optimize your own services to better satisfy your customers. Remain up-to-date on current market demands, innovations, trending features, and promotional offers to stay one step ahead of your competitors in the market.
6 – Develop Proper Marketing Strategies
No business can hope to gain new customers or maintain a stable position in the market without a competent marketing strategy. So make sure to devise intuitive strategies to promote your fantasy sports platform and make its presence felt in the UK market. Optimize all the crucial elements related to SEO to rank higher on popular search engines like Google and SEO. Harness the power of Social Media to increase customer engagement and start a conversation about your fantasy sports platform.
7 – Find a Trusted Data Feed provider
Data Feeds act as fundamental factors in enhancing the value of fantasy sports platforms. Hence, it is imperative to find a data feed provider you can trust to offer you the best and most reliable data feeds for your fantasy sports software. There are many data feed providers in the market but not all of them are worth the money. So make sure you research thoroughly before opting for a data feed provider best suited for your particular fantasy sports business.
Major requisite features - Multiple sports and game types, multiple draft types, data feeds, player cards, live field view, leaderboards, multiple payment gateways, rewards and notifications are some essential features that must be included in the user app.

Live Streaming of Video – The live streaming feature is an excellent method to monetize your platform. The feature can be accessible to the premium members of your app through which users can watch the match live and receive the updates in real-time. You may also provide match highlights by presenting short movies to boost engagement which can also be gamified to increase interactivity.
Gamification – Integrate gamification tactics to elevate user engagement and boost ROI. You can offer a versatile set of contests – from prediction, quizzes, tournaments, multi-games and incentivize them with rewards. You can use points or coins as rewards to appreciate your users' efforts. Also, set rules to unlock the goodies. This will motivate social behaviour and create conversations around your brand. Your users can also form teams & compete on the Leaderboard.
Features of the Admin panel - It is not a simple undertaking to maintain a fantasy sports site. A strong backend will enable you to process difficult administration tasks quickly and effectively.

9 - Understanding the Fantasy Sports App's Revenue Model
Advertisements - One of the most profitable business strategies for fantasy sports apps is mobile advertising. Advertising generates a large portion of the revenue for CBS, Yahoo, and Disney. They are a simple approach to begin making money. You show advertising within the app, and ad networks pay you. The amount is determined on the app's genre and the type of ad unit.
Merchandise - Selling items is another way to make money. Official club gear is extremely popular among sports fans. Custom t-shirts with photos of notable athletes can also be sold for a fee.
Freemium - In this approach, users can download the app for free, but they will only get full access to enhanced capabilities after making a purchase. You can take this approach by only providing additional features, ad-free gameplay, and so on to premium consumers.
Fees for Participation - You can make money by charging the user a participation charge. Two popular fantasy sports applications, organise contests and charge a fee for participation. These cash-prize competitions generate the majority of their earnings.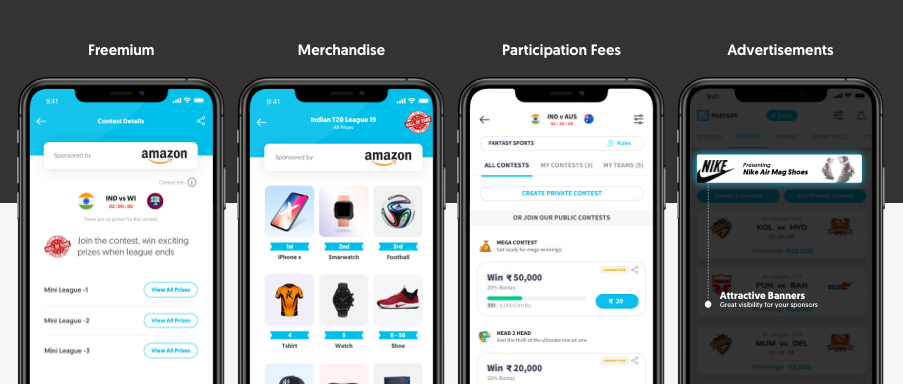 10 - Find the Best Fantasy Sports Software Developing Partners
Ultimately, your struggles to create a fantasy sports platform will boil down to the software developers company you hire. Finding a software developing company with the most appropriate resources, experience and goodwill is a must to develop a high-end fantasy sports platform that shows immense potential. The development partner you ally with must harbor a team of technically-skilled professionals that are capable of building an innovative fantasy sports software on the basis of your specific requirements.
In hindsight, creating an advanced fantasy sports platform is not difficult, especially if you have the research and reliable developing partners to back your project. So if you are looking forward to testing the exciting untapped potential of the UK fantasy sports sector, then it will be to your advantage to ally with us at Vinfotech.
With years of experience in the industry and a plethora of happy international clients under our belt, we possess the skilled professionals, resources, and knowledge required to help you develop a robust fantasy sports platform that is guaranteed to witness incessant footfalls as soon as it is launched to the UK audience.