White label fantasy sports development software are feature-rich, robust and revenue-driven fantasy gaming solutions to help you launch your Fantasy Sports business without any hassle.
It is an undeniable fact that the Fantasy Sports market is booming, even though the ongoing pandemic has severely hit the profit margins of many other businesses around the world. With popular sporting events being unceremoniously canceled and stadiums shutting down, sports fans resorted to OFSP platforms like Dream11 and FanDuel to satisfy their thirst for some quality sports entertainment.
Needless to say, the OFSP sector has propelled into unparalleled success, the likes of which we haven't seen before. What was Rs. ~920 crore (US$ 131.64 million) industry in FY19 is estimated to balloon by US$ 3.7 billion by 2024—~3X YoY increase, according to a recent report 'Business of Fantasy Sports' published by the Federation of Indian Fantasy Sports (FIFS) and KPMG. In the last decade, the number of fantasy sports operators has increased by 700%, while the number of fantasy sports consumers has increased by 2,500%. As such, if there was a time to get into the business of fantasy sports applications, this is it. Many aspiring individuals and business entities have already jumped into this domain, hoping to make a killing in this lucrative industry.

Over the past five years, investors have poured $112 million into India's sports fantasy platforms. Tencent, a Chinese global investment holding company, led a $100 million Series D funding round for Dream 11 in 2018. As a result, the value of investments in 2018 has skyrocketed.

However, starting a fantasy sports business isn't child's play. It demands focus, proper planning, marketing, and competent execution of laid-out strategies. All of which makes the process extremely time-consuming… unless you decide to take an alternative route and employ the White Label Fantasy Sports software instead to develop a custom gaming application for your business.
The concept of 'White Label Fantasy Sports Software' may seem alien to most as it is seldom part of our main conversations when focusing on OFSP's. If you are one of the many unlucky individuals, unaware of White Label Fantasy Sports software development, then this guide is for you. This article will enlighten you on what white label fantasy sports software actually is, its features, benefits, and other essential facts pertaining to the same.
What is White Label Fantasy Sports Software?
A White Label Fantasy Sports Software is basically a ready-made solution that already incorporates all the fundamental features and functions one expects from a traditional fantasy sports application. This software appeals to those who want to create a fantasy sports platform of their own in an instant.
The term 'white label' pertains to a product that is created by one company and sold to another - who can later exercise agency on it with their own trademark and brand name. To put it succinctly, the company that bought this software possesses the right to promote it as their own while the developing company chooses to remain anonymous.
A white label software comes ready with all the fundamental aspects of app development preemptively taken care of. So there is no need for testing or designing, you can simply deploy the application in your own name as soon as you buy it from the developer. Popular sports found in a fantasy sports platform like Cricket, Football, Rugby, and more are already available in the app. No time is wasted in the development and deployment of the software, which is precisely why White Label Fantasy Sports Software is experiencing such high demand today among aspiring business entities. A recent fantasy sports survey concluded that:

Why Startups and Entrepreneurs Must Turn to White Label Fantasy Sports Solutions for App Development?
The appeal of White Label Software should be clear to you by now. They position themselves as incredibly beneficial alternatives to developing a fantasy sports platform for entrepreneurs, especially small start-ups who are often short on funds and at a severe disadvantage when it comes to the time invested in developing, launching, and marketing such applications. White label fantasy sports platforms allow them to cut through the arduous development process, thus diverting their focus towards the more administrative aspects of running a business.
Here are a few ways in which white label software can help entrepreneurs.
1 – Create a Distinct Brand Identity
When you buy ready-made fantasy sports software from a developer, you gain the right to label it with your own trademark and brand name. You can promote this product to potential users and future clients under your own brand name. As such, you are garnering prestige for your brand, developing brand image, and enhancing the visibility of your business in the competitive market of fantasy sports.
2 – Saving Time and Money
This is perhaps the primary reason behind entrepreneurs preferring a white label fantasy sports software in the first place. Developing software from scratch can be extremely challenging. Many first-time entrepreneurs are simply not up for the challenge. A lot of skill, time, and resources have to be invested to come with robust software that one can be proud of. However, by taking the white label development route, you can simply bypass all the steps essential to develop and create a fantasy sports platform within a week.
3 – Fast Testing
White label software is tested beforehand. So entrepreneurs can save oodles of time and money that is otherwise spent enormously on software testing. By bypassing the testing process, entrepreneurs also stay immune to the risks that usually come with the testing process.
4 – Increasing Profits
Resorting to white label fantasy sports software is a sure-fire way of saving money and increasing your business's ROI. With the development and testing process being shouldered by a third-party developer, a small or large enterprise can focus on enhancing its sales and marketing efforts. As white label software comes with ready-made elements like league entry fees and in-app purchases, businesses can hope to start generating revenue as soon as the app is launched.
5 - Market Fit Product
White label solutions are born from the world of design thinking and are geared at increasing user engagement. The software is created following a thorough examination of the needs of the end-users, market trends and business constraints. White label software companies are industry experts who bring together business, customer, and technology perspectives to create innovative solutions that ensure that the product acquires, retains, and engages customers.

Understanding the Functioning of White Label Fantasy Sports Software
It isn't difficult to comprehend how exactly a white label fantasy sports system works as it essentially shares its DNA with most reputed fantasy sports apps and websites. As we've mentioned before, such software comes with all essential OFSP features already incorporated within its system. You will also find useful plug-ins and other functionalities that solely exist to enhance user experience. The sign-up and registration process is also similar to most platforms being used today.
Users can either register using their social media accounts or email ids. Users can be enticed to convince their friends to join the app with the help of referral codes, which reward them with points for every sign-up happening on the app because of their influence.
A white label fantasy sports software will also contain an e-wallet that users can fill with an amount to participate in the various contests and leagues offered in the application. A good white label software will offer a diverse range of sports tournaments. Users can participate in these tournaments by paying an entry fee. The users can then proceed to create their virtual teams by selecting the avatars of real players. The user will be free to make any changes to his/her team before the tournament begins.
The users are also provided with an intuitive dashboard that provides them with reports on team performance. These reports can be analyzed to gauge performance, track the points they've earned so far and how their competitors are performing. The dashboard will also provide them with information on how much they've earned with respect to cash prizes.
Features You Can Enable in a White Label Fantasy Sports Software
Here is a list of fundamental features a white label fantasy sports software will possess.
1 – Support for sports and non-sports
White label softwares can be integrated with any popular sport like football, cricket, basketball and other non- sports events like political elections, stock markets, reality TV's and more.
2 - Internationalisation
One platform for all geographies. With white label fantasy sports softwares that support internationalisation, you can manage any currency and operate your business in different time zones.
3 - Modern UI with Multi-platform availability
White label products are developed with iterative cycles of improvements that continuously goes on even after the launch. The aesthetically modern UI, facilitates frictionless gaming experience over various platforms like desktop website, mobile website or native mobile application ensuring high availability.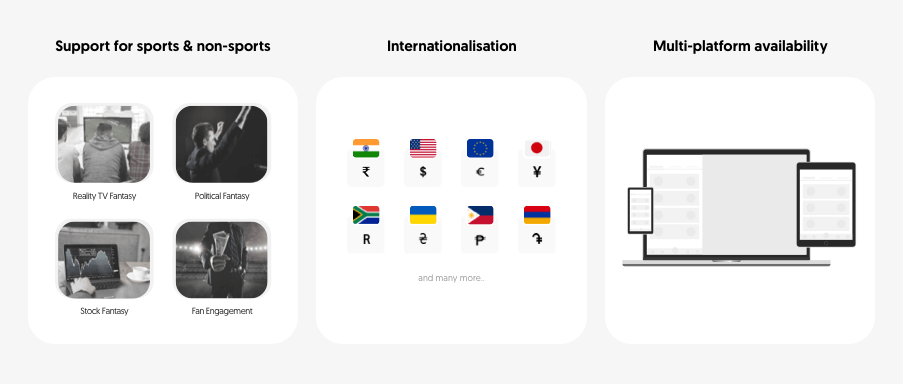 4 – Leaderboard
Users can stay updated on their score as well as the score of their competitors in a tournament with the help of comprehensively set-up leaderboards.
5 – Achievement badges
Users with high performance in tournaments are rewarded with achievement badges which can be employed as a tactic to keep users engaged with your app.
6 – Referral bonuses
Referral Bonuses act as a great marketing tactic to retain existing users while attracting new ones to your platform with tempting referral bonus points.
7- Virtual Currency: Coins
When users win, they are ecstatic. Coins are more than just a virtual gaming currency; they are also the motivators that drive user behaviour. Users can earn coins by participating in various gaming activities such as daily sign-ins, referring a friend, and can bet and participate in contests. Coins can also be swapped for real cash, bonus cash, and gift coupons.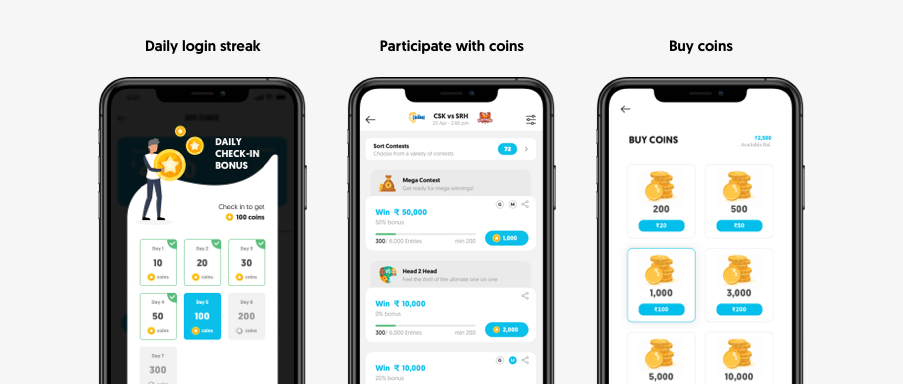 8 – Admin Dashboard
Advanced admin dashboards help you speed up your workflow. Every touchpoint & user interaction like signups, deposits, site rake, app usage, are all represented by intuitive graphs & data points to help you gain insights, understand trends, & track the KPIs of your business. These are highly customizable to meet all your business requirements.
9 - User Management
A good white label software will provide admins with the means to conveniently manage multiple users and tournaments on the platform.
10 – Multiple Payment Gateway
Great white-label software will have multiple payment gateway systems enabled to make it easier for users to engage in transactions and withdrawals on the app.
Other imperative features such as the following are also present in white label fantasy sports applications.
- Integrated data fees
- Multilingual support
- User Profile
- Real - time analytics
- League management
- GPS tracking
- Content management system
- Live news feed
- Push notifications
Seeking help from Vinfotech for White Label Fantasy Sports Software
As you can intelligently summarize for yourself, the fantasy sports market is booming and holds immense potential for those willing to try their luck in this sector. There is an exponential demand for white label fantasy sports platforms today as the number of users increases with each passing day. You too can start a successful fantasy sports app business if allied with a reputable white label fantasy sports development partner. Fortunately, you don't have to look any further than the highly revered 'Vinfotech' to meet your demands.
Vinfotech can help you with a white label fantasy sports software that helps your gaming app garner a massive user base in no time. The app we develop for you comes with high-end security features, innovative player modules, and a user-friendly interface that allows you to easily penetrate the fantasy sports market.
Furthermore, our software is compatible with all major iOS, Android, and web devices. It also supports all major types of sports such as Cricket, Football, Basketball, and much more. So if you are interested in entering the fantasy sports market with a spectacular fantasy sports app then get in touch with us today.