The simple concept of creating your perfect virtual team and competing against others has grasped the attention of millions of users. Every year, a lot of people indulge in playing some form of fantasy sports which is nothing but just a fun way to interact with your favorite games in a social setting with friends, family members, or even strangers.
Before fantasy sports, fans only had one or two games that would catch their interest from week to week, but the advent of fantasy sports has now given fans incentive to watch most or all games. The sector is booming, but do you know which fantasy sports are the most popular among fans today? Don't worry if you don't, as that's what we're here to look at today. Read on to find out more about the different kinds of Fantasy Sports that are keeping fans at the edge of their seats.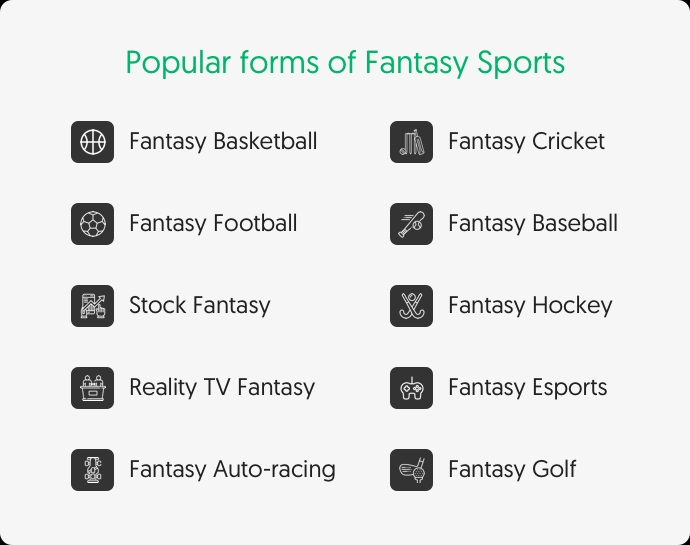 From a simple recreational activity into a significant business, Fantasy football has tremendously evolved in recent years and has changed the way fans watch and enjoy football today. In Fantasy football, participants assemble an imaginary team of real-life football players and score points based on those players' actual statistical performance or their perceived contribution on the field of play.
The estimated number of fantasy sports players in the United States alone was 45.9 million in the past year. Out of all these players, surprisingly or not, 78% of fantasy participants play fantasy football. That means that fantasy football is by far the most popular of all fantasy sports games in the USA. That is not the case across the world, and there is a great variance that tends to follow the pattern of the most-watched sports in each country. In India, it's fantasy cricket. In the United Kingdom, it's fantasy soccer.
Vinfotech, a world leader in Fantasy football software development, has created fantasy football platforms for noted brands. Some of these brands are Arabian Gulf League, PayTm, Excel Group, etc.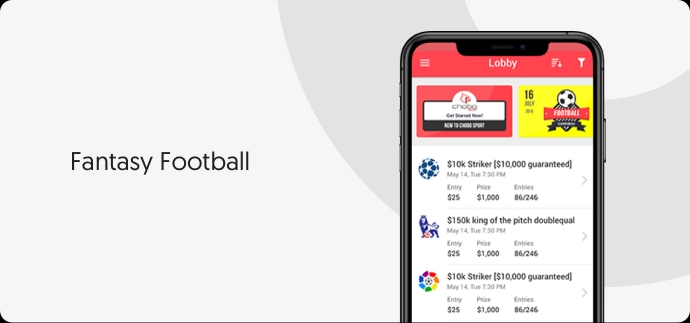 NFL Fantasy Football
Because it's sponsored directly by the NFL itself, this app draws the latest news and player stats directly from the source. You'll even get news and videos of the greatest hits related to your players each week. Users can join existing leagues or start their own and invite friends.
The NFL fantasy football app has two more features that got widespread acceptance from its users. They are— Podcasts and fantasy survivor features. Podcasts are a regular commentary on live matches by the experts who provide in-depth analysis of the game, techniques, and more that can help you improve your moves in the next match. And the fantasy survivor feature lets you decide your picks for every game.
Be it the NFL Fantasy football app, Yahoo, Rotowire, or any other, they all have leaderboards, information panel, official rules tab— certain common elements that help any newbie join the games without much difficulty.
From being the only live fantasy game where the outcome of each shot matters, Fantasy golf allows fans to implement their golf knowledge into competition against both friends and the public. Participating in fantasy golf can add enjoyment to golf viewing, as well as provide competition against other participants.
It is a game in which each participant assembles a team of real-life golfers and then scores points based on those players' performance in golf tournaments, with games typically following the US PGA Tour and the European Tour.
PGA Tour
PGA TOUR Fantasy Golf is a free-to-play fantasy game that allows you to show off your knowledge of the sport by picking a team of 6 PGA TOUR Professionals (4 Starters, 2 Bench). Scoring is live and exclusive using PGA TOUR Shotlink and based on player performance on the course.
Do you know it was Fantasy Baseball that started the craze for fantasy sports? Although variations of fantasy sports existed as early as the 1950s, it was the advent of Rotisserie League Baseball in 1980 that started the fantasy sports craze, and what is now popularly called fantasy baseball was also developed from the rotisserie game.
39% of fantasy game players in America play fantasy baseball with the best baseball simulation games receiving thousands of players every day. Fantasy baseball was the most popular fantasy sports game for quite a while but was eventually overtaken by fantasy football due to the frequency of gameplay. As a specialist in Fantasy baseball software development, Vinfotech creates a highly engaging fantasy baseball platform that appeals to both casual and professional fantasy baseball players.
Fantasy baseball is a game in which the participants serve as owners and general managers of virtual baseball teams. The competitors select their rosters by participating in a draft in which all relevant Major League Baseball (MLB) players are available. Fantasy points are awarded in weekly matchups based on the actual performances of baseball players in real-world competition. The game typically involves MLB, but can also involve other leagues, such as American college baseball, or leagues in other countries, such as the KBO League.
MLB
The MLB is the official app of Major League Baseball. That is why the most accurate information about your favorite sport is sure to be presented right in this app. Here you can view the current results of all MLB games. This has everything from the standings to the upcoming game schedules and so much besides.
If you want to know how popular Fantasy cricket is, just have a look at the tremendous growth of Fantasy cricket in the Indian fantasy sports market.
Being regarded as a Cricket Crazy Country, In India, Cricket was never just a sport, it has a special place in the lives, culture as well as identity of Indians. The sport has now grown to become something of a superglue that binds an entire country of over a billion people together in a manner that is unseen in any other country.
With around 50% of the country's 1.3bn people watching the sport each year, it is of no surprise that fantasy cricket has found millions of fans in the country. According to a recent study by the Federation of Indian Fantasy Sports (FIFS) in collaboration with KPMG, there are around 100 million fantasy cricket players in India today, but analysts believe the market could swell to more than 400 million over the next decade.
Fantasy cricket is a part of the fantasy sports genre. It is an online game in which a virtual team of real cricket players is created and points are scored depending on how those players perform in real-life matches. To win a tournament, players must work towards attaining the maximum points and the highest rank on the leaderboard.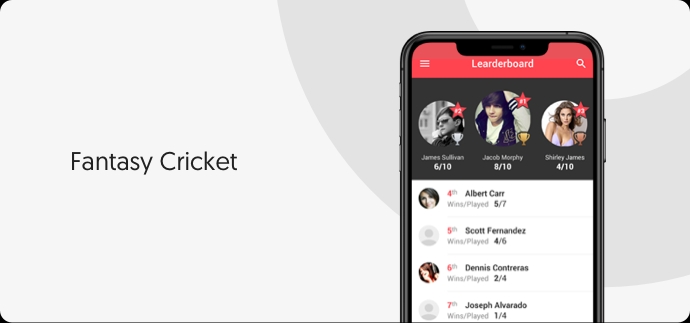 With MPL Fantasy, everyone can use their skills, analytical reasoning, and knowledge of cricket to form squads, enter contests, and play fantasy cricket cash contests. Users can also improve their team selection skills with our fantasy tips. MPL even offers users free practice matches that can help them enhance a new user's skills.
MPL, an app developed by Vinfotech, enables its users to join multiple contests for a particular match as well, which will have various prize money to be won depending upon the entry fee. Users will get 100 credits with which they can choose their pick of real-life players for their fantasy XI team. The user to score the most points will win big prizes.
Fasten your seatbelts, shift the gear, accelerate your hearts out, and get ready to race in this fast-paced real-time online multiplayer racing game!!!
A motor-sports-based Fantasy sports game in which players, also known as fantasy team owners, select a roster of drivers to earn points according to actual race results. Player scores, as determined by their drivers' actual racing results, are sorted within a league of players to determine weekly, periodic, and championship winners. Games can be free or pay-to-play with cash or merchandise as prizes.
The outcome of each race can be quickly impacted by wrecks, mechanical problems, or a slow pit stop. Since so much of a race's finish depends on luck, this is one of the easier fantasy sports for new players to jump into, be competitive and have fun.
Games are usually based on activities and race results from the most popular, broadcast-live forms of motorsports like Formula One, NASCAR, IndyCar, Daytona Prototype, and the American Le Mans Series racing.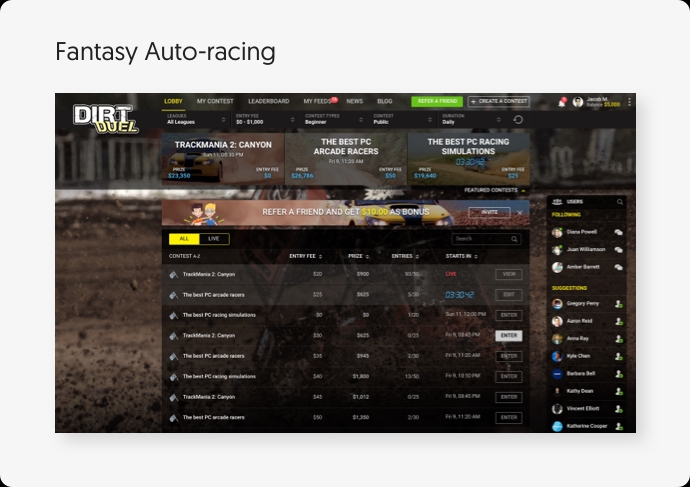 NASCAR
In NASCAR Fantasy Live, players pick five drivers to start before each NASCAR race. In addition, a sixth "garage" driver on the roster can be swapped in-race for any active driver before the final stage begins.
Game scoring follows NASCAR official scoring and rewards points based on race results and driver finishing position for all three stages. Only drivers in the "starting" position at the end of each race will earn fantasy points.
Individual drivers can be used a maximum of 10 times during the season. If a driver ends the race in the player's garage, it will not count against the season limit. With the Official App of NASCAR, users stay up to date on their favorite drivers with news, video, and live race features.
Fantasy basketball remains one of the most popular daily fantasy sports. This makes sense given the huge popularity of the sport in both the U.S. and around the world.
Fantasy basketball works on the same basic principles as any other fantasy sport: the game is based on constructing teams of players from the respective league and earning points based on their real-life performances. The points you earned determine winners and losers, whether it's that day, that week, or that season.
To be good at fantasy basketball, you need a significant amount of attention – more than the average player might want to put in because of the number of games and the frequency of those games in a season. Even with that being the case, it's a popular fantasy sport with 19% of fantasy sports players playing fantasy basketball in the US and Canada.
The online format of the game has been popularized by websites, such as ESPN Fantasy Sports, NBA.com, Yahoo! Fantasy Sports, and Dunkest Fantasy Basketball.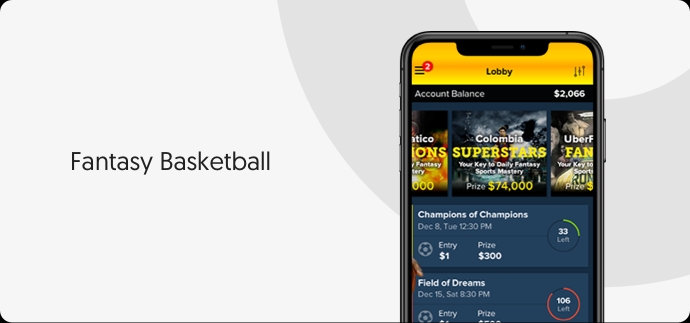 NBA
The official website of NBA has everything from the latest NBA Fantasy analysis, NBA TV for watching a live game, player news, Stats, Rankings, and free games. Users can get the latest news and player stats directly from the source. Also, they can play Primetime Picks for free every day where they can predict player stat lines, team props, and more to win great prizes.
Being the official partner of the NBA, FanDuel also has NBA In-Play that offers fans the chance to predict every play and quarter instead of generic game outcomes and point spreads. Players can also draft their NBA fantasy team and enter a contest with friends or against everyone.
Being one of the oldest fantasy sports games; the first known fantasy hockey league was formed in 1976! Because of its long-running leads and hundreds of stats updates every night, it is less popular than those games that can be played more casually.
It's a game that might hit better among hardcore hockey fans, but that doesn't take away from just how fun it can be. It's not much different from other fantasy leagues, meaning it's relatively accessible. You do have to know the ins and outs of the NHL to have the most fun. However, those who keep up with the league night after night should have no problem getting the most out of their fantasy hockey leagues.
Fantasy hockey is a form of fantasy sport where players build a team that competes with other players, based on the statistics generated by professional hockey players or teams. Some leagues require an entry fee at the start of the season, with the league champion at the end of the year collecting some or all of the money. In other leagues, money is not involved at all and the league is simply for fun.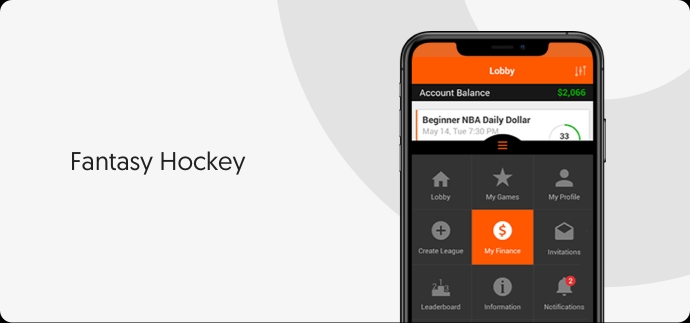 Yahoo NHL Fantasy
The official website of NHL is the best source for daily fantasy hockey advice. Here you can get all the latest news, rankings, draft prep for season-long leagues and playoff pools. Yahoo! Fantasy, as an official season-long fantasy partner of NHL, allows users to take control of their very own team of National Hockey League players! From the first game to the end of the regular season, users will manage their team's roster and lineup, earn fantasy "points" based on their active players' real-life performance, and compete with other people in the league for the best accumulated "points" to be crowned champion.
How would you feel if you are asked to predict the winner in each episode while watching your favorite reality TV show? And What if you will be rewarded for your correct prediction? Sounds exciting, right?? That's the level fantasy sports have reached today in entertaining and engaging fans.
Gamifying the existing reality shows and putting them up in a competitive gaming zone has revitalized reality TV like never before. That's because today's audience is digitally savvy, loves online games, and is ready to pay for engaging fantasy sports based on their favorite shows.
In fantasy reality TV, users play against other people by dividing up the contestants on their favorite reality TV program into separate "teams". Each team's contestants will earn points based on certain actions they perform on the show, as listed in the Scoring System on that show's page. The goal is to earn as many points as possible. Users can compete in a private league against friends and family or a public league against total strangers.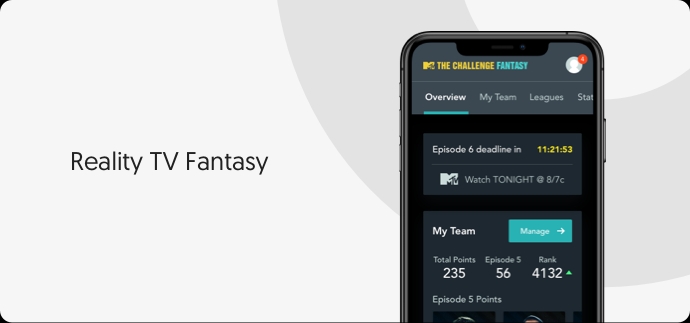 Vinfotech developed a super entertaining fantasy platform for Viacom's leading youth entertainment channel, MTV for their popular reality show 'The Challenge'. This app allows the audience of the show to create a team and compete against family and friends or even the entire world by predicting the outcome of each episode. With every correct prediction, the user will win points and eventually the game.
Esports is slowly creeping into the fantasy sports domain and has gained a lot of popularity in the past few years, becoming one of the fastest-growing industries in the process. Leading sports betting sites like DraftKings have realized and considered the potential of eSports in their business. With an estimated worth of near $1 billion and to have a 60% increase by 2024, Esports is undoubtedly the future of entertainment.
Fantasy e-sports software allows players to create a virtual roster from a pool of professionals and like fantasy sports, points are awarded based on their performance. The player with a maximum score emerges victorious. These are similar to fantasy sports, but instead of creating fantasy teams for sports like football and basketball, your team consists of professional esports players.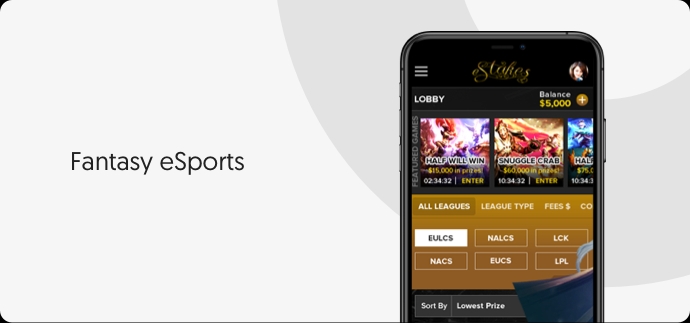 A platform developed by Vinfotech that offers the thrill of fantasy sports and esports together where users after choosing a live esports match to play, create their lineup by browsing live statistics on athletes and earn points when their roster achieves in-game milestones like kills or objectives. Users can also edit their lineup during the gameplay.
To match with this fast-paced world, many people don't have time for reading books or join courses to learn basic investing concepts. To cross the sinking boat of your financial literacy, a fantasy stock market application will be a magnificent tool that will help you learn the basic investing concepts such as bonds, stocks, mutual funds, real estate, and more.
Players can sign up anytime to join the daily trading hours of the stock exchange and begin purchasing shares without worrying about losing real money. Thus helping you learn how to handle such risks without actually facing the real-life consequences attached to them.
Fantasy stock market software gives a user the liberty to start with a fixed amount of virtual money to buy and sell most of the stocks available on the Stock Exchange Indices. It is also well equipped with useful statistical and analytical tools that replicate real-world stock prices and trends allowing for an in-depth analysis of the market.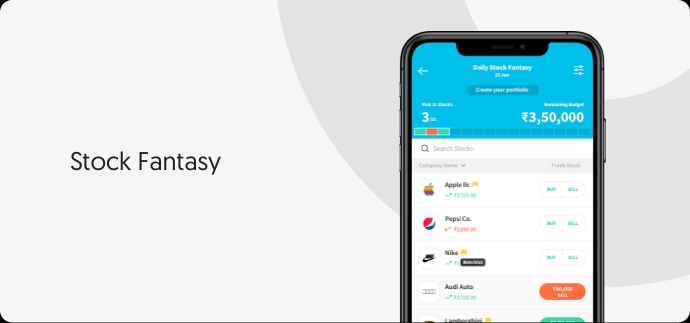 A daily stock fantasy sports game developed by Vinfotech where users select several shares to create a portfolio by undertaking a transaction of min 25000 to max 1 Lac and check trending stocks by adding them to the watchlist. Users with the nearest portfolio or greater portfolio value of 5 lakh would be the winner of the contest.
Vinfotech as a one-stop center for all your fantasy needs
Being in the industry for more than 10+ years, served in 10+ countries, and with 400+ satisfied clients, We've covered 12+ Fantasy sports forms to date. As a leading fantasy sports Software app development company that provides solutions for a variety of sports including cricket, football, and others, Vinfotech builds solutions that support multiple game formats and variations along with visual customizations for your platform.
Vinfotech has been offering consulting, design & development services for fantasy sports startups and enterprises globally and have delivered some amazing fantasy sports solutions for web and mobile platforms. Our fantasy sports software brings together an array of advanced features, sophisticated admin tools, and unparalleled end-user ease of use, which makes it ideal for every company looking to launch a fantasy sports business of their own. Also if you think you have a business idea for this industry, let us know. We can help you convert it into a winning fantasy sports solution.