The fantasy sports market size is valued at about $20 billion, of which stock fantasy accounts for a significant share. In our conversations with clients and prospects, we are witnessing a growing interest in stock fantasy games after the rise of sports fantasy platforms. In this article, we look at a few compelling reasons why launching stock fantasy games bodes well for financial institutions.
Because of the rise of tech-savvy millennials and GenZ
Businesses have always calibrated their strategies to suit customer expectations—which, of late, have been a challenge to keep up with. Today, businesses have to contend with customer expectations of a generation that has never known a world without the Internet. Research after research states that GenZ spends more time on mobile devices than any other generation. When a recent study by the Institute of Business Management asked GenZ respondents what they use their connected devices for, more than half reported they use them for entertainment and gaming, and a little over seventy percent stated they use them for communication with family and friends. GenZ's older siblings, the millennials, are a tech-savvy cohort too. If GenZ spends about 10.6 hours engaging with online content every day, millennials are not far behind with about 8.5 hours a day spent online.
It is then a no-brainer that businesses need to meet their audience where they are, especially for such a huge demographic. GenZ today accounts for 32% of the global population. However, meeting GenZ and millennials where they are, does not simply mean having a multi-channel presence. A multi-channel presence is table stakes. What businesses and brands need is an engagement strategy that keeps this sizable demographic glued and coming back for more.

The good news is that such a strategy exists. It has even been a part of—in some way, shape, or form—human evolution. The strategy is gamification.
Because of fleeting attention spans
According to recent research, GenZ has an attention span of 8 seconds on average, just a little less than millennials at approximately 12 seconds. Attention spans have been declining as much as the channels of engagement have increased.
Against this backdrop, gamification not only engages people, it can be implemented in a way that has users invested. For instance, in stock fantasy games, users pay a minimal amount to play; they can then build their portfolio and take buy or sell positions before the start of the day's trade, and get rewarded for their knowledge. Stock market games not only keep users hooked but also get reluctant users to trade by eliminating the risk that comes with real-life stock trading.
Because it simply works
Although attention spans were significantly longer during simpler times of yore when businesses had to monitor and manage a single mode or two, humans have a history of indulging in game mechanics, competition even, to achieve goals. Gamification thus, is a familiar strategy that is now donning a digital avatar. It's been proven that businesses that invest in learning and gamification tools are more likely to get customers to use their products.
For instance, before the commencement of the Indian Premier League–a fan-driven player auction platform—raked in 500,000 players in three days. Likewise, stock market fantasy gaming is a way financial institutions can build a loyal fan following. Examples of stock fantasy gaming include Stockz11, a daily stock fantasy game that allows users to create a portfolio from 100 stocks listed on the National Stock Exchange (NSE) and win cash prizes. While a sports fantasy application attracts sports fans and engages them, stock fantasy solutions can work wonders for financial institutions.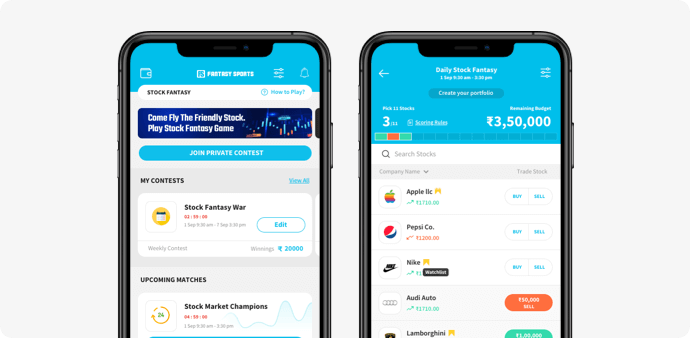 Vinfotech, a leading iGaming software provider has developed a comprehensive stock fantasy software solution. The company is working with clients across the globe to rack up their engagement numbers through stock fantasy gaming. Game formats include a combination of investing, learning, and predicting trade outcomes. The solutions are power-packed with features that help players make trading decisions. Features include:
Stock cards: Cards that provide details such as daily, weekly, monthly and annual performance of each stock
Watchlist: Users can add certain stocks to a watchlist to keep track of select stocks
Modern UI: An intuitive interface that makes for a frictionless gaming experience
…and more!
Conclusion
Digitization and digitalization coupled with demographic trends have led to a sharp increase in the popularity of fantasy sports. What's more, the nature of stock fantasy games that allow users to interact with the market and participate without the risk of losing money, has particularly aided the ascent. Financial institutions should no longer be on the fence about taking the stock fantasy plunge if they want to engage their users in a market that's vying for every minute of users' time.
References: