Want to merge reality television and fantasy sports either for fun or for-profit? Doesn't matter whether you are a TV channel or a fantasy Reality TV startup, you have come to the right place!
The days of simply watching television are long gone. Today's TV viewers are going beyond their scheduled programming to get the fix of their favorite shows. In fact, according to a report by Twitter, 38% of people are streaming episodes online, 76% are searching for more information online, and 6% seek opportunities to play along with the show for rewards.
With all of that engagement on social, online, and mobile apps, reality TV shows have the opportunity to capitalize on this second-screen experience, both during the show and in between episodes—or even seasons.
Reality TV shows compete with both the scripted television market as well as video streaming channels such as Netflix, Amazon Prime, Crackle, Vudu, and Hulu. And why do people watch reality TV? According to a Statistica report, 26% of Americans aged between 25 and 34 – the millennials – stated that they watched reality TV because they liked drama.
Generally, reality television competitions like American Idol, The Voice, The Bachelor, Keeping up with the Kardashians, The Challenge span multiple weeks or months. Rarely will you see a show that starts and ends the same night? With many shows, the contestants compete weekly and look to advance to the next week and the next round.
Why fantasy sports for reality TV?
To boost audience engagement with their reality TV shows, entertainment channels are increasingly turning to create their own fantasy applications allowing their viewers not just to connect with them but with each other for an otherwise traditional non-interactive television medium.
Fantasy sports comes into the picture with gamifying the existing reality shows and putting them up on a competitive gaming zone can resurrect reality TV like never before. That's because today's audience is digitally savvy, loves online games, and is ready to pay for engaging fantasy sports based on their favorite teams. In the case of reality TV, the teams would comprise stars and participants of the shows.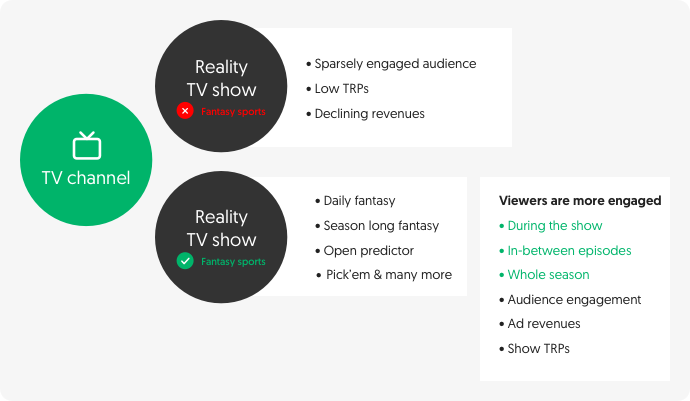 People love fantasy sports, let's bring the same excitement with reality TV
While fantasy sports is long known to turbo-charge sports-based businesses like leagues, clubs, startups, it is now increasing engagement for non-sports businesses like TV channels, banks, stockbroking, media, publications, movies, and more. There is a big young, passionate and engaged audience out there that understands and plays fantasy sports regularly. The same audience when tapped for reality TV fantasy, with little changes in the rules and some reality drama, can create magic for TV channels.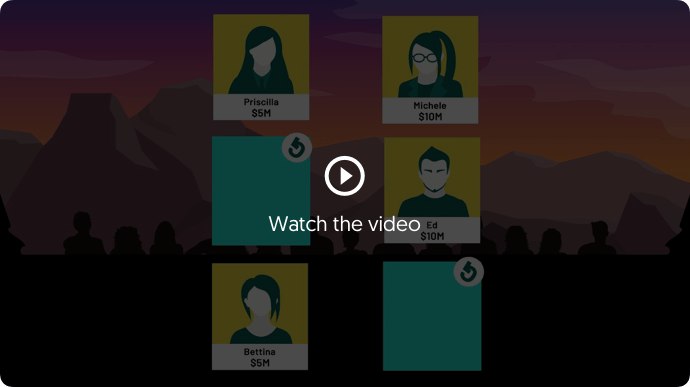 Fantasy sports players v/s Reality TV viewers
Reality TV should go where the audience is most spending their time - the internet, the mobile phone. Most of the reality TV viewers are aged between 18 and 49 while those of the fantasy games are aged between 25 and 45. What's common between these demographics? Both like competition, contests, winning awards and pursue 'idols' in either singers, housewives or sports players. The fantasy games fans possess deep knowledge of the sports, players, and important world records while the reality TV viewers strive to have a deeper knowledge of, say music, food, adventure, etc, and have a varied taste of various genres. Both these kinds of consumers want to keep in touch with their respective interests through merchandise, news and views, statistics, and social media.
A fantasy game built around a reality show or TV series helps the stars to remain in the memory of viewers for a long.
Benefits of fantasy sports to reality TV
If reality shows are converted into fantasy sports games, it can easily bring back the interest in the shows while keeping the audience engaged throughout the year. For instance, if the show The Bachelor has a three-month-long season in a year, the audience engagement can be stretched through the entire year with the help of fantasy games built around it. Here are the advantages of creating fantasy games around reality TV shows.

1. Increase in viewership and popularity: Fantasy games platforms naturally imbibe sports more deeply into the minds of viewers. Reality TV can create competition inspiring viewers to play against friends and acquaintances. They can reward the viewers to motivate them to keep playing and sharing their achievements on social media. This most naturally adds to the popularity and viewership of reality shows.
2. Brand/star recall value: A fantasy game built around a certain season of a reality show helps the stars to remain in the memory of viewers for a longer time. Reality stars get the gamified avatars that help them become individual brands in the minds of the viewers
3. Add-on revenues: Fantasy games on reality shows offer a variety of options for revenue generation. You can choose to offer certain paid levels of fantasy games. Moreover, you can earn from display ads, digital sponsorships on your fantasy games website. This platform may also be used for promoting and selling show-related merchandise and memorabilia.
How does fantasy for reality TV work?
The fantasy website or mobile app allows reality TV viewers to play fantasy games for their favorite reality TV programs. Basically, they play against other people by dividing up the contestants on their favorite reality TV program into separate teams. Each team's contestants will earn points based on certain actions they perform on the show, as listed in the Scoring System on that show's page. The goal is to earn as many points as possible. Your viewers play in a league with a set number of other players. They can compete in a private league against friends and family or a public league against total strangers. They are free to play in as many leagues as they want for as many reality TV shows for the channel.
Super fun and engaging scoring system for a show like The Bachelor may look like this:
Kiss: +5
Make out: +2 extra to a kiss score
Get a rose at Rose Ceremony: +10
Get a rose pre-ceremony: +15
Enter the hot tub: +4
Get naked:+5
Require medical attention:+10
Say "for the right reasons": +5
Get caught with secret boyfriend or girlfriend: +20
Steal Bachelor or Bachelorette away from another woman or man: +3
Actually, say "Can I steal you away": +1
Players can lose points too!
Go on a solo date: -10 (This negative creates a risk/reward for solo dates that reflects the show)
Leave the show voluntarily: –20
Get sent home pre-ceremony: -15
Get sent home at Rose Ceremony: -1
What makes a great reality TV fantasy software?
Chances are high that as a TV channel or fantasy reality startup, you understand the business and entertainment side of things more than the technology of building the app yourself. That's why you turn to professional app developers to help you ideate, plan, and launch your fantasy TV reality. Following factors can make a really big difference to your journey and result in creating great fantasy software:
Working with an experienced team: The team which has built fantasy TV applications for other TV channels before and has shown a surge in popularity should be preferred. They would come with experience of what works and what doesn't and save you from making mistakes. Another important factor could be choosing a team that only works in this domain and is focused on continuously improving the software, is not just preparing you for the present, but also the future.
Great app design: Viewers now are very design savvy and the entertainment industry has been known for very edgy graphics. Your app should also look like an extension of your TV brand. Every screen, every user touchpoint of your fantasy reality TV app should look and function world-class. Field view, contestant card should have very rich graphics and amazing numerical representation.
Great app functionalities: While your app should have all the required fantasy gaming features (which we will describe later), the app should function like a breeze. Smooth screen transitions, smart animations, intelligent data representation and tastefully guiding users on how to play and getting used to the app are few things that separate a world-class reality TV app from an average one.
Notifications: A great fantasy TV software interacts beautifully with the user both while he is using the app and when he is not. Timely, beautiful, and relevant notifications can increase daily active users on your reality TV fantasy platform substantially.
Tech Support: There are always things that need to be fixed and improved to serve your users well. Choosing a team that can provide wonderful software support, in your time zone, can make your journey very smooth and your app's fun and strong for your users.
Features that you must look for in a reality TV fantasy software
As a TV channel or as a fantasy reality TV startup, if you have made up your mind to start your own fantasy website or mobile app, you must have the following features to engage your viewers effectively:
1. Boosters: They allow users to enhance performance and score higher points. Examples include bench boost, triple captain, and a free hit.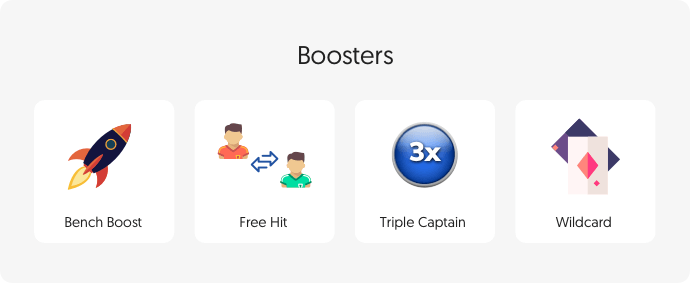 2. Multiple leagues: Users should be able to join various types of leagues to compete with friends and other game players.
3. Statistics: Best-in-class player statistics, leaderboards with ranking, and scores of the leading players to help users stay ahead in the competition.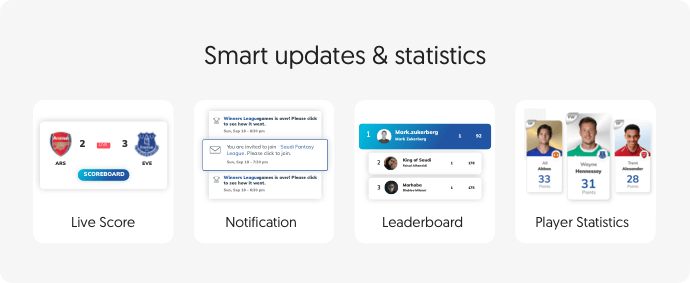 4. Scoring attributes: Show contestants chosen by the users in their respective teams will be allocated points based on their performance in the league.
5. Player cards: Detailed player cards with historical stats and records coming directly from the feed.
6. Sponsors: Banner space in your website and app which enables you to add, edit, and delete your preferred sponsored banners.
7. Auto substitution: Automatically replace contestants in a game week, they will be replaced by the highest priority substitute bench player.
8. User wallet: To show the overall user balance of winnings and deposits in the user account.
9. Live scores: Ensure real-time delivery of scores and results to all the platform users.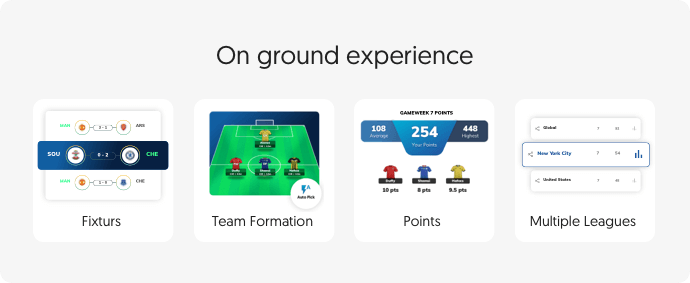 10. Paid global league: A global league with entry fees will entitle the user to an entry. The user will have an opportunity to get prizes if his lineup is in the winning spot.
11. Prizes: To further gamify the user experience admin can select from multiple options like merchandise, coins, or cash.
12. Field view: Engaging field view with contestants' position and salaries. Users can analyze and compare their teams with opponents.
13. Participate with coins: Users can now play and join contests with coins. Coins can also be redeemed by the user in exchange for real/ bonus cash, gift coupons & merchandise.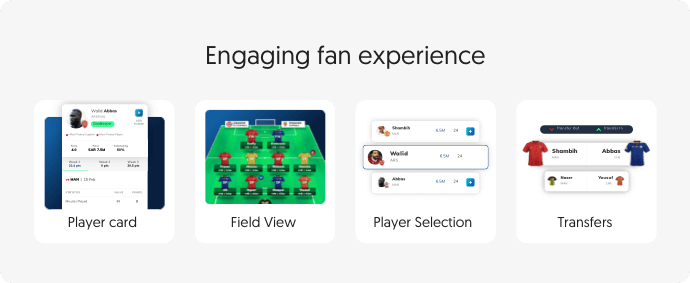 14. Bonus cash: Bonus cash, the in-game currency, is awarded to the users on winning contests. Bonus cash can also be used to participate in contests, buy gift coupons, and merchandise.
15. Loyalty rewards: To further gamify the user experience, the admin can also create small milestones for referrals and reward users with coins or bonus cash on completion.
16. Refer a friend: To encourage brand loyalty and active users, users are rewarded with coins or bonus cash on referring the platform to a friend.
Admin Panel Capabilities
The backbone of an engaging and efficient reality TV fantasy app is its robust, powerful, adaptive yet flexible admin panel. You must look out for these admin panel capabilities:
1. Powerful admin panel: Admin panel must empower you to manage everything - marketing, finance, daily operations, sponsorships, and even reporting.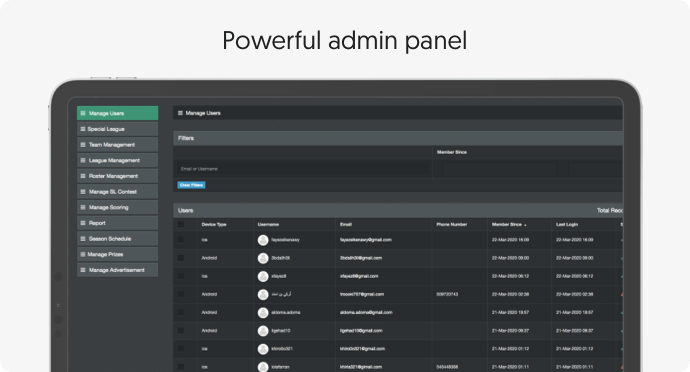 2. Roster/Player management: Manage player-related functionalities - player position, player salaries, activation, and deactivation of players in the player management module of the admin panel.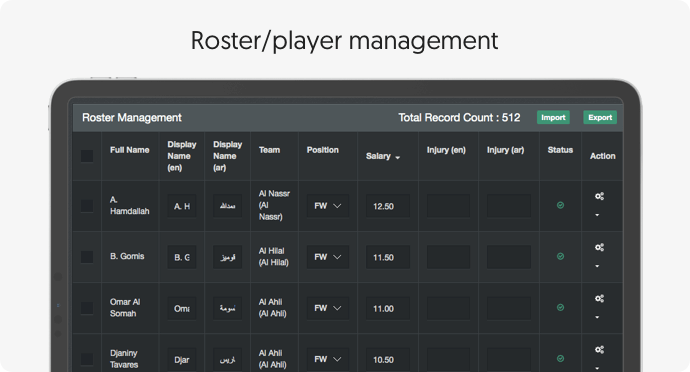 3. Team management: The team management module enables you to edit/upload team jerseys and logos.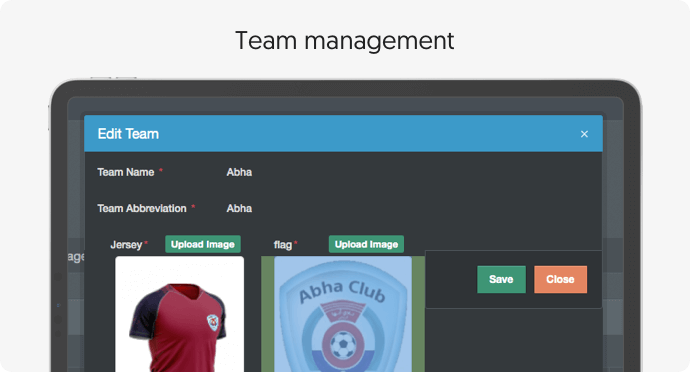 4. Manage users: Search users, configure permissions, manage user details, rankings, deposits, document approvals, reports, and much more from the Manage Users panel.
5. Manage advertisement: You can add and manage ad banners of your platform for promotions and sponsors as per your preference.
6. Season schedule: Fixture stats are automatically updated by the feed providers and displayed under the website's fixture tab.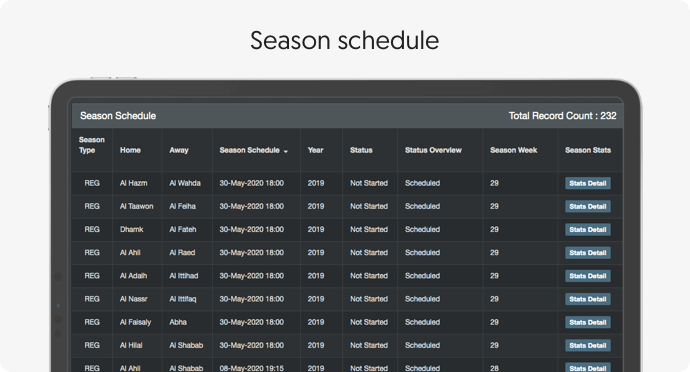 7. Admin dashboard: For a quick snapshot of all the things going on your platform.
8. Communication dashboard: To send amazing push notifications, SMS, emails to all your users or a group of users. One of the best user retention tools.
9. Merchandise management: Admin should be able to add various merchandise that gets reflected on prize distribution screens.
10. Tax reports and invoicing: To follow all the tax requirements, the software should provide you a clear idea about your income details, tax liability, or eligibility for a refund, to ensure proper credit flow.
11. Regular updates: You should look for a team that works with scale and future in mind, with a cycle of continuous iterative improvement.
Vinfotech is a specialist fantasy reality tv app development company. We do fantasy reality TV web, iPhone, and android app development. Have a look at the stellar work we have done with some of our customers.