What goes on inside the minds of a fantasy sports player? What makes him pay enormous amount of money every year on fantasy sports? Read to find out.
For some it's online shopping, for others it's social media validation. Millennials are looking for dopamine everywhere. Fantasy sports players, however, are looking for competitive sports that boosts their dopamine levels and adds fun into their relationships. It's plain and simple: fantasy sports produces acceleration because players get to use their knowledge of the sport to win money. If we go by the figures, 53.5 million people play fantasy sports in the US alone. By 2020, there will be 100 million fantasy sports players around the world.
This blog gives you an insight into the minds of fantasy sports players. Based on our research and experience of the market backed by the report released by Fantasy Sports Trade Association in 2017, we give you a sneak-peek into the psyche of fantasy sports players.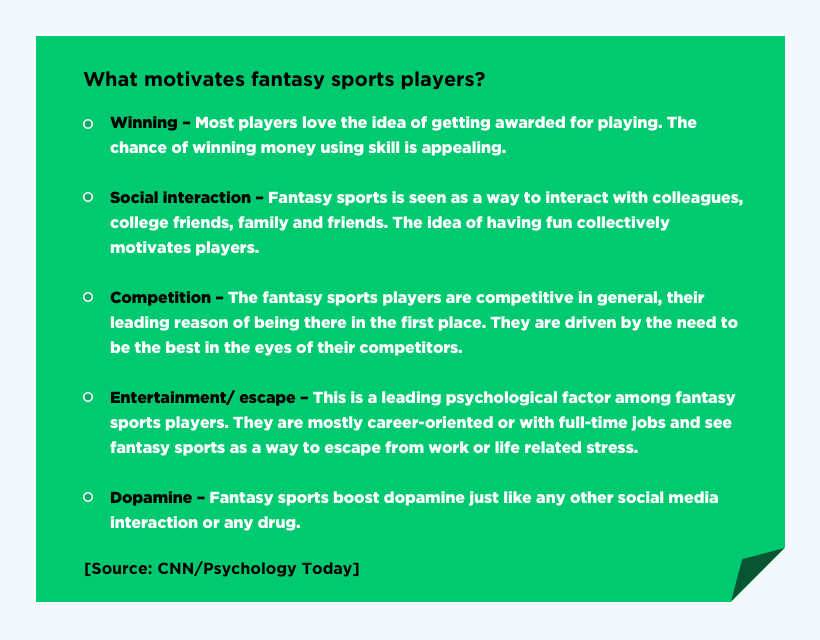 Fantasy sports and age groups
For the longest time millennials dominated and made fantasy sports the gigantic industry that it is today. Even now, millennials happen to be the largest demographic playing fantasy sports. However, good news is that the new entrants to fantasy sports are people from all age groups. If we take US demographic as a case study, we would find that nearly half of all fantasy sports players (48%) are in the age group of 18-34 years. Almost a quarter of this demographic (24%) are new players. What's really conducive to this industry is the cyclical churn of fantasy players which keeps creating new players in the cycle as old players either outgrow it or leave for various reasons. This results in regeneration of player demographic and keeps the industry going.
Traditional tops popularity, DFS is second
FSTA's 2017 pattern showed that 68% of fantasy sports players in America played traditional fantasy sports. These are seasoned players who are not going to leave the games anytime soon. They started off at the time fantasy sports began as a result they have a natural inclination towards fantasy sports players. But this demographic also plays DFS. However, 19% fantasy sports players play only DFS. At least 59% of those who play exclusively traditional leagues fall in the age group of 35-54 years.
Psychographic analysis of fantasy sports players
Various studies and researches indicate that those playing fantasy sports have the following characteristics:
# 1 Younger and better educated
Fantasy sports players are in their 20s and 30s – the youngest demographic in the world. That's because this is a generation that was exposed to internet very early in their lives and picked up online games during their student years. This generation also had better sources of education which further strengthened their faith in technology and online applications. They were and are predisposed towards online gaming. For instance, 31% of adult fantasy players in the US have a postgraduate degree.
# 2. Higher disposable income
This generation was brought up in technology, meaning, their parents had enough money to give them good education. As a result, they are employed in well-paying jobs, some are freelancers and others have their own businesses. This generation likes to experiment with products because it has better disposable income. This also makes this demographic extremely likely to pay money for online gaming especially fantasy sports. In the US, 53% of fantasy sports adult players have an average household income of $75k.
# 3. Players are diversifying
Fantasy sports became a huge industry due to fantasy football. And despite that now the industry is relatively stable, fantasy sports players are more engaged than ever before. While 66% fantasy sports players in the US are still inclined for fantasy football (NFL), there's a whooping 49% that's playing fantasy baseball (MLB) and 34% are playing fantasy basketball (NBA). There's a considerable inclination worldwide for hockey, NASCAR, soccer and golf. In the UK and South-east Asia, there, is fantasy soccer and cricket.
# 4. A greater number of players like paid leagues
Paid leagues are undoubtedly more competitive, have better prizes and reward points and offer more freedom. Since fantasy sports players have more disposable income at hand, they are willing to pay for the entertainment. FSTA reports that 82% of all fantasy sports players play in paid leagues. Out of these 75% participate in paid leagues with entry fees; 73% pay prize fees and 61% pay hosting fees.

# 5. They are multiple-device people
This is a no-brainer that this demographic uses and has access to devices – a high-tech television, laptop, computer, phone and tablet. While 81% people can play fantasy sports on any of these devices, 54% prefer playing it on a laptop or a computer. There's also a growing demographic that's dedicated one single device just to fantasy sports. As of now, FSTA reports that 46% players play fantasy sports on a high-tech television for better user experience while 36% use tablets. At least 28% use a streaming device such as a phone or a tablet and 27% use a gaming console. At least 28% use one device, 23% use two devices while 24% use three devices for playing fantasy sports.
What's popular among DFS players?
Daily Fantasy Sports is the second most popular kind of fantasy sports played worldwide. DFS has played a major role in the success of several startups who became multi-million businesses in a very short span of time drawing large investments. In DFS, tournament style game is more popular than head-to-head. In fact 68% of DFS players play tournament style while 58% play head-to-head.
Vinfotech understands this demographic deeply. This is precisely why most of our fantasy sports website & mobile applications are full of features that appeal into the psychology of fantasy sports players. If you wish to create a winning fantasy sports business, do contact us.