Starting and operating a real-money gaming website online is hard work. This is particularly because this industry is very competitive and has developed steadily over the past few years, with more players entering the gaming industry.
Real Money games are all the rage right now. Heralded by many as the most lucrative business around the world, it has grown by leaps and bounds owing to the advancements happening in the online gaming sector. It would be an understatement to claim that this business has turned many ambitions into reality and many paupers into wildly successful entrepreneurs in no time.
That being said, starting an online gaming business that emphasizes real money isn't child's play. A lot of thought and foresight is needed if one desires to build a real-money gaming app or website that yields profitable results.
One way to accomplish this is by focusing your efforts on building a website that caters to the interests of your customers before anything else. If they are satisfied, eventually money will follow. You need to have deep insight into the market you intend to jump in, and acknowledge the challenges that will potentially act as frustrating hurdles in your journey.
In this article, we will walk you through the several imperative factors one must consider before venturing into this immensely lucrative but ultimately arduous territory.
The Real Money Gaming Landscape today
According to Red Seer consulting, the already booming real money gaming industry is expected to grow at a rapid rate of 50-55%. It is expected to be worth $4.5 billion by the year 2022.
In India, the real money gaming business has seen unprecedented growth, especially in recent years. The industry that stood at $1.1 billion in the year 2019 is expected to touch a whopping $2.1 billion in the year 2022.
India is considered to be one of the top 5 mobile gaming markets in the world. The country is expected to add 40 million new gamers in the 2 year period between 2020-2022.
One can blame the recent coronavirus pandemic for this growth. If recent studies are to be believed, time spent by Indian users on gaming apps increased by 21%. The pandemic added three million new customers to the already growing user base of online gaming apps.
The Challenges faced by Real Money Gaming Apps in India Today
1 - The Issue of Legality
The biggest challenge facing the Indian online gaming market today is the countries archaic legal system. As per the law, India allows gaming websites or apps that are deemed as 'games of skill' and bans the deployment of games that qualify as 'games of chance'.
A gaming app is considered a 'game of skill' if it demands its players to be calculative and cerebral in a bid to earn its rewards. A 'game of chance', on the other hand, refers closely to games that share their DNA with gambling.
The underlying problem here is in the lack of clarity between these two distinctions, which makes launching a real-money gaming business even more challenging than it has any right to be. You must be privy to the laws in your particular state before launching your online gaming business.
You must ensure you are not violating any policies. To make sure you are complying with underlying regulations pertaining to your individual state, you can seek the advice of a reputed gaming app development partner with substantial experience in building such apps.
2 – Choosing the right Software Development Partner
Ever since the online gaming industry set cash registers ringing, more and more business entities have jumped into the market to partake in its spoils. This has also resulted in the rise of third-party app development companies, each vying for attention with their own set of unique offerings in an already crowded market.
Needless to say, finding the right development partner with the perfect set of expertise and resources is extremely challenging, yet vital. One needs to do their due diligence when opting for a development partner to have a reliable shoulder to fall back on when undertaking the behemoth task of starting a real-money gaming business. Referring to past client experiences, verified customer reviews, and comparing multiple service providers against each other pertaining to pricing and offered services, will help you land an app development partner you can trust.
Key Aspects to Consider when Building a Great Real Money Gaming Business
As we've mentioned before, starting and running a real-money gaming business can be overwhelming. However, with the right strategy and advice, it can be immensely rewarding too. So here are a few crucial aspects you should consider to build a revenue-generating behemoth from the ground-up.
Business Development and Management
The online gaming industry is a cut-throat one. It has grown steadily over the years on the backs of many fallen hopefuls. As such, one needs to practice caution right off the bat when venturing into this competitive sector. You need to have a robust plan and managerial system in place to run your day-to-day business operations in an effective and efficient manner.
You must focus your managerial efforts on simplifying complex administrative tasks. Pay undivided heed to every aspect of user interactions with your app and have comprehensive reports on signups, deposits, app usage, site rake, and much more to enable the smooth functioning of your online gaming enterprise.
Implementing an Effective Marketing Strategy
No business, let alone online gaming, can hope to thrive in today's competitive environment without an effectively deployed marketing strategy. Your marketing team must devise robust strategies that make the app's presence felt in the industry and bring more players to your gaming site. This should be done without compromising on the satisfaction of your existing user base.
Your platform must be armed with comprehensive reporting features and reliable business intelligence in a bid to target the right players at the exact right time. A system that can help you track the activities of your users can be of great help when devising an effective marketing strategy. Having a proper understanding of user behavior with regards to their interactions, personas and preferences can help you build compelling campaigns that connect with your prospects on a personal level.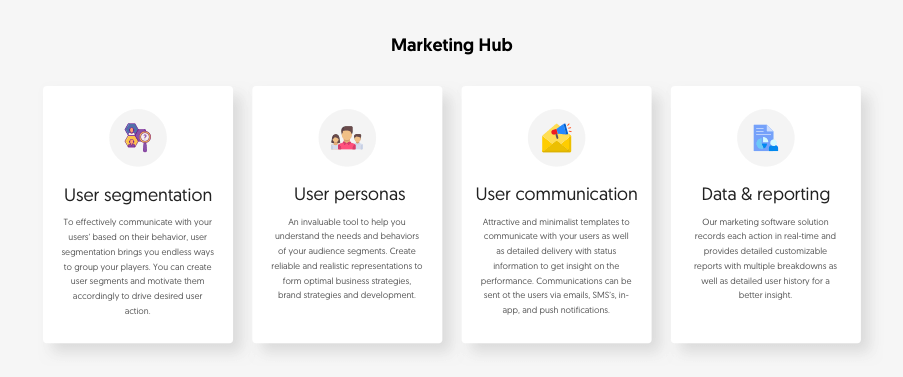 Offer a Variety of Fun Games
You must realize very early on that players come to your app to play games and have fun. Capitalize on this USP and persistently offer new and exciting games to them. Don't take our word for it, just look at the success that multi-game platforms 'MPL' and 'PayTM First Games' are enjoying today. Therefore, add a variety of new games to your catalog.
Make room for everything, from casual games like Rummy and Chess, to more Skill Based games like Fantasy Cricket and Football. A palette with variety on the menu will always have people flocking to the table. These Multi-Gaming platforms serve as great tools for client acquisition. With the help of a diverse offering, you can easily attract users from all demographics to your platform.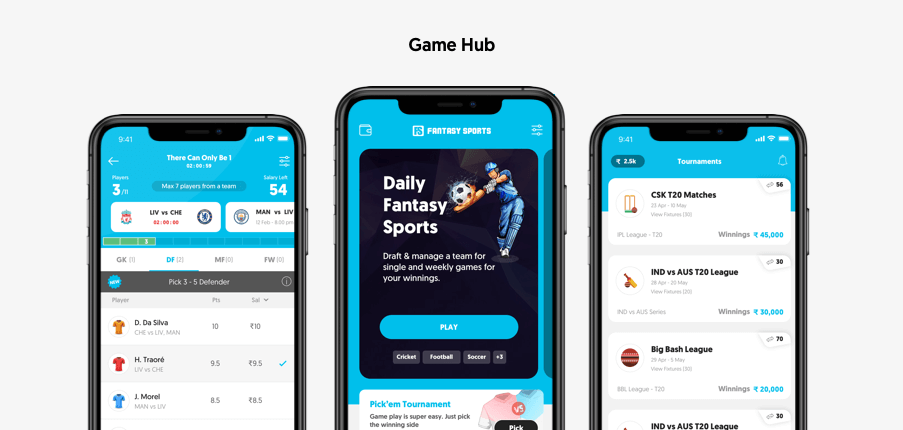 Implement a Robust Cash Coin System
Most multi-gaming apps work due to an integrated cash coin system. Users have to pay cash to receive coins that act as digital currencies a player can use to play games. These coins not only act as currency within the game but also as agents that encourage user action. Furthermore, these coins can be exchanged for real cash or gift coupons.
An online gaming app or website must facilitate a smooth and hassle-free coin management system for its users. You must make the process of earning coins as simple and less frustrating as possible. You can introduce gamification levels that help users earn coins by enacting simple activities like sign-ups, referrals, or being an avid user.
Integrate Payment System Providers
Perhaps the most vital aspect of starting a business is having payment channels up-and-running to facilitate the influx of revenue into the business. You must start building relationships with multiple reliable payment system providers to have an efficient system in place for your users. Implement a mechanism that facilitates fast payment processing, multi-currency assistance, KYC verifications, fraud prevention, and much more. The payment process must be convenient for both you and your users.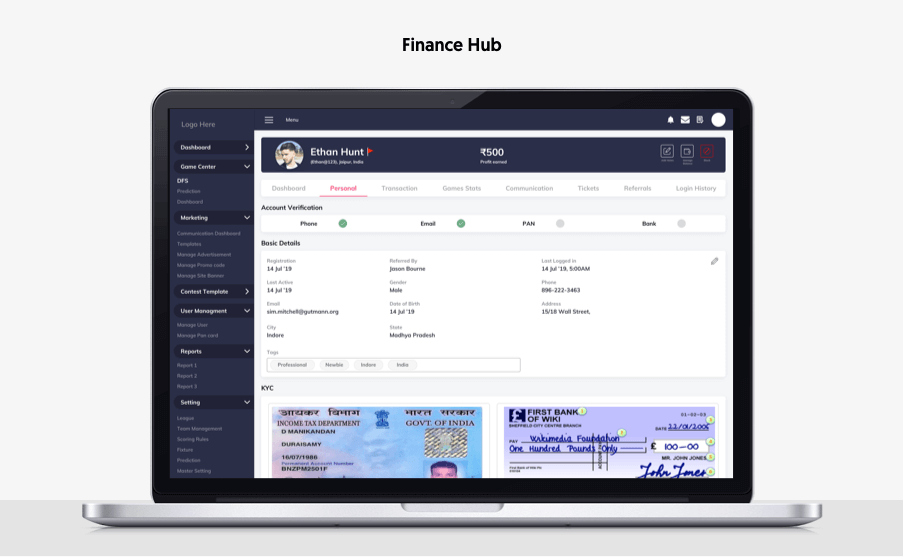 Consider an effective affiliate system
Users trust their peers, friends, and people they admire more than the companies selling the products and services. Implementing an effective affiliate system surely enables website engagement, increases traffic, and can help you boost your revenue. Affiliates employ a vast array of advertising techniques, such as email, Facebook advertising, pay-per-click, guest blogging, influencer marketing, and product comparisons, to ensure all avenues are covered.
We offer a simplified affiliate management solution that allows affiliates to easily promote the platform with dedicated referral links, pre-designed banners, emails, and more. The iGaming software is also equipped with registration and commission options without monetary caps, obligations, or minimum commitment for efficient player acquisition. A simplified affiliate management solution that allows affiliates to easily promote the platform with dedicated referral links, pre-designed banners, emails, and more.
Building an Online Gaming Website with Vinfotech
The real money gaming business is proving to be quite a money-making machine in India right now. So if you are someone who wishes to dip their toes in these lucrative waters, then now is as good a time as any. We understand how daunting the entire process can be, a process that can become considerably simpler with the right gaming engine.
At Vinfotech, we help you accomplish just that with the help of a robust iGaming Software engine. We can help you build online gaming software that offers a diverse catalog of fun and exciting games to your many users. Our engine facilitates the integration of multiple payment gateways, implements effective marketing and promotional strategies, devises comprehensive financial reports, and provides formidable security to both you and your users.
So contact us today or visit our iGaming Software page to know how we can help realize your dream of starting a real-money gaming business in no time.