Fantasy sports market in India has grown to 16.5 thousand crore rupees in the last two to three years. Furthermore, Dream11 being the proud recipient of IPL 2020 title sponsorship, India is set to witness a progressive transformation of the sports ecosystem from the bottom up.
The buzz of the two leagues has surrounded the Indian sports industry. One is the Indian Premier League(IPL), to be played on 22 yards in UAE and another is fantasy sports, played on the mobile screens of 9 crore users. Dream 11, a fantasy sports platform bagged the title sponsorship of IPL 2020. This shows how big fantasy sports has become in India - so big that Dream11 managed to outbid biggies like TATA and Byju's. With this accolade, fantasy sports is proudly ushering into a new era of business and is set to transform into a household name in the coming years.
The upward trajectory of the fantasy sports segment
Indian online fantasy sports industry has experienced colossal growth in recent years. According to the FIFS-KPMG report, in the year 2016, there were less than ten companies in this segment. Today there are more than 140 companies. The market has grown 9 times, from Rs 1,743 crore to Rs 16,467 crore in the last 4 years. Fantasy sports companies were also the fortunate beneficiaries of over 2.5 thousand crores in revenue while the government made 776 million in tax revenue.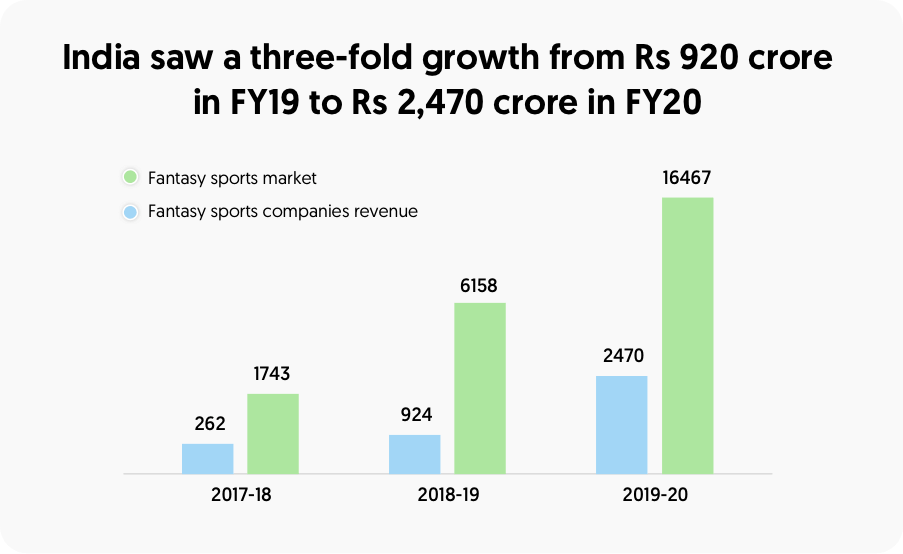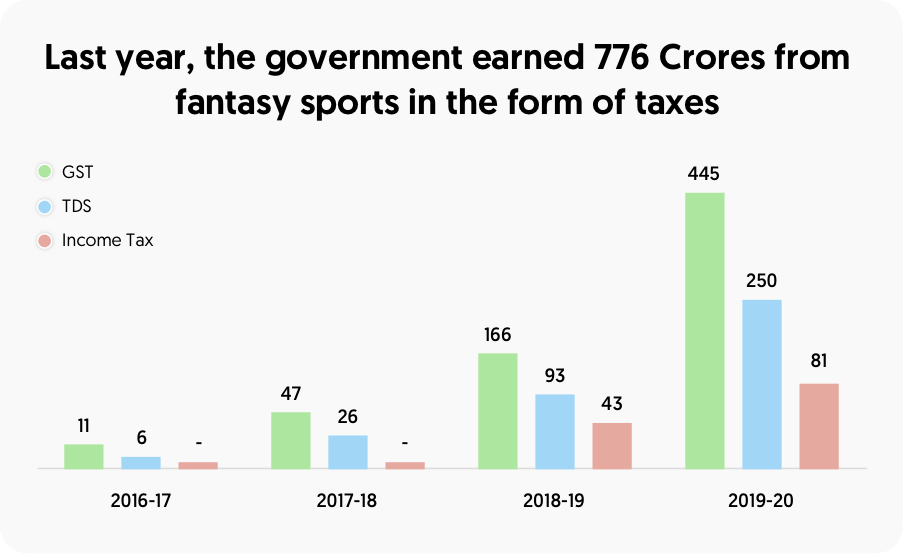 Users are earning more than the FS companies
Fantasy sports play an increasingly important role in connecting fans to their favorite sports. Young sports aficionados are hooked on to this virtual game and are increasing rapidly. The user base of online fantasy sports platforms, including Dream11, has grown from 20 lakh in the year 2016 to 9 crores in the year 2019. With increasing participation, the earnings of the FS players are also growing tremendously. In the last year alone, fantasy sports gamers took home rewards worth 14 thousand crores.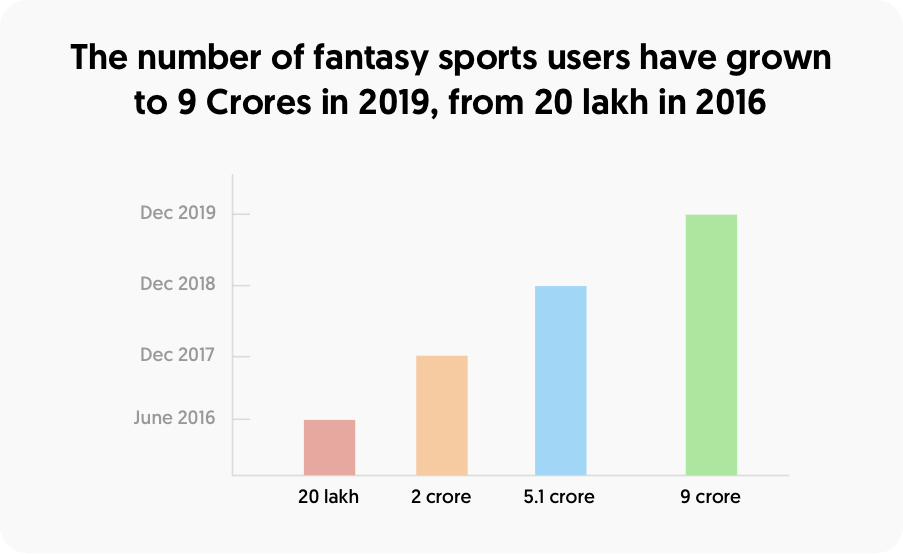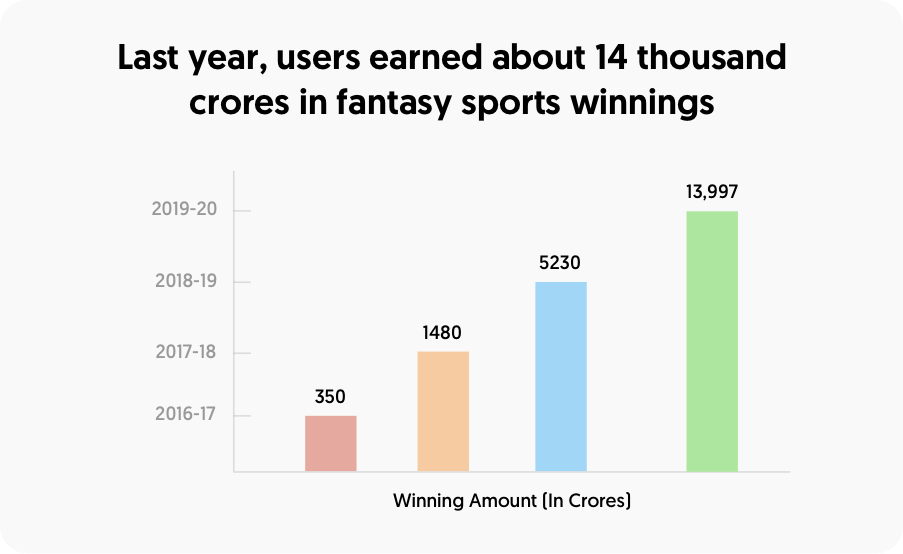 Online fantasy sports platforms are also contributing to the overall growth of the Indian economy through sponsorships, in executing advertising campaigns, building IT infrastructure, among others. Moreover, last year about half of the online transactions on fantasy platforms were initiated from Tier 2 and Tier 3 cities, thereby advancing digital payment proficiency and adoption. Needless to say, the fantasy sports business has created an ecosystem that is lucrative to all parties involved.
Growth in employment
Fantasy sports has not only contributed to India's economy but has also created various employment and career opportunities. In the year 2016-17, employment of about 1500 people was dependent on the segment directly and indirectly. Currently, 3,400 people work in the fantasy sports segment and about 5,100 people are indirectly dependent on the fantasy sports market. Needless to say, the fantasy sports business has created an ecosystem that is lucrative to all parties involved.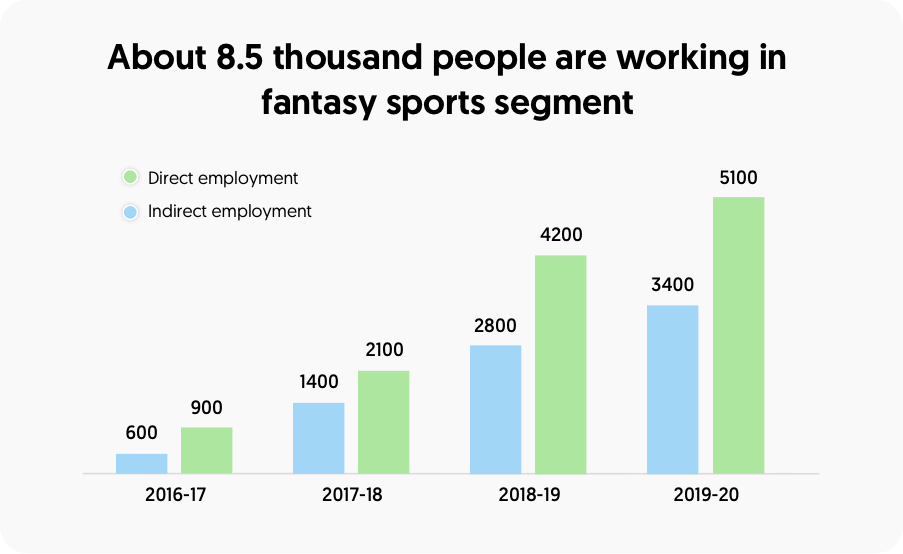 Cricket is dominant among other sports
With the introduction of multiple sporting leagues in India, fantasy sports are now widely played across cricket, football, kabaddi, and basketball. Though 77% of the users enjoy playing cricket the most, the number of users in other games is increasing as well.
These users are independent, working professionals with disposable income who view fantasy sports as a means for entertainment as well as a crucial part of their sports experience.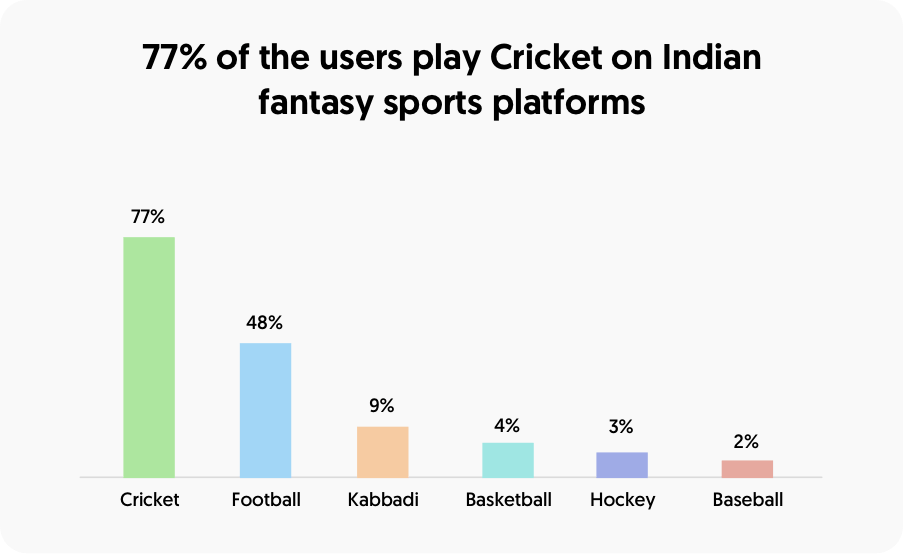 Fantasy Sports has not only increased the interest of users but also spawned a whole sports ecosystem. Prompted by the emergence of technology, digital payments & investments, FS has converted viewers into dedicated sports fans & is contributing to the growth of sports culture in India.
We at Vinfotech, are in constant pursuit of evolving alongside the industry and invent at the boundaries of technology to facilitate a stronger fantasy sports business. Our commitment to providing you a high-quality solution will elevate your users' game experience whilst increasing your revenue.
Contact us and we will be happy to help you galvanize the opportunity and fulfill your aspiration of becoming a fantasy sports entrepreneur.