As every brand struggles to get the attention of customers, a few have learnt the trick of fan engagement through fantasy sports apps. See what these brands are doing.
Online gaming is the new universe in the life of your customers today. A report states that digital game revenues will take up 91% of the global market with $125.3 billion. Mobile gaming is the largest segment today followed by console gaming. This means a major percentage of the world is playing online games, most likely your customers as well.
The psychology of gaming
What truly motivates a human mind to play games? A scientist Nick Yee found three motivating components –
# 1 The achievement component: This is the want to advance in the game, interest in the system and rules of the game, and the spirit to compete with others.
# 2 The social component: The want to form connections, the need to chat with others and help other players and they want to be part of a gaming group.
# 3 The immersion component: The want to create and customize a character to play in the story of the game and they want to escape from real life to immerse into virtual life. The effect of gaming on a human mind
There are several types of research that have validated playing of virtual games because of their many benefits. Research shows that unlike non-gamers, gamers had a better sense of spatial representation, visuomotor coordination, visual attention and iconic skill. Now online gaming has given access to the games to anyone in the world. As a result, users around the world are playing some or the other kind of online games every week.
Fantasy sports engage people
Every brand and leagues today is now trying to offer fantasy gaming to their fans or users for immersive engagement. The idea is to indirectly influence their sub-conscious mind as they play games and compete against each other. Fantasy sports development companies are experimenting with creating more and more immersive fantasy sports platforms that have the power to influence and engage fans. There's a good reason why they should. Take a look at these statistics –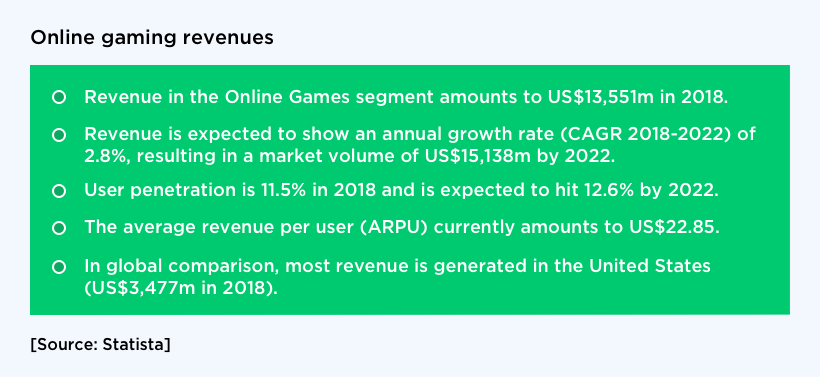 Brands are embracing fantasy sports for customer engagement
Indian payment gateway PayTm recently launched its fantasy gaming platform in order to encourage its users to play online and use PayTm for paid games. There are rewards and prizes to give away which are making this fantasy platform a sought-out territory for customers. Similarly, The Times of India launched its fantasy sports platform to make its readers stay and interact more with its brand and use their skills and knowledge of sports to their advantage. What exactly are these brands trying to accomplish? A few purposes –
/ Increase online gaming leading to more personalized interaction with the brand
/ More time spent on brand interaction
/ Indirect brand advocacy due to the skills/knowledge needed to play the games
/ Brand recall when users need it
Sports leagues such as the Indian Super League and the National Basketball Association in India are partnering with Indian fantasy sports providers such as Dream 11 in order to offer such apps to their users and fans.
What's interesting is by creating fantasy sports applications, these brands are also indirectly entering into the mobile online gaming market which has shown a steady growth. By 2021, the mobile gaming market will become a $100 billion industry. By then, mobile phones and tablets are expected to generate 59% revenue of the entire market.
Vinfotech is a fantasy sports app development company with a track record of more than eight years. We have built the most competitive customer engagement platforms and fantasy sports website & apps for several brands and demographics. Our portfolio is a testimony of the variety of work we have done in this field where non-sports brands too have entered and nailed the market. If you are a brand (sports or non-sports) thinking of a way to engage fans continually, call us.