Are you considering building a fantasy sports business in 2020? Here's all you need to know about the Indian laws.
Fantasy sports is a booming industry in India. According to the FIFS-KPMG report, currently, the number of fantasy sports users has grown to 90 million from 2M in 2016. Currently, the fantasy market value in India is 2.2B and is expected to reach over $5 billion in the next two years. After realizing its immense potential, several start-ups and entrepreneurs are looking to invest in the fantasy sports industry. In 2016, India had about 10 fantasy platforms and today the number of fantasy platforms has grown to 140. In this blog, we bring you the legality of the Indian market in layman's terms for your profound understanding.
Current Legal Scenario
As per Indian law, Fantasy sports are allowed all over India, except in few states like Assam, Odisha, and Telangana. In India, "Fantasy sports" does not have any legal definition. The legitimateness is exposed to whether the game qualifies as a 'game of skill' or a 'game of chance'. Games of chance fall under gambling and are restricted by state gambling laws. Nonetheless, games including the significant and considerable level of skill (mathematically, more than 50%) fall outside the extent of betting laws and consequently are legitimate in India. Courts have inspected the game format of Dream11 and have considered its configuration as 'game of skill''. Courts have not analyzed some other fantasy gaming formats and have not offered any perspectives, decisions, or investigations of the configuration of some other fantasy gaming platform. Regardless of whether a fantasy sport is a game of chance or a game of skill, the legality varies game to game.
As there are no set of government regulations, Fantasy industry standards are regulated by the Federation of Indian Fantasy Sports (FIFS. Self-regularisation norms for the Indian fantasy sports industry is set up by the federation until the government comes out with any standards and laws.
When it comes to taxation, as per the Indian rule, 18% GST is applicable on games that are skill-based, like Dream11's format, and fantasy sports gaming. The court referred to Schedule III of the Central Goods and Services Act, 2017 which states that 'actionable claims, other than lottery, gambling and betting' are excluded from the scope of supply."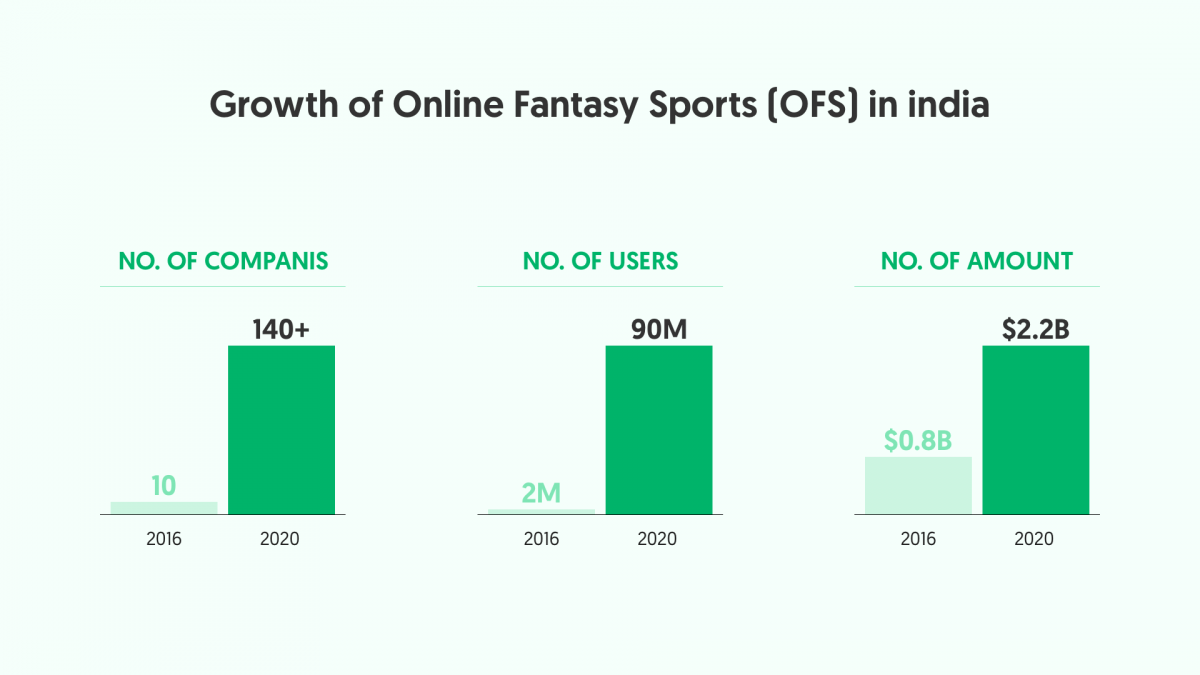 Do we have any law that separates gambling and fantasy sports?
Yes. There's the Central Government Act (The Public Gambling Act, 1867). This act comprises 18 Sections. In Section 12 (Act not to apply to certain games), it clearly states that – "Nothing in the provisions of this Act contained shall be held to apply to any game of mere skill wherever played." That means fantasy sports that are part of skill-based games are excluded.
What does the Supreme Court mean by 'mere skill'?
The Supreme Court of India ("SC") has interpreted the words "mere skill" to include games which are preponderant of skill and have laid down that (i) the competitions where users are required to deploy considerable skill, judgment, and discretion while drafting their fantasy team will not fall into the category of 'gambling'; and (ii) despite there being an element of chance, if a game is a game of skill, it would nevertheless be a game of "mere skill". Whether a game is of chance or skill is a question of fact to be decided on the facts and circumstances of each case.
Are there separate gambling/betting game laws across states?
Under the Constitution of India, the state legislatures have been given the power to frame state-specific laws on 'betting and gambling'. The public gambling act of 1867 has been adopted by certain states. The other states in India have enacted their own legislation to regulate gaming/gambling activities within its territory.
What about online gambling laws?
Betting or gambling is illegal in most of India. But there is no law that makes online betting an illegal activity. The State of Sikkim is the only state in India which has enacted a law for online gambling and sports betting. It's called the Sikkim Online Gaming (Regulation) Act, 2008.
The Sikkim State Government on August 19, 2015, amended the Sikkim Online Gaming (Regulation) Act restricting the offering of "online games and sports games" under the licenses issued under the said Act to physical premises of gaming parlors within the geographical boundaries of the state of Sikkim through intranet gaming terminals
Example: The case of State of Andhra Pradesh v. K. Satyanarayana & Ors.
The SC specifically tested the game of rummy on the principle of skill versus chance and held that Rummy was not a game entirely based on chance like the 'three-card' game (i.e. 'flush', 'brag' etc.) which were games of pure chance. It was held that Rummy was a game involving a preponderance of skill rather than chance. In this judgment, the SC has also passingly observed that the bridge is a game of skill.
Presently, there has been no case in India where card games (apart from Rummy) have been tested against the principle of skill versus chance. Games such as Rummy, Chess, Carrom, and Wagering on Horse Races have been recognized by the courts in India as games of skill.
Games that involve skills do not fall in the gambling category of games in India.
The State of Nagaland has recently passed The Nagaland Prohibition of Gambling and Promotion and Regulation of Online Games of Skill Act, 2016 ("Act"). The Act contemplates the issuance of online gaming licenses for skill games(including fantasy sports).
The Act allows a licensee to offer "games of skill" in the other Indian States, where such games are not classified as gambling. The Act acknowledges the power of each State to regulate the gaming activity within its jurisdiction. If any State is of the opinion that the licensee was offering its games in that State in violation of the Act or local laws of the relevant State, it may inform the Nagaland Government of such violation.
Assam and Odisha
With regard to Assam and Odisha, the activity of gaming/gambling, irrespective of the medium is an offense. The operators should take a conservative approach and do not offer games that are to be played for a fee.
What was the aftermath of IPL's spot-fixing in 2013?
After spot-fixing in 2013 IPL, two panels were appointed by the Supreme Court to look into the matter (one headed by Justice Mukul Mudgal and another as the Lodha panel). Both have suggested that sports betting should be legalized in India. The Supreme Court in July 2016 asked the Law Commission of India to examine the matter and make its recommendations to the government.
Way ahead
Taking into consideration the challenging legal landscape in India, obtaining a license under the Act may provide an added level of protection for an operator.
If you are considering to start a fantasy sports platform, you have a clearer way ahead as long as you are aware of the above laws. With the exception of Assam, Sikkim, Odisha & Telangana fantasy sports businesses can thrive anywhere in India.
To know more about fantasy sports laws in India, read our blog on the series Is fantasy sports considered gambling in India?