Fantasy sports players are spending a lot of money on non-sports online gaming also. See how businesses can benefit from this.
The mind of a fantasy sports player has compartments. In the last blog, we shared the definitive guide into the minds of fantasy sports players. This blog builds on the same premise where we share some hard facts about sports preferences, draft parties related to fantasy sports players and how fantasy sports players would typically spend money on team/player/league merchandise.
You already now know that most fantasy sports players prefer playing paid games because of higher levels of competition and prize money. They are willing to pay the money by way of –
/ Entry fees
/ Hosting fees
/ Prize fees
But which fantasy sports attracts which kinds of players willing to pay certain kinds of fees for playing? The infographic below, shared by FSTA in its 2017 report, gives you a clear idea –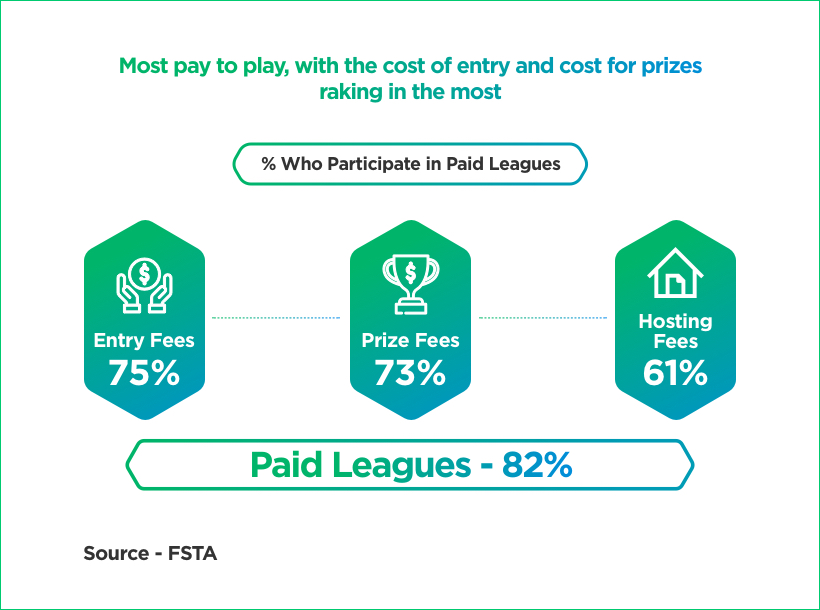 Fantasy sports players buy more merchandise
What's vital for businesses and sport leagues is fantasy sports play a major role in selling team and brand merchandise. The FSTA report claims that most fantasy sports players spend on prizes outside of cash with prizes including clothing, rings, belts and trophies. It says that 73% of traditional players spent prize money on special prizes in at least one league.
Traditional players are involved in draft parties
Most traditional fantasy sports players host or like to attend draft parties. The FSTA report says that these draft parties are typically for fantasy football, hockey, car racing, basketball, baseball, golf and soccer. In fact, 84% of these would be involved in draft parties of any sport.
Draft parties are officially in the culture of fantasy sports world
Draft parties are a big deal for traditional fantasy sports players. This is because fantasy sports bring in the sense of belongingness and a shared cause. A lot of people also play fantasy sports in order to be part of a community that meets locally and discusses sports. Fantasy sports are like an excuse to socialize over sports and leagues. At least 67% of the draft parties are hosted in a private dwelling like someone's home. But 54% of such parties are hosted at a local restaurant or a bar 45% in a chain bar or a restaurant. This creates a word-of-mouth like organic publicity for that particular fantasy sports or season.
How can sports brands benefit from draft parties and fantasy sports socializing ?
Fantasy sports socializing has come a long way over the years and it's becoming more serious by the day. This socializing is not only limited to draft parties. It also involves nights at bars, attending sporting events together and dinners. FSTA says that 51% of fantasy sports players love going to sports nights at bars while 50% would love attending a sporting event together. The same reports says 50% players love league dinners, 47% would go to a group trip involving fellow players and 44% would go to a golfing game together. This is how sports brands and sports leagues can benefit from this socializing?
# Selling actual event tickets
Sports leagues and brands can easily sell actual event tickets on their fantasy sports platforms with give-aways, discounts and special offers.
# Promoting team merchandise
At least 3 out of 4 fantasy sports players buy merchandise related to their own fantasy sports team, league or game. Sports leagues and brands can build their own fantasy games and promote all of their merchandise on the same platform.
# Punishment give-aways
As many as 68% leagues spend on a league loser punishment. This also goes a long way in promoting league brands among fantasy sports players.
# Sponsoring draft parties/ league dinners
Sports leagues can come up with offers on the fantasy sports platforms about sponsoring draft parties or league dinners upon the completion of each game. They can practically own these draft parties and promote their own brands and merchandise all through the year.
Non-sports brands can leverage from fantasy games
What's most interesting about the fantasy sports demographic is that they are compulsive gamers. Fantasy sports are but one aspect of their online gaming addiction. They are heavy players of other sports and non-sports competitions. When it comes non-sports games, fantasy sports players are playing –
/ mobile games
/ social media challenges
/ lottery
/ casino
/ sports betting
Fantasy gaming contributes $7.22 billion to the US economy. Such is the extent to which this demographic spends money on various kinds of online gaming.
Fantasy sports players are primarily seekers of entertainment. Non-sports brands in automobile, consumer goods, retail sector can practically leverage from this thirst for entertainment and build their own brands. They can considering building fantasy games around either their brand, industry and can promote their own products and services easily.
Vinfotech is world leader is fantasy sports app development across industry verticals. For us, fantasy gaming is not only about sports. We have helped non-sports brands such as NationBall- A Political Fantasy Software , Street Fight - A Fantasy Stock Market Software or GM Genius - A fantasy football platform to learn math skills to target their customers successfully on fantasy platforms. Fantasy sports solution is now an emerging culture and can be an effective way for building brand loyalty. If you are a brand looking for leveraging from fantasy sports website or mobile application, give us a call.