Professional fantasy league players formed some of the most successful fantasy sports brands in the industry.
If you want to be good at something, keep practising. But what if good is not good enough for you, what if greatness is what you aspire for? Malcolm Gladwell did a lot of research on the outliers of the game, and he has this advice for greatness, "Be passionate, and keep practising for 10000 hours".
Fantasy sports is no exception to the rule, with the most successful people in the field being the one who are passionate about fantasy sports. These entrepreneurs were pro gamers before turning their passion into business generating millions and billions in revenues. That's 100$ per hour for a million, and a hundred-thousand per hour for a billion, probably the best return on investment, definitely the most fun.
What do fantasy sports leaders FanDuel and Draftkings have in common with an Indian fantasy sports company Dream 11? You would first think of the difference probably. Dream11 has 15 million users, Drafkings has 8 million while FanDuel has 6 million. Guess what? The three companies were founded and run by avid fantasy sports players.
Draftkings owners were fellow fantasy players
Draftkings was started by Jason Robins, Matthew Kalish and Paul Liberman, former Vistaprint employees who became buddies due to their shared passion for fantasy sports. The company, which was started in 2012 at Liberman's house, has more than 350 employees now and offered a billion dollar as prize money for just their NFL contest in 2017.
Passion for correct predictions led to FanDuel
FanDuel started as Hubdub, a news-prediction platform based in Edinburgh, Scotland. Its founder Nigel Eccles loved making correct predictions using available data and he wanted others to have fun too. The US 2008 elections proved to be decisive for Hubdub's popularity that compelled Eccles to shift base to Austin. He tapped the consumer demand soon and built a platform around sports. FanDuel was born.
Dream11 was the dream of two avid sports fans
Dream11 was similarly founded by two avid sports fans, Harsh Jain and Bhavit Sheth, both friends spent a lot of time discussing the team selection during EPL and cricket matches, and discussed the alternate endings had the team been different. It was a super engaging conversation, and 15 million have joined them since.
Fantasy sports provide the fans to engage in their favorite sporting events in a way which was never possible before. On top of that, they award the fans who have more knowledge of the game. Different sports rule the market in different locations. Fantasy baseball, basketball and rugby are more famous in US, while Indian players love fantasy cricket and football. Fantasy F1, hockey, Australian football - all find large number of fans.
Ingredients of a successful fantasy sports businessman
These success stories aren't just fairy tales, these have come true due to a deep understanding of fantasy sports, for the simple reason that the founders themselves loved playing and when it comes to their business, they know what the users want and how to make their product more engaging and fun.
The most popular and successful fantasy sports have common traits-
-They all look ridiculously easy to take part in
-They all give just the right amount of challenge to keep the user interested
-Simplicity is the key
-Deep knowledge of the game in terms of what appeals to users
-But also deep knowledge of creating such apps so as to come up with the most engaging features while still keeping it easy to use.
When the people who love fantasy sports start building them, they know that it's not all about front-end. Having been in the playing field themselves for a long time, they know that user-security is as important as the game itself. Making the features compatible with user's system and ensuring that he has a hassle free experience requires a lot of expertise, and the best brains in business prefer to leave it to the experts.
At Vinfotech, the global leader in fantasy sports website design and development with over 200 successful projects done, and more than 25000 hours of coding on vFantasy framework, our own fantasy sports software alone, we are here to help change your dream fantasy app into a real product. Our framework, which is consistently ranked the best such product in the world by our clients, has made development process super inclusive and super easy for the clients too.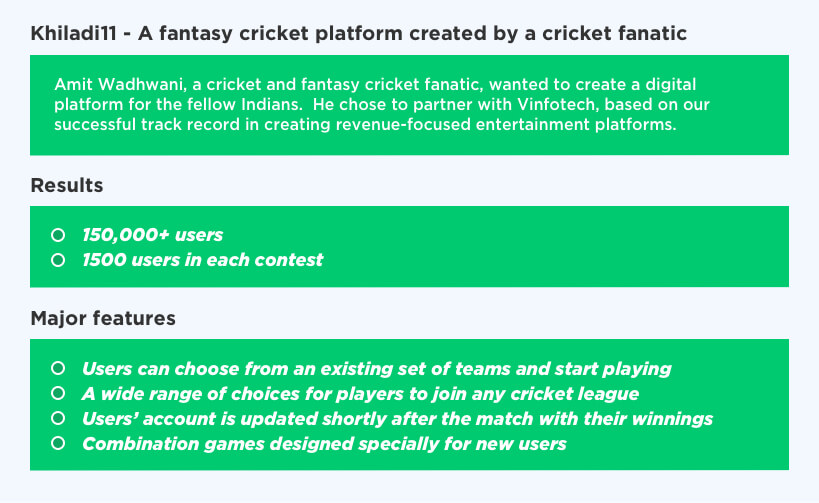 You now know how fantasy sports professional players founded some of the most successful brands in the industry. We were part of a similar success story in the form of Khiladi11 - founded by a cricket fanatic. Do check out the story below -
Khiladi11 is just one of the several winning fantasy cricket platforms, we have built over the years. If you are a fantasy sports fan with an entrepreneurial bent, we can collaborate with you for creating a great fantasy sports website and mobile application. We will also help you in gaining the initial traction, and maintain, enhance and scale further as needed.
Give us a call.