A fantasy sports website like Fanduel offers an array of fantasy sports and betting options that will keep the users captivated with excitement and anticipation. Vinfotech can help you understand the cost and development process of this feature-rich website and application.
If there is one industry that has experienced unstoppable progress even as the world around it reels from the ongoing Coronavirus crisis, then it is undoubtedly the fantasy sports industry. The fantasy sports software development sector is a multi-billion dollar industry today, much to the surprise of its critics and supporters alike. The unparalleled success at display here has encouraged many businesses and ambitious individuals to jump into these lucrative waters in hopes of generating high revenues.
Over the years, we've seen many fantasy sports platforms like Draft Kings, Paytm First, and FanDuel become household names across the globe, making a fortune for the people involved in their development. So it is only natural for aspiring entrepreneurs to get influenced into launching their own fantasy sports platforms.
It's a brilliant idea, but it is an idea that needs proper research and competent execution. Without proper planning, resources, and help, you might as well lose all your money before potential users even have a chance of hearing your product's name for the first time. Take FanDuel for example; this app enjoys a substantial user base because of its user-friendly interface, intuitive features, and a tempting reward system. Apps like FanDuel aren't developed and launched overnight; they are a product of strategic deliberation and a smooth development process.
There are several questions that will instantly strike you once you've sat down to lay out a blueprint for your mobile app. One of the questions that will definitely bother you is the cost associated with their development. So how much will it cost to develop a fantasy sports app like FanDuel? There isn't a definitive answer to this question. However, that doesn't mean you can't determine it with the help of a few imperative factors.
In this article, we will be looking at some fundamental cost-defining aspects associated with the development of fantasy sports mobile apps like FanDuel.
But first! Let's look at a few recent stats to understand why undertaking a fantasy sports app development endeavor is such a great idea.
The Fantasy Sports Industry is dominating the Global Markets
Just 2 years back in the year 2019, the global Fantasy sports market was worth $18 million. This number is expected to reach $43 million by the year 2026, experiencing a CAGR of 13.2% between the years 2021 and 2026.
India alone harbors over 60 fantasy sports operators that together meet the demands of a whopping 50 million users. This number is expected to grow as mobile technology becomes way more pervasive across the country.
Fantasy sports in the United States continue to thrive. The market has risen from an estimated 32 million players in the United States and Canada in 2010 to 59.3 million in 2017. According to TheFSGA.org, the fantasy sports industry in the United States rose from 42 million in 2015 to 45.9 million in 2019.
Moreover, the OFSP sector has experienced consistent rapid growth in the past four years. Even casual users (almost 89%) of fantasy sports platforms use their apps at least once a month. The industry is being helped in its ascension further by the willingness of investors to fund this industry. In fact, it is not difficult to find an investor to fund your project if you've built a robust fantasy sports app. In hindsight, the growth this sector has shown in recent years and the promise it shows for the future is undeniable. Suffice to say, there has never been a good time like the one we are living in now to develop a fantasy sports app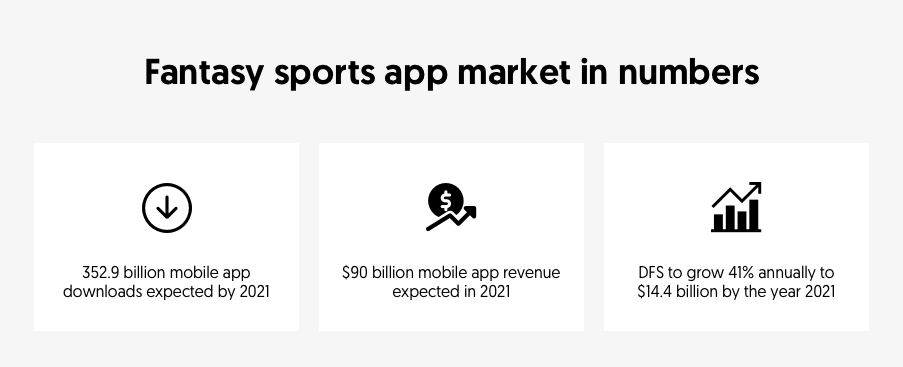 Cost to Develop a Fantasy Sports App like FanDuel
Like we mentioned before, the cost is definitely one of the first things that will come to your mind when undertaking a fantasy sports app development endeavor. Determining cost first-hand is crucial in determining the budget of your project.
There are 4 vital factors that affect the expense one can hope to incur while developing a fantasy sports app. They are as follows:
1 – Platform
What platform should I use to build my mobile app? Well when it comes to mobile apps, you have two obvious choices. You can either opt for Android or go with iOS. Whatever platform you choose will play a significant role in determining the cost of your project.
Building an app for iOS is considered a lot less expensive than building one on Android as the latter is more compatible with a variety of devices. Hence, it is crucial to finalize the platform you'll go with before approaching an app developing partner. However, to cover more ground with regards to customers, it is advisable to build your app on both platforms.
2 – Tech Requirements
Tech Stack is the next important factor you must pay attention to after deciding on the platform. You must have answers to questions like which programming language you want to use? Or which database will you use to store data? You must also determine whether you want to build your app in the native way or take the cross-platform route.
All of the above questions will clear the air around how much cost you will potentially incur while developing the mobile app. It is wise to first consult with your developing partner so you can make an informed decision on this matter. If you've partnered with expert developing partners like Vinfotech, then rest assured we will share important insight pertaining to hidden costs associated with the fantasy sports app development process.
3 – The features
The features your app offers will ultimately make or break your mobile application. So it is only obvious that the features your app incorporates will determine the cost of your development project as well. The cost-of-course will vary depending on what features you decide to integrate into your tool. For instance, if you decide to add high-end features, the process will cost you more.
Whatever you decide, there are certain features that your fantasy sports app simply cannot compromise on, irrespective of how much it will cost you. Here is a list of must-have features in a fantasy sports app.
# Easy Onboarding
You have to offer a user-friendly experience to your customers to succeed in the business. One way to assure that is by incorporating an easy onboarding system that allows users to sign-up to the app in just a few easy steps. You can also implement an option that allows users to register via their existing social media account on Facebook or Gmail.
# Clean Landing Page
An app must harbor a clean; clutter-free landing page that is easy to navigate. It must present the user with a list of sports like cricket, football, basketball, etc., which lets them decide what game they would like to indulge in. Make sure the landing page has a clearly visible search bar to help users easily find what they are looking for.
# Contest Details
There must be an option that provides users with vital details pertaining to the sports they prefer to play. They should get all the details related to their fantasy sports app while also being able to filter the content according to winning range, contest type, winners count, entry fee, and contest size, etc.
# Payments
This is a very important feature if you seek to earn good revenue from your mobile app. Facilitate a hassle-free payment system that allows your users to indulge in their favorite sports. It is advisable to have multiple payment options integrated into the system. You must give the user an option to pay by credit/debit cards or use payment gateways like PayTM or Google Pay as per their preferences.
# Achievement Badges
A feature that allows you to allocate badges to a user's profile can act as a good tactic to keep players engaged with your app. You can even go a step further and empower users with the ability to share their accomplishments on social media. This will not only help retain your existing users but also help you attract new users.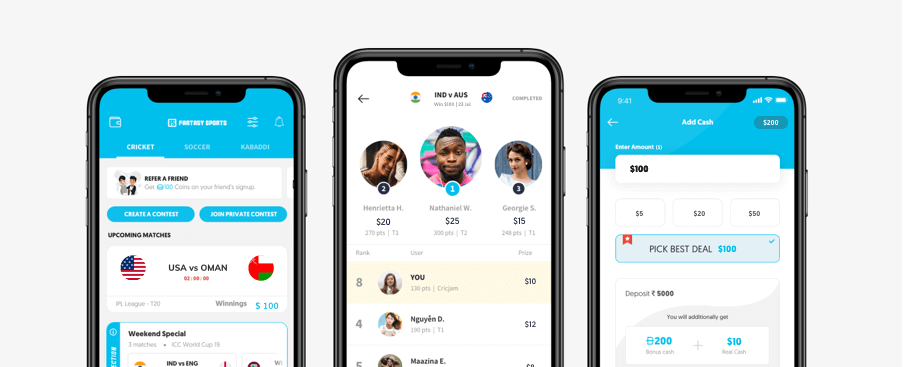 # Live Game Feeds
Incorporating live game feeds can really help in providing an enhanced user experience. With live feeds, users can get updates to real matches on the application in real-time. These feeds can be used to audit a virtual team's performance.
# Admin Panel
An admin panel is arguably a fantasy sports app's most crucial feature. The admin of an app must get clear insights into how things are progressing with their app from a single dashboard. The dashboard must offer clear information on the number of players, the number of matches being played, and much more. The panel must facilitate the addition, deletion, or even the deactivation of an ongoing contest. The panel must also provide reports on how much a single user is earning on the platform, player rankings, time spent by players on the app and so on.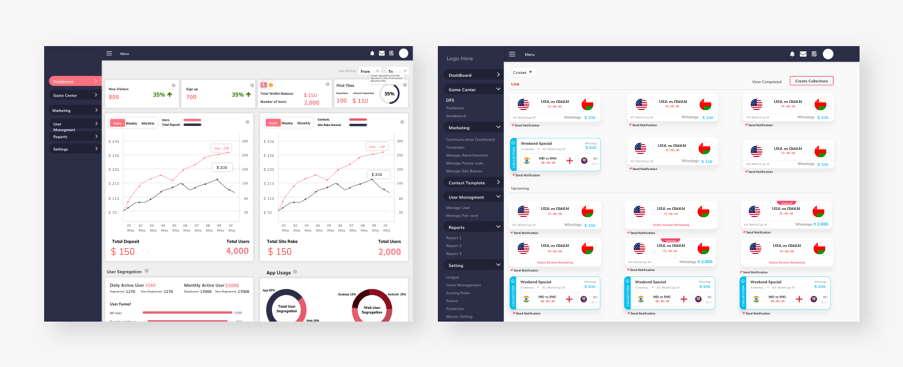 With the advancement of technology, a futuristic, feature-rich platform will give you an advantage over your competitors and provide your users with an unparalleled fantasy sports experience. Here's a rundown of advanced features to help you stay ahead of the competition.
# Artificial Intelligence for Personalization
The world of sports has advanced by leaps and bounds. While statistics have always played an important role in sports since their inception, artificial intelligence (AI) has had a substantial impact on the level of audience engagement, game strategy, and the way players are playing today.
We can see that data analytics and artificial intelligence are being employed extensively in sports. The machine learning algorithms help you understand your user behavior and predict their expectations. Personalized notifications to custom contests, with the help of AI you can easily match user expectations to keep them engaged.
# Chatbot Integration to improve User Engagement
With customers' expectations skyrocketing, chat bots are becoming increasingly popular. Chat bots linked into the business ecosystem can be useful in pleasing consumers by serving them in real-time. Chat bots on fantasy sports websites can be more than just a conversational tool. Through the user journey, you may offer customers professional advice or assistance, as well as real-time team building tips and relevant updates that will ultimately help them enhance their game.
# Social Media Integration
Social media is of paramount importance for any industry in today's time. For building user connections, marketing and customer support, social media is a crucial tool.
You can use the social reach of platforms for brand awareness and recognition. It has the potential to reach out to all of the potential customers across the globe. Social sharing tools can boost engagement by allowing your existing users to share their experiences with thousands of followers on social media networks. By allowing users to login with their social media account, social media integration can increase the usefulness of your app.
4 – Hiring a Developing Partner
Ultimately, the app development partner you ally with will determine the cost you pay to bring your fantasy sports app plans to fruition. It is imperative to hire a development partner who possesses the expertise, resources, and overall goodwill needed to help you develop an app at an affordable cost. Much of the amount you invest in the development process will be determined by how optimized your process actually is. A reputable developing partner will avoid mistakes, arm you with good advice, and implement only the best minds and the most advanced resources to breathe life into your mobile app. The location of your developers will also affect the overall cost of your project. For example, seeking help from Indian developers will cost you far less than hiring a foreign firm for the job. Needless to say, a good development partner will focus on optimizing your expenses while maximizing your future profits by building a robust app that connects with customers instantly.
Seeking Out the Right Developing Partner
Remember, the bottom line is to not compromise on the quality of your app development process. The estimated cost to develop an app like FanDuel is somewhere in the higher end of the spectrum. However, that cost incurred by the tool is nothing compared to the profits it enjoys today.
You need to find the perfect balance between affordability and high-end quality to come up with an app that starts getting footfalls as soon as it is launched in the market. We at Vinfotech can help you with that. Vinfotech has helped many aspiring businesses and individuals develop robust fantasy sports platforms that have proved extremely profitable. Rest assured, we can help you accomplish the same.
So if you too seek to develop a tool like FanDuel without exceeding your budget, then get in touch with us to learn how Vinfotech can help you create and own a fantasy sports platform you can be proud of.