Team Vinfotech participated in The Annual Sports Gaming Conference in India organized by The Indian Federation of Sports Gaming. Some take-aways.
India's first and the only sports gaming self-regulatory industry body was finally formed in 2017 that's set to implement best practices in the sports gaming industry. For businesses dealing in fantasy sports and gaming platforms, it does come as good news as they are hoping that all the uncertainty surrounding online gaming could now be cleared.
This body is called the Indian Federation of Sports Gaming (IFSG). Vinfotech is one of the first to acquire a membership of IFSG. We have created several Indian fantasy sports platforms such as PlayZo, Khiladi11 among others.
Team Vinfotech participated actively in Annual Sports Gaming Conference organized by IFSG in order to establish synergy between industry players and influencers. We understood how the existence of a body such as IFSG would influence the Indian fantasy sports industry. Here are some basic things that we learnt during the conference -
1] What's a sports gaming company according to IFSG?
The IFSG includes any company that "operates sports-based Games of Skill (including e-sports, fantasy sports and casual sports games)" under the regulation.
2] What would IFSG do?
IFSG has been established for the following purposes –
a] Healthy ecosystem: IFSG aims to create a healthy ecosystem for both users and operators by creating guidelines for a common set of practices, setting standards of operation and creating a regulatory framework. This would be done in order to protect the interests of both the users and operators.
b] Responsible Gaming: IFSG is determined to also to promote an environment of Responsible Gaming.
c] Growth of sports gaming: The federation is working to create a conducive environment and ensure the growth of sports gaming in India. IFSG is working with stakeholders such as various sports leagues, sports fans, sports gaming operators, law firms, policy analysts, statisticians and economists, payment gateway providers, tech providers, growth enablers (online and offline media platforms), government representatives and business consultants.
3] What's the context of gaming laws in India?
The IFSG in a document has gone on to establish a clear context about gaming laws in India. It mentions the two main enactments that are dealing with gaming laws. They are the pre-independence Public Gaming Act (PGA), 1867 and the Prize Competitions Act, 1955. Now the PGA considers public gambling in a public forum in India along with the keeping of a 'common gaming house', i.e., any enclosed space, in which instruments of gaming are kept or used for profit or gain. However, the PGA has made a clear distinction between betting on a "game of chance" and staking on a "game of skill". As a result, this provides a safe harbour to activities such as wagering on horse races that were popular and prevalent amongst the erstwhile British regimen. Eventually, most states have adopted the PGA guidelines in judging or allowing the games of skill or chance.
During a key case of State of Bombay v/s R M D Chamarbaugwala, the Supreme Court interpreted the words ' mere skill' as "games which are preponderantly of skill and even if there is an element of chance, if a game is preponderantly a game of skill, it would nevertheless be a game of "mere skill".
4] What about prize money or prize distribution while playing games online?
Here's when the PCA comes into play. Along with PGA, the PCA has certain regulatory terms related to the offer and operation of prize competitions. A prize competition under the PCA is "any competition offered with a prize where the solution is based around the building up or arrangement of letters or figures, such as a crossword prize competition, a missing-word prize competition or a picture prize competition." Though there's not express exemption for games of skill in the PCA, the Supreme Court has examined the legislative history and intent of the PCA and excluded games which are predominantly based on skill from the regulatory purview and penalising terms of the PCA, as state by the IFSG report.
5] How do state governments follow these laws?
This answer is found in the Constitution of India. As per the Seventh Schedule to the Constitution of India (Entries 34 and 62 of List II), the state governments have been authorised to make laws on betting and gambling. As a result, where a state legislation on gambling exists, it prevails over the PGA, which is a central legislation promulgated earlier in time. The IFSG report further states – "Accordingly, in addition to the PGA, a number of states in India have enacted legislation to govern gambling and gaming within these states. These state legislations are mostly in consonance with the PGA, and similarly exempt games where the outcome is predominantly based on skill."
6] What does the "skill" element mean in fantasy sports in India?
From two extremely decisive cases fought between fantasy sports players and operators, it can be said conclusively that in India fantasy sports are considered as games of skill. However, not all fantasy games are necessarily games of skills. Scoring metrics and drafting metrics play a key role in deciding that. Various courts reasoned and analysed the conditions or the metrics within which a user is required to draft their team. These can be upper caps and limits, restrictions on the number of players from a single team etc. So in case of any dispute, the gameplays of each fantasy game would be analysed in order to categorize or identify it to be a game of skill or chance.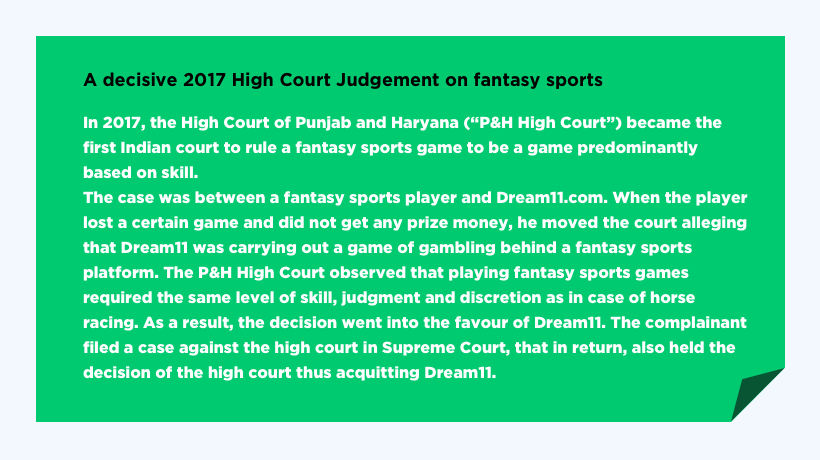 Vinfotech is world leader in fantasy sports website design and development. We are now one of the earliest players in India to acquire a membership with Indian Federation of Sports Gaming (IFSG). We have developed various fantasy sports website and mobile applications along with more than eight years of industry experience. If you are an ambitious entrepreneur aiming to lead the industry, do give us a call.