Fantasy sports is a unique storytelling medium for media houses
Fantasy sports applications drive more readers and viewers towards consumption of sports news. See how.
Fantasy sports has proven itself to be more than a feature of the editorial offerings for media companies globally. It is today a significant part of their long-term strategy. As the industry continues to grow, fantasy sports participants have become a highly valued segment of the sports consumer population.
Several media houses have already felt the potential of fantasy sports as a unique medium of storytelling. Yahoo News was one of the first media houses to start fantasy football league. Soon media houses such as News Corp, The Telegraph, Golf News Net, TSN (Canada) and many others followed suit and for good reason. Online surveys report that 60% fantasy sports players say they read more about sports because of fantasy games. Most media houses – be it newspapers, magazines or news channels – wish to engage readers/viewers more. Newspapers like The Telegraph highlights news, tips and suggestions on fantasy sports platforms to enhance its reach to a wider audience. Fox Sports online portal offers draft guides, analysis of fantasy sports along with fantasy leagues and games. Fantasy sports has allowed news and magazine portals to introduce their readers to an experience closer to the real games.
Fantasy sports demographics (USA & Canada)
/ There were 57.4 million fantasy sports players in 2016.
/ The average annual spending of a fantasy sports player is $556 per player.
/ More than 50% users are between the ages of 18 and 34.
/ The all-time favorite fantasy sports worldwide is American football.
/ 39% of fantasy sports players primarily use a mobile device.
/ Fantasy sports players that pay league fees is 70%.
Fantasy sports industry growth
Forbes projections of global daily fantasy games entry fee growth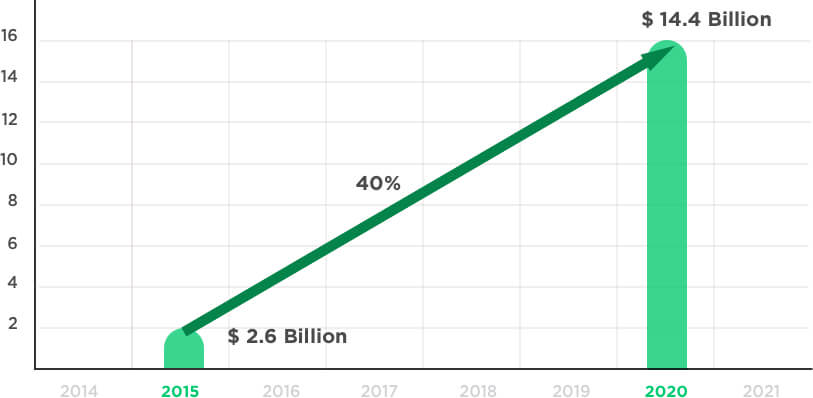 What makes fantasy sports a hot tool for media?
Focus on digital content consumption is the key force that drives media today and they are investing considerable amount of resources to ensure long-term growth in serious digital audience.
It is a modern and innovative approach to reach and connect with sports fans for the purpose of retaining and growing audience and engagement in sports space.
Yahoo, a longtime leader in season-long fantasy sports, joined the DFS industry in 2015. Its easy access to users via its sports content and season-long platform allowed it to quickly become the No. 3 operator only behind DraftKings & FanDuel.
Media(Fantasy Sports) Revenue: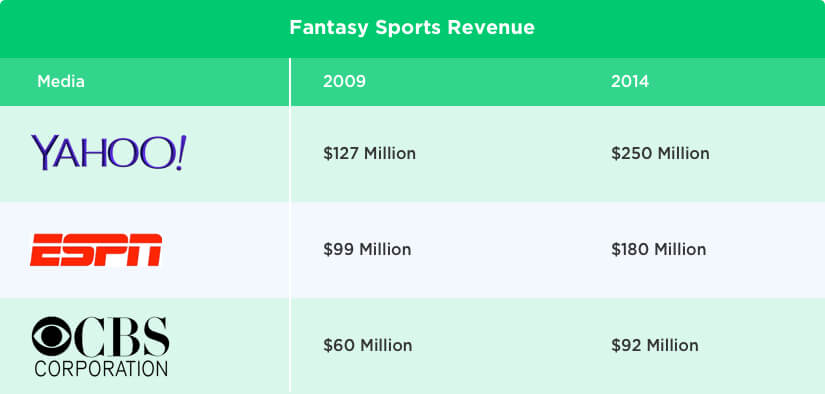 Growth: Fantasy sports provides a noticeable 40% growth in sports news consumption as fantasy participants are heavy sports news consumers and spend nine hours a week acquiring sports news relevant to their fantasy contests.
New Revenues: Fantasy sports opens up a whole new world of revenues with sponsorships and franchise opportunities for media houses.
Some major fantasy league sponsorships

Despite this potential, there are several media houses who have chosen to walk the traditional path failing to double their readers. If you are yet to experience the power of fantasy sports for deeper user engagement, give us a call.