It is extremely crucial to choose your DFS operators wisely to create a robust platform that enjoys a smooth launch, attracts the user base it is trying to appease, and start generating revenues as quickly as possible.
Who could've thought that something as benign as virtual fantasy gaming pertaining to real-world sports would take the world by storm. Yet, here we are living under the vast shadow cast upon us by the ever-expanding universe of fantasy sports.
With the kind of money this industry has been churning out lately, it should come as no surprise either that many opportunistic individuals and businesses want a piece of this lucrative pie. However, launching a daily fantasy sports site or app and managing it is easier said than done. Scaling a DFS business is an uphill battle that most entrepreneurs either underestimate or aren't well prepared to undertake.
Much of your success in the DFS sector hinges on the operator you choose as your ally. It is extremely crucial to choose your DFS operators wisely to create a robust platform that enjoys a smooth launch, attracts the user base it is trying to appease, and start generating revenues as quickly as possible. A reliable operator will ensure the platform and all of its features are functioning competently with little to no bottlenecks hindering the user experience.
In this article, we would like to stress how important it is to choose a good DFS operator and what you can do to choose them more wisely. If you are someone who wants to jump head-first into the daily fantasy sports business, then you might want to pay attention to what we have to say here.
Fantasy Sport an Amazing Opportunity for Business
One cannot deny that the fantasy sports business has indeed turned into a revenue-generating behemoth in the past couple of years. The pandemic only resulted in boosting its popularity and bringing more players to its threshold. People attempting to find solace in a time of crisis found a way to keep themselves engaged and excited by indulging in this form of mobile gaming. The OFPS industry has now become a huge marketplace that brings together celebrities, big brands, league tournaments, media companies, and billions of sports lovers from around the world.
The upward surge in revenue it has been experiencing has also galvanized major investors to pour billions of dollars into the sector. The audience and marketing expenditure on the industry has been huge. Focusing purely on revenue, the industry managed to generate revenue of $7.5 billion in 2019. If current estimates are to be believed, then this revenue is expected to grow at a CAGR of 14% during 2020 – 2026.
The US DFS market alone harbors an active user base of over 60 million users. This number is also forecasted to grow in the coming years. The constant investment, player participation, and massive growth in revenues prove that the Fantasy Sports industry is a goldmine of business opportunities. New players in thousands are gravitating towards such platforms because of their love for sports and the promise of cash rewards. It is undoubtedly one of the fastest-growing industries in the world and extremely popular among entrepreneurs as massive profits can be reaped in short periods.

The Growth of Fantasy Sports
Numbers do not lie, and one look at them will make you realize how unstoppable the growth of fantasy sports has been all around the world. Take, for instance, Dream 11 – India's premier fantasy sports platform. That company has witnessed over 900% of growth ever since its inception. It currently enjoys an active user base of 20 million users.
With the increased penetration of smartphones, the application-based fantasy sports market has also witnessed significant growth. Current estimates claim that this sector will record a growth of over 119% from 2020-2026 at a CAGR of 14%.

As of 2020, North America is still the most prominent market for fantasy sports, accounting for over 60% of the total revenue share. Europe accounted for 16% of the shares with Germany, UK, France, and Spain being major contributors. The APAC region accounted for 10% of the shares, with India, Pakistan, China, and South Korea being major contributors. All of these regions are expected to contribute a lot more in terms of revenue till 2026.
There are three key reasons behind why these markets are experiencing such phenomenal growth. Anyone or all of the below reasons may be driving growth in the above regions:
1. Fantasy sports have a naturally profitable business model.
2. Their marketing and advertising is extremely efficient.
3. They harbor multiple streams to generate revenue.

Fantasy sports platforms simply have too many options to effectively advertise themselves. No other user-bases leverage the reach of social media like the one's fantasy sports companies enjoy. When a user shares his/her experience on social media or shares their achievements, rewards, or referral codes on Facebook and Twitter, they inadvertently incite intrigue among others who haven't tried such apps yet. The incentive of cash rewards also helps greatly in attracting new users as well.
The planned integration of AI, AR, and VR in fantasy sports apps has also piqued interest due to their promise of a more personalized and fantastical experience for users. The above reasons perfectly explain why so many individuals are willing to invest their time and money into fantasy sports apps.
Why Choose a DFS Operator Wisely?
Like we mentioned before, the DFS operator you choose as your partner will determine whether your daily fantasy sports venture will be a win or a total bust. Finding the right operator is sort of challenging when you consider just how many companies there are in the market today. Each promises the moon to you but only some have the expertise, personnel, and resources required to breathe life into your ambitions.
Choosing the right fantasy sports operator is very crucial. To deliver the most value to your users and ensure a seamless experience choose an operator that provides 360 degree solutions. To help you choose your operator easily we've prepared a checklist that will come handy for a quick recap.
Failure to choose an appropriate DFS operator is not an option. You will only be bleeding money on an application that is subpar, fails to bring new users, and pounds your reputation into the ground even before your career as a DFS entrepreneur has begun.
So let's look at some of the things you need to consider to find a DFS operator you can trust and rely on.
1 – Decide the Objective of Your Business
Before you go out looking for a DFS operator, be sure what the objective and mission of your fantasy sports business will be. Figure out all the key elements you want to focus on and whether or not your chosen DFS operator is capable of fulfilling it. From designing a fluent revenue model to brand enhancement, whatever the objective, make sure your DFS operator will help you.
2 – Market Research
Market Research is an important step and plays a very crucial role in the development of successful daily fantasy sports platforms. Research helps you stay up-to-date on the latest industry trends and news. Make sure the company you choose as your development partner indulges in market research and leverages the data gathered to design your platform accordingly.
3 – Capable of Building a Cross-Platform App
Building an app that is compatible with both iOS and Android is fundamental for the growth and eventual success of your platform. Having an app that runs smoothly on both operating systems will help you cover more ground and cater to a wider user base with respect to mobile fantasy sports applications. So make sure you choose a development partner that is capable of building you a competent cross-platform app.

4 – Valuable Consultation
The company you choose as your DFS operator should possess enough experience in the industry to give expert advice on how to run and market a fantasy sports platform/app. Valuable insight can help you decide on the right rules and format for your platform. They should work hand-in-hand with you and provide full transparency in the full development and management process of the app.
5 – Referring Reviews and Testimonials
Before you get into business with a DFS operator, it is extremely crucial to do your homework on the company, Ferret out as many reviews and client testimonials as you can on the company. Try to understand the goodwill a company enjoys in the industry. Find out whether the company has ever attracted the ire of legal authorities. A company with a clean reputation and an adequate user-base of happy past and current clients is the route to opt.
Checklist to Consider when Looking for a DFS Operator
The following is a checklist of everything your DFS operator must offer you. This includes all essential features your fantasy sports platform must contain to appease users.
1 – General Particulars
It is wise to have multiple sports offerings built into a platform. Maybe a single sport like cricket is popular in your region. That doesn't mean you should alienate fans that prefer a different sport like Football, Baseball, or Rugby. So make sure your DFS operator can build a platform that makes room for a wide range of fantasy sports like Cricket, Soccer, Basketball, Baseball, Kabaddi, Rugby, Golf, and more.
Make sure your platform supports multiple languages. Multi-lingual support allows your platform to transcend boundaries and cater to a wider range of people who speak different languages.
Dark Mode is another feature that is quite popular among app users today. Incorporating the ability to switch from a white screen to a darker one is a huge bonus. The platform should also support all different time zones and currencies.
An operator with a network game offering ensures you have a platform that starts showing cash rewards from day 1 of launch with little to no risk at your side. This is a huge advantage as it helps you significantly bring down the cost of customer acquisition. As of today, Vinfotech is the only company that offers this feature.
2 - Game Mode
Having multiple game modes keeps your fantasy sports platform interesting and fresh instead of going stale quickly. The following are a few game modes that must feature in your platform.
Create and manage a team for single and weekly games, equipped with features like player cards, field view, and more that help trigger fan engagement.
II. Tournament DFS
Hold tournaments that last relatively long and can be used to hold your user's engagement throughout the entire duration of the tournament. All the scores are put together at the end of a tournament to declare the winner.
III. Sports Predictor
Allow users to win money by predicting the outcome of events of a live game. This is a great way to drive fan engagement and make your game offering more exciting.
IV. Pick'em
This is a very easy game where the user must pick a winning side to occupy a higher position on the leaderboard.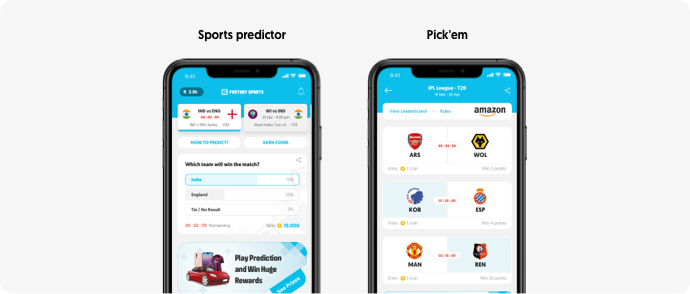 3 – Admin Panel
The Admin Panel is an integral part of any application. An intuitive panel that allows you to manage everything from your users to finances is a huge plus. The following is everything your admin panel needs, to make app management a hassle-free experience.
I. User Management
A robust fantasy sports application must feature a user panel wherein an authorized admin can search users, manage user details, deposits, and rankings, approve documents, and access reports. It should be easily configurable.
II. Communication Management
A communication dashboard that allows you to create and send targeted campaigns via SMS, email or push notifications can be of great help for your marketing.
III. Game-Play Management
A gameplay module makes the management of contests offered by your platform simple. This module must allow seamless creation and management of contests for the matches.
IV. Banner Management
The panel must allow admins to add and manage AD banners; this can be used for internal promotions or for the promotion of sponsors.
V. Admin Role Management
Manage admin permission and provide controlled access to authorized employees, vendors, and partners.
VI. Merchandise Management
A section that allows you to add a variety of merchandise can be extremely beneficial. The added merchandise will be reflected on the prize distribution screen of free-to-play and DFS game types.
VII. Deal Management
Boost up your number of deposits by offering great deals to players. This is a great feature that encourages users to spend money on your app.
VIII. Static Content Management
A dedicated section to manage the content of all important pages of an app or site like 'About Us', 'Privacy Policy', 'Terms of Use', and more.
IX. Reports
A section that presents you with meaningful data and actionable insights pertaining to your players, deposits, tournaments, contests offered, etc.
X. Financial Management
A dedicated panel that allows you to plan, organize, control, and monitor all financial resources of your business. Make sure your operator provides you with a section, which you can use to view, track and download all the transactions.
XI. Affiliate Management
A section of the panel wherein you can manage your relationship with affiliates, keep everything transparent between you and them by sharing stats pertaining to the commissions earned, number of enrolled users, and deposits received.
XII. Tax Management
Get clear access to information like income details, tax liability, and refund eligibility to ensure compliance with established Tax laws of your region.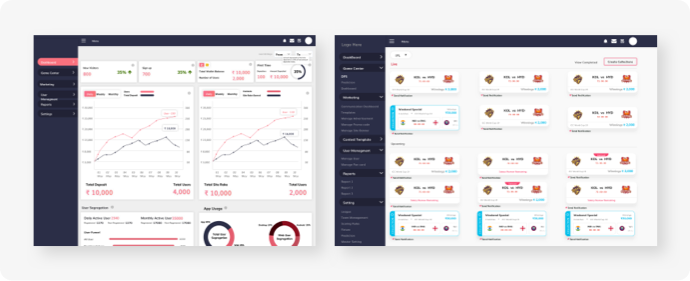 4 – Rewards and Rewards Management
Rewards, especially the monetary kind, bring in huge footfalls. Make sure your DFS operator builds a good reward system into your platform. Currency bonus cash would be a great start. Virtual currency coins are another great way to earn your player's loyalty.
Users can be enticed to keep coming back to your platform with daily check-in bonuses. Spin-The-Wheel is another way to keep your players engaged with the app.
5 – Leaderboards
Leaderboards are a great way to inject competitiveness into a player's gameplay. Leaderboards can be used to help players track their performance and keep coming back to improve their rankings on the board. There are two types of leaderboards that your vendor must incorporate.
I. Fantasy Points Leaderboard
Shows points earned and the player's position on the leaderboard based on their performance in tournaments
II. Referral Leaderboard
A leaderboard that ranks people based on the number of referrals. People with the most referrals earn prizes. This is a great tool that can be used by people to encourage users to refer your app to their friends and family members.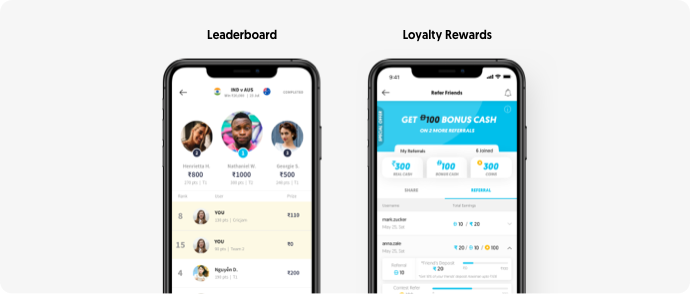 6 – Other Important Features
I. Payment Gateway
The app should come integrated with almost all relevant payment gateways being widely used in your country. Support of payment gateways like PayPal, Paytm, PayU and Stripe make transactions easier for your users.
II. Block Users
Include a feature that allows you to ban players from particular states who do not permit fantasy sports apps. For instance, in India, the fantasy sports platform must have a ' Banned States' feature that blocks users from Andhra Pradesh, Nagaland, Odisha, Sikkim, and Telangana.
III. Automated KYC
Automate KYC validation performed with the help of 3rd Party Integrations ensures compliance without slowing down transactions.
IV. Instant Withdrawals
The platform must come with integrated Backing APIs to facilitate instant transactions on approval of withdrawal requests of your users.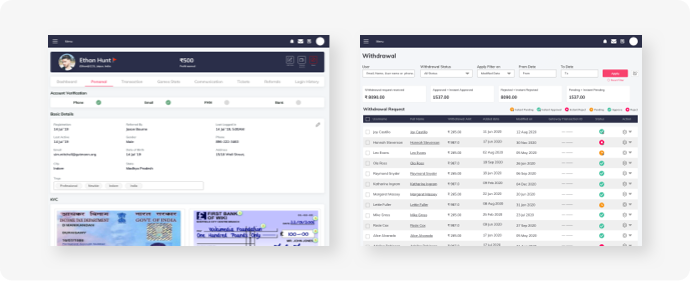 Why Choose Vinfotech as Your DFS Operator.
Finding a top-rated fantasy sports operator is one of the very first steps you must take when venturing into this business. Vinfotech is one such company that has helped many companies not only develop a robust DFS platform but also helped them navigate through the competitive terrain of this sector in search of success. Our experiences along with the resources we bring to the table make us one of the best fantasy sports app developers in the country today.
Here are Just a Few of Our Offerings
A fantasy sports platform completely customized based on your specific requirements.

Highly scalable and robust fantasy sports app development that is ready to launch.

Fantasy sports platform powered by virtual currency or free-to-play mechanics to incite greater engagement.
We have crafted fantasy sports platforms for daily, weekly, and season-long game types. The fantasy solutions we have crafted have been endorsed by some of the biggest sports celebrities in the country. We are constantly pushing the boundaries of what can be done in the fantasy sports genre. As such, we have successfully devised fantasy sports solutions for movies, politics, music, stocks, e-sports, and more.
Being members of global regulatory bodies like FIFS and FSGA, we understand what it takes to create a cutting-edge, feature-rich fantasy sports app that serves all its stakeholders. We collaborate with the best payment gateways and data feed providers to provide our clients with highly polished mobile applications and websites.
So if you are planning to start your own fantasy sports business and need an ally that checks all the recommended boxes when it comes to designing a feature-rich, scalable, and fully integrated platform, then look further than Vinfotech.