Local community social network should have happened at least a decade ago because local information needs to be filtered from useless data for customers.
In between the 'business graph' created by Linked-in and 'social graph' created by Facebook and Snapchat, the 'local graph' somehow missed out. Until recently. A brand new 'neighbourhood social network' application is now targeting the 'local graph' . Its success shows this is the way forward for social network development.
Earlier, people made a Facebook group or a page that told you about things that were great locally. You asked for recommendations about cafes, doctors, daily utility and the sort. But these groups and pages had to be dependent upon the admin – the initiator of the local neighbourhood. And these couldn't address a lot of unforeseen needs. For instance, what if your dog was lost? Or there was a mad dog roaming about on the streets of your neighbourhood? Or when an abandoned house was broken into? Or a neighbour needed an emergency help?
Enter – neighbourhood social media – an application that is designed to connect neighbourhoods. Now such an application has the right features, tools, SMS alert integrations among other functionality to help you make the best of local information. Nextdoor is a neighbourhood social network that connects you with your neighbours effortlessly, learn from the wisdom of old dwellers, help each other in the time of need and create a engaging community that's focussed on the common good.
Public social networks are national and global. But they were up for a disruption because everything and anything is on them. What you do or are looking for locally is something you may not want to show or share with a friend sitting across the border from you. Besides, you don't really trust national aggregators and their social media pages for some useful local knowledge. This is exactly how the path for neighbourhood social networks was paved. Nextdoor social network has shown the way and soon several others are following suit. Some facts about Nextdoor are worthy of your focus –
Nextdoor's volume of engagement
/ Nextdoor had 10 million registered users spread across 100,000 neighbourhoods in 2016
/ 26% of the site's activities involved recommendations
/ It was getting 4 million messages a day in 2016
/ The company had raised over $200 million and notched a valuation north of $1 billion before earning any revenue
The rise of local community social network
With the growing population, data storage and busy lives, the local communities are in dire need of local digital connections. While traditional social network applications do offer some options, they have so far failed to channelize local communities more confidentially. The local community social network solves this problem by filtering local information by default along with aggregating user-generated information related to specific neighbourhoods.
Here are some of the solutions neighbourhood social networks can offer:
1] Local recommendations by neighbours
It's not only about cafes, restaurants and hang-outs. Local recommendations may also involve house maids, plumbers, electricians, physicians, furniture shops, grocery stores, utility stores, pet clinics, crèches etc. Typically, people would Google any of these things but often a small grocery or a toy store may not have a Google listing. In case of local community social networks, app owners can practically shout out to the local community about the app and invite local businesses to have their pages or profiles listed in the community app.
2] Local directory
A neighbourhood social network can practically work like digital directories of important utilities such as hospitals, schools, clinics, medical stores, sheriffs etc.
3] Community problem solving
A social network built for neighbourhoods is especially helpful in solving common community problems such as dearth of water in the area, cleanliness, roads, sanitation etc. Service providers can list themselves in the application to get better visibility of their services.
4] Crime control
Learning from Nextdoor social media, a local social network application is particularly helpful in the speed with which a crime is reported locally. This also creates vigilantism in the area and people are more inclined to report anything unusual. This helps in preventing crime in the area and aids local police departments.
5] Real estate availability
Such a local community application helps in listing and finding houses, apartments on rent or for buying. Local neighbours can get buyers more quickly if they are selling a property while any new resident gets an idea of the real estate prices in the area.
6] Events and social occasions
Neighbourhood social network can play a vital role in bringing local communities together by organizing and informing about local events or social occasions.
7] Useful user data
Businesses will find themselves far more relevant if their target customers knew where they are located and what they are selling. Local government agencies, pest control organizations and businesses can create profiles, have insights about users and launch promotional campaigns that are completely targeted area-wise. Such focussed campaigns are more likely to attract and retain relevant customers.
8] Mobile alerts
The one thing that most public social networks are lacking is their inability to filter most relevant notifications and send them through SMS. Every user can definitely opt for an SMS alert in most social network apps but they are never aggregated or have the option of filtration as per user preferences. Local community social networks can solve this problem in a big way because every notification is related to the local community only. As a result, users will find themselves better informed and be alert for action in case of any emergency situation.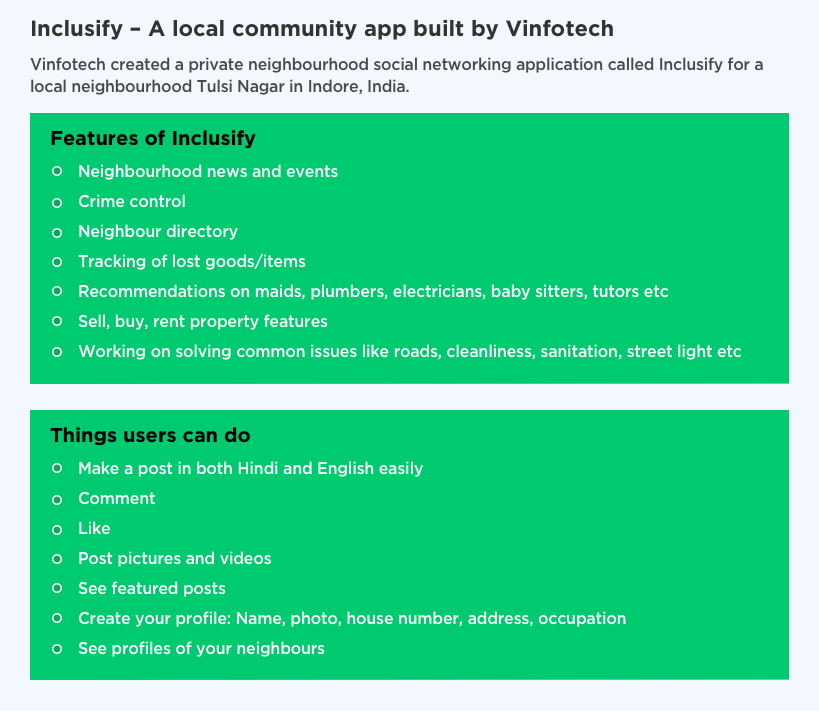 Vinfotech believes that user data is golden for businesses. But filtering this data for business growth is possible only through exclusive local communities. The above case study of neighbourhood social network Inclusify indicates that local data is far more relevant for businesses and for growing local communities than any other data. It's time businesses and brands thinking of targeting local communities consider building neighbourhood social networks. With more than eight years of developing social networks for various industries, Vinfotech has the requisite experience to help you build one for your business. The success of Nextdoor is an indicator that channelizing local communities with exclusive neighbourhood social networks is the next stage in social networking. Call us for more details.