The ambit of social media has transcended the meager matters of personal leisure, and has enveloped productive professional activity. See how
As Seth Godin, in his book Tribes: We Need You to Lead Us famously remarked "For millions of years, human beings have been part of one tribe or another. A group needs only two things to be a tribe: a shared interest and a way to communicate." In today's world, Social Media has become that way to communicate. And in recent years, the ambit of social media has transcended the meager matters of personal leisure, and has enveloped productive professional activity as well. It's not just the likes of LinkedIn that connect the benefits of networking to professional fronts, a lot of progressive enterprises have started developing their own enterprise specific social networks too. And not just enterprises, even some interest groups have come up with unique social networking platforms to connect and benefit from the collective effort and proficiency. Thus, even Professional Social Networks Design and Development has had a forward spur in the recent past.
What are people looking for in professional social networks?
/ Better use of their time in networking, learning
/ Use of social media time to find out something new
/ Finding like-minded peers for professional benefit
/ Expanding their network for business associations
Better synergy, increase in productivity
Enterprise social networking has few obvious benefits. The biggest advantage, of course, is the quick and easy sharing of information. This results in the elimination of unnecessary delay in business processes, and can increase productivity multifold. But apart from that, ESNs also create a better synergy between employees as they get to freely interact with each other, take breaks, share expertise and reach out to one another. On an organizational level, it increases the transparency as a whole, although not all organizations may be ready for that.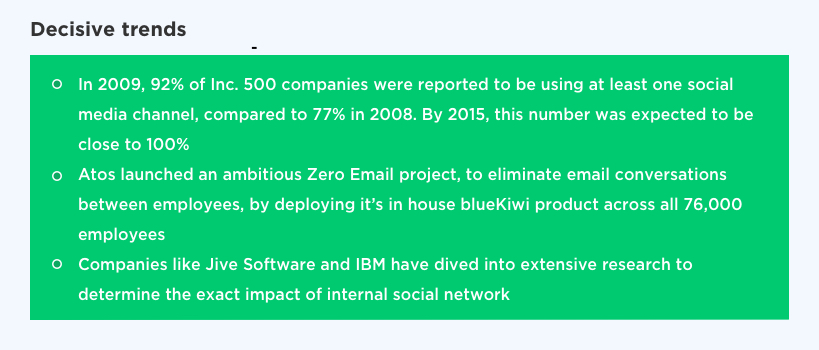 Targeting niche interest groups
Another kind of specialized and professional networks, is the Social Media Interest Groups. In early days of social media boom, interests group remained a part of the giant social networks. However, since every specific interest group required a specific kind of platform, and with a potentially large audience visible, the phenomenon of Interest Group Social Networks took center stage. 'Your Quote' is an example of one such platform, for the budding writers, which is widely popular now. Such platforms not only bring out the best work into the public eye, they help members sharpen their skill set as well as keep pace with the latest trends. And not just creators, there are even interest group social network for consumers too, where they can research and give reviews & feedback.
The inherent professional networking
In essence, most of social professional networks are similar to Linked-In. In fact, such platforms inevitably get labelled as LinkedIn for X, X being the domain of operation. In the recent years, a huge market for such platforms has opened up, owing to greater internet penetration across the world. Both in terms of the influx of money, as well as market potential and scalability, the scope is huge, as some of the following figures might ascertain:

Whichever way you look at it, this territory of social professional networks is lucrative. That is why, more and more people are going for professional social networks design and development. However, a very important deliberation that one needs to do while looking for the right professional social networks design and development company, is to make sure that they have the expertise, experience and a significant understanding of the field in which one is looking to dive.
Vinfotech had designed and developed IndieFolio (Previously Banana Bandy) and has been in the field of professional social networks design and development for 10 years now. Our diverse product team, expert developers and unending dedication to make your idea click, makes us the most obvious choice for the design and development of professional social networks. Our efforts have led to the creation of some very successful professional social networks.
You might have an idea that is path breaking, but with poor technological help, everything could flush down the drain. Give us a call.