EMR/EHR software development is mostly about truly understanding the needs, scope, and user demographics of a certain healthcare area.
Electronic health records allow medical practitioners to create, store and customize patient data in electronic formats against traditional paper charts. This facilitates constant monitoring of patient's health progress, enhances the accuracy of data recording and allows the exchange of data between all those who are involved in the treatment including hospital staff, pharmacist, and the patient themselves.
Increasing adoption of EHR/EMRs
/ In March 2017, 67% of all US healthcare providers reported using an EHR, a 1% increase over September 2016. Source: SKA
/ As of 2015, about 9 in 10 (87%) of office-based physicians in the US had adopted an electronic health record (EHR) and it represents a 4% increase from the year prior.
/ According to a 2015 National Electronic Health Records Survey (NEHRS), 87% of physicians reported using an EHR system and 78% reported using a Certified EHR system. [Source- www.practicefusion.com]
The specialties with the highest adoption rates –
/ internal medicine/paediatrics – 76%
/ nephrology – 75%
/ family practice – 75%
/ urology – 74%
[Source- www.skainfo.com]
There are numerous other features of EMR software that offer great benefits and thus have made the software widely popular in the medical fraternity-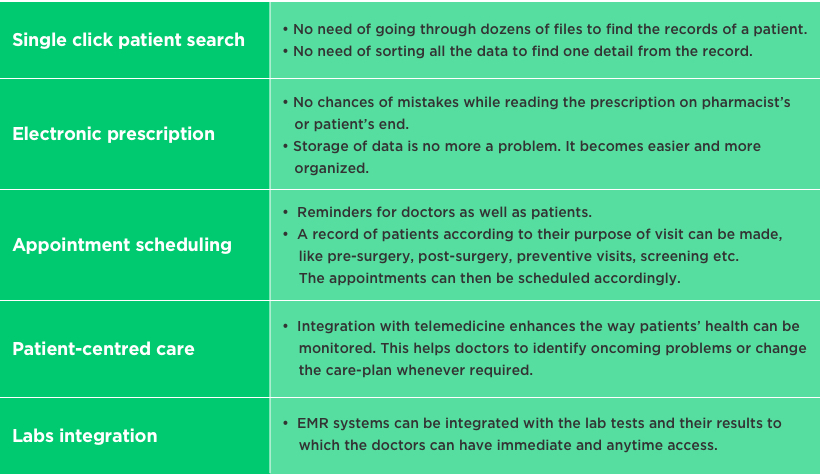 EMRs can undoubtedly be used by multiple involved persons but EMR system is not one-size-fits-all thing because of the below-stated reasons: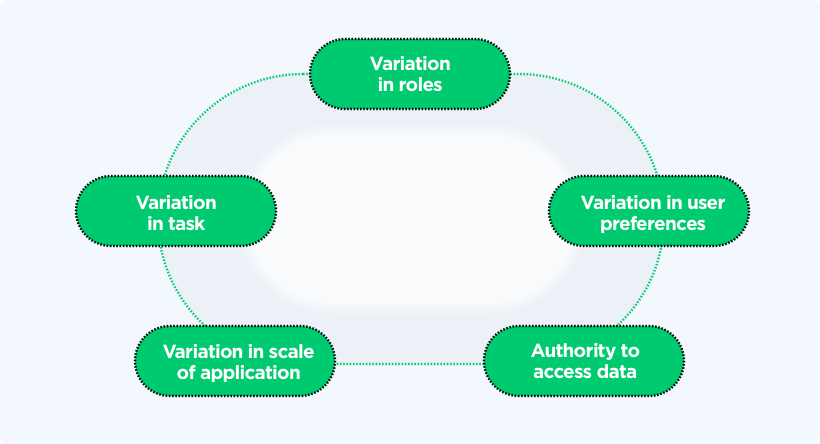 / Variation in roles
Doctors, nurses, pharmacists, lab assistants etc. are all involved in a patient's treatment but not all of them have the same role in the treatment. Therefore, not all the patient data is relevant in the same order to each one of them. There needs to be some way to present the most relevant data based on who the user is.
/ Variation in tasks
A nurse whose job is to just record patient details like blood pressure, pulse rate, glucose level etc. need not have complex data filling up the feed. Ready access to certain features must be provided based on task- be it recording, analysing, prescribing, uploading etc. Also, the efficiency of work can be improved if task-specific devices are used. Using tablet PC or a touch-screen dashboard for simpler tasks can save complexity and time.
Variation in scale of application
The way a hospital operates is far different and complex from the way a private clinic does. Neither the EMR system of a hospital can be as simple as a private practitioner's nor needs the EMR system of a private practitioner to be as complex as a hospital's.
/ Variation in the authority to access data
Nobody except the doctor can have the permission to edit the prescription or nobody except the laboratory staff can have the permission to upload/ modify test reports. Such kinds of access controls are necessary to avoid any problems.
/ Variation in user preferences
Different physicians can have different preferences for inputs like dictation, typing, or handwriting. The EMR interface development should be such that it features handwriting recognition, allows the physician to upload an audio file from the patient visitor provide any other way of recording data that the physician is comfortable with.
This is where the customization solutions come into the picture. Before you switch to EMR applications, it is important to ensure that your EMR meets your needs according to some parameters above. You don't want your efficiency nor the software's ability to hinder because of the wrong choice of the system. So, identify your needs and get a customized EMR software solution accordingly.
Vinfotech has deep experience in creating customized EMR and EHR systems. We can build stunning user interfaces that de-clutter your usual EHR systems and help you get actual value for your investment. Do give us a call.