Gone are the days when fans during a match used to sit on their cozy couch and scream in front of the TV box to tell their friends and family what was going to happen next. Have you ever done this? Surely that would have happened.
Predicting what's going to happen next during a game has another level of thrill and excitement among fans. That is the reason why many sports brands are using Sports Prediction Software to entice and enthrall their fans. Let's first discuss What is Sports Prediction Software?
Sports Prediction Software
Sports prediction software is a platform where users predict the outcome of the match, or performance of teams or players, and based on the player's actual performance in the match, they are rewarded for their accurate prediction. These rewards can be virtual coins, points, or real money which will depend on the model of the Sports prediction platform used by Sports Brand. Let's discuss these two models of Sports Prediction Software.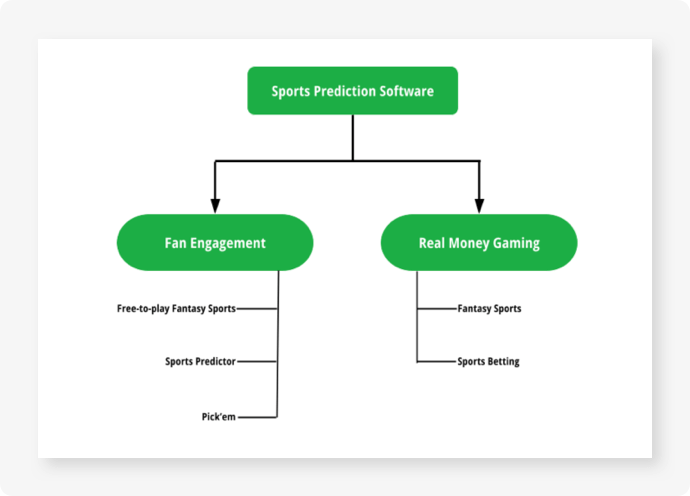 Fan-Engagement
Sports Prediction Software proved to be a game-changer for sports consumption around the world by catapulting fan engagement to unprecedented heights. We in India have also witnessed its power in the past few years, the phenomenon of Indian sports fans experiencing sports in ways we could not imagine before. Fans are no longer merely watching and applauding; they fully engage, participate, play, and earn rewards, just as the players do, and that too in real-time.
Sports Prediction Software for Fan engagement involves Free-To-Play Sports Prediction games that allow its users to play without paying. With F2P, players get the same entertainment value with prizes and rewards found in real money games while assisting brands and game producers to cultivate a base of new customers.
Here are a few F2P Sports Prediction Software that allows for a sports interaction experience that is far more engrossing and riveting than any other medium.
1. Free-To-Play Fantasy Sports
A free-to-play sports prediction app that allows users to join a contest without paying any fees. Users can create a virtual team of real sports players and earn points according to the real-time performances of the players in the match. These points are redeemed in exchange for merchandise, gift vouchers, or any other sort of prize.
An easy and free-to-play fantasy sports platform with multiple game types to provide an enthralling experience to its users.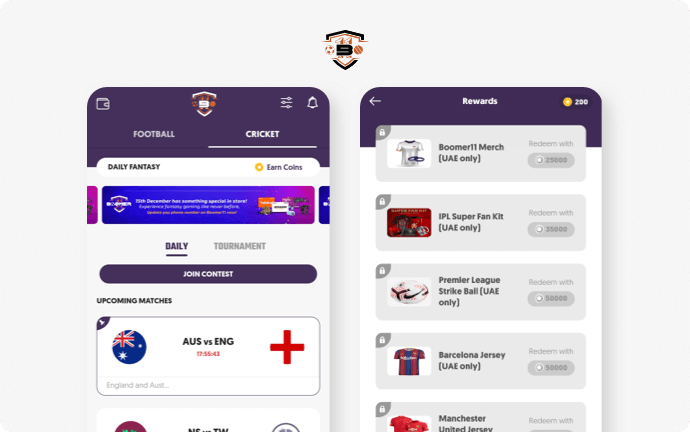 2. Sports Predictor
A super engaging prediction game that offers free-to-play contests for a live sports game where users need to predict the outcome of the next move in the match and with every accurate prediction, they are awarded points or virtual coins.
A Sports Predictor platform where users simply have to anticipate outcomes of 12 special moments prior to kick-off and earn points from the referee's call during the match.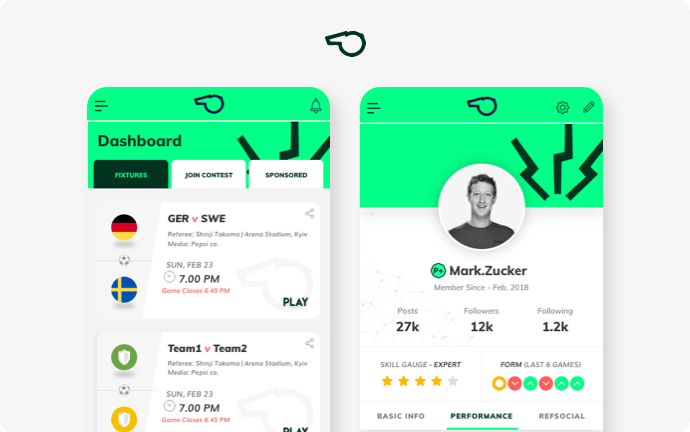 3. Pick'em
One of the easiest sports predictor games tailored for fans of all ages where they just have to predict the winner between the two opposing teams in a game.
As mentioned above, playing a pick'em is as simple as taking the team you expect to win. That's not to suggest that winning a pick'em game is easy though, as both teams have an equal chance to win that particular game.
Pick'em game that took fan engagement of an esports league to a whole new level by tapping into new audience groups and encouraging users to analyze and predict the winning team to win daily prizes.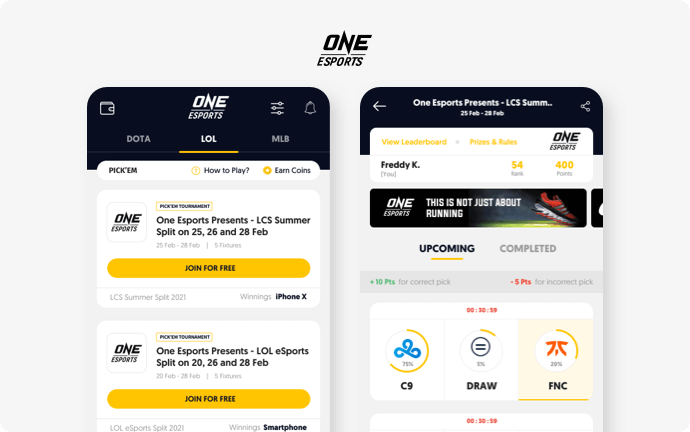 Real Money Gaming
Fans like to analyze and predict the performance of real sports players and make a lot of money out of it. And this is where Real-Money Gaming comes into the picture.
In Sports Prediction Software for Real Money Gaming, whenever a user participates in a contest to create a team or predict the performance of players and teams, he has to pay some entry fees. Based on the prediction and performance, some users lose their entry fee while others multiply their entry fee. From the total entry fees collected, a little portion is deducted as a platform charge and the rest amount is distributed among the winners. The money won in the prize depends on the level of competition, entry fee, and user's ranking among the competitors.
Let's discuss some popular and widely accepted Sports Prediction Software which are based on Real Money Gaming.
1. Fantasy Sports
Through Fantasy Sports, fans are able to enjoy what it feels to be like a manager of a team and recreate their own sports teams during a real game. Unlike F2P Fantasy sports, users have to pay entry fees whenever they participate in a contest to create a team or predict the performance of players and team.
A DFS and prediction-based multi-sports platform for India's largest payments company with features like on-field view, player cards, leaderboard, refer a friend, and more to ensure exceptional user experience.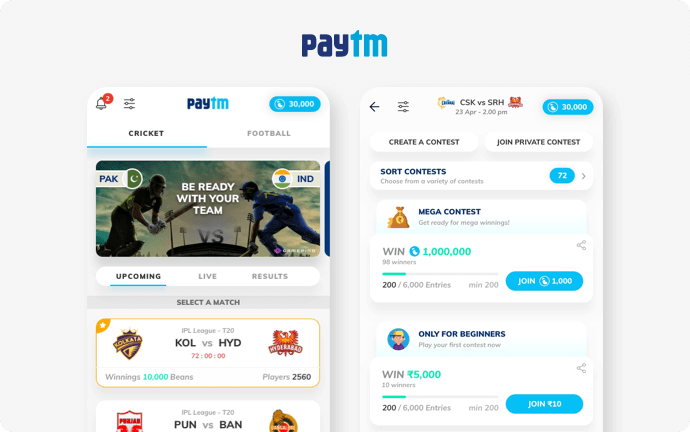 2. Sports Betting
A high-powered sports prediction software that allows users to experience the thrill of sports betting where they attempt to forecast the results and place a wager on the outcome during a live match.
An enticingly designed sports betting platform that not only enables users to challenge their betting skills but also helps them in making informed decisions by following experts and looking at the stats, trends, odds, and picks by other users.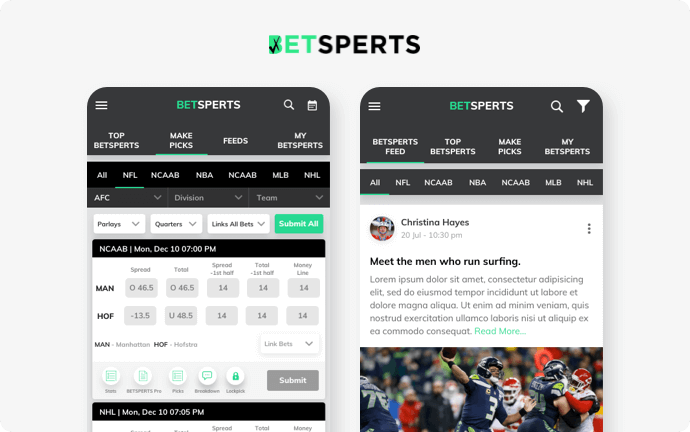 The Future growth of Sports Prediction Software
The growing potential of sports prediction software is on display for all of us to see. A vigorous demand, a large swarm of sports fans, and an accompanying pool of software development companies place India at an advantage to become a global hub for this promising industry which is growing and evolving by the second.
"In the financial year 2021, the online sports prediction sector of India's online gaming market was valued at over 20 billion Indian rupees. The segment's market size was further projected to exceed 50 billion Indian rupees by the financial year 2025. The online sports prediction industry was primarily sustained on commission revenues as of the fiscal year 2021", according to a recent forecast of statstica.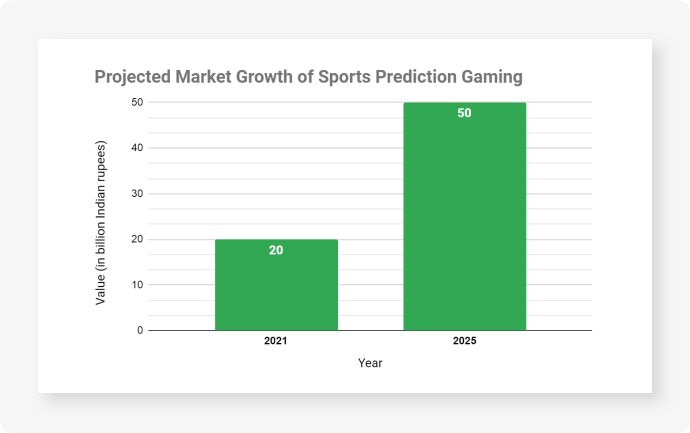 Undoubtedly, the craze for online prediction gaming in India is not going to slow down. Let's first talk about Fantasy predictions platforms only. They have a good future ahead as games other than cricket are also gaining support from users. A report by the Federation of Indian Fantasy Sports (FIFS)-Kantar has shown that 60 percent of OFS users watch and follow more sports than before and 59 percent of users have started watching new types of sports primarily because of their interest in Fantasy Sports.
With newer audiences viewing sports in the country, the possibility of resources becoming available for non-mainstream sports such as football, hockey, kabaddi, handball, and volleyball sports which have been starved for attention and money in India, could soon become a reality.
With the growing popularity of the video games and esports market, which is expected to reach S1,700.06 million by the end of 2022, live streaming of gaming tournaments on portals like YouTube and Twitch.tv is also trending. As a result, the demand for e-sports fantasy prediction leagues is also expected to rise. This is because fans can create their own fantasy prediction league teams based on these live matches.
Many experts believe that the sports prediction market is yet to reach its full potency. That is, it will be some time before we see its true potential. Furthermore, the growth of the sports prediction app development is driven by the rapid rise in digital infrastructure in developing countries. For instance, there are around 700 million internet users in India (as of 2020). This number was nearly 560 million in 2018. Moreover, by 2025, there will be more than 974 million internet users in India.
Why Vinfotech?
After reading this blog you can conclude for yourself that creating or integrating a powerful sports prediction software is an excellent growth opportunity for businesses today. With the kind of growth we are witnessing in this sector, certainly, any enterprise that can create an engaging sports prediction platform has greater chances of succeeding today.
However, you need to ensure that your software is full of all the excellent features that can attract users and entice them to keep coming back. For this, you need to look for the right developing partners who must have the requisite experience and expertise to help you stand out in an already swamped market. Vinfotech is one such company that can help you create a scalable and engrossing prediction software packed with all the key features and functionality.
Here are a few of our offerings
Based on your specific requirements, we deliver you a feature-rich, top-notch customized software platform that lets you attain your set objectives.

A unique combination of Fantasy Sports and exciting fan engagement features providing an all-new fan experience.

A robust platform powered by virtual currency or free-to-play mechanics that offer customer gamification from engagement pain to customer gain.
Having years of proven industry experience and being well-known for our top-tier Sports Prediction software solutions and services, Vinfotech understands what it takes to create a cutting-edge, feature-rich sports prediction app that serves all its stakeholders. Our sports prediction software aims at attracting and retaining maximum users for your business by offering them an excellent gaming experience.
Feel free to get in touch with our experts for any questions related to sports prediction app development.