Four of the youngest, vibrant and progressive Indian brands teach your customer engagement through gamification.
Indian gamers are the new enthusiastic demographic of customers today that the global brands are eyeing at the moment. After videos, Indians engage in playing games online. Don't believe us? Then read –
How gaming apps truly engage Indians? and The top 3 things that engage Indians
We have in this blog, some shining examples of industry-leading brands who are successfully applying the gamification strategy for deeper customer engagement.
What's common among these brands?
# 3 of these brands are new-age startups engaging Gen Z and millennials
# They are all young, vibrant and progressive brands
# They are usually leading the bandwagon for innovation in their industries

Make My Trip quizzes users win trips
Make My Trip is running a live game every Sunday that opens at 2 pm. The travel game show Knock Knock asks fun questions related to several places from anyone who logs in to the app. MMT is encashing on the summer season in India when schools are closed and families and students engage in traveling. Some fun features of the Knock Knock gaming-
Quiz: Users have to answer 5 travel-related questions in each episode and win ₹ 100 My Cash for every correct answer.
Auction: Users here have to bid to win flight, hotel and holiday package deals starting at just ₹ 1*. Top bidders get to grab these at their winning bid amount!
Travel stories: Users are asked to watch travel stories of Bollywood stars and collect coins to participate in the jackpot game.
Jackpot game: With the coins earned from watching travel stories, users can participate in jackpot game and win holiday package, a flight ticket, or a hotel stay for FREE.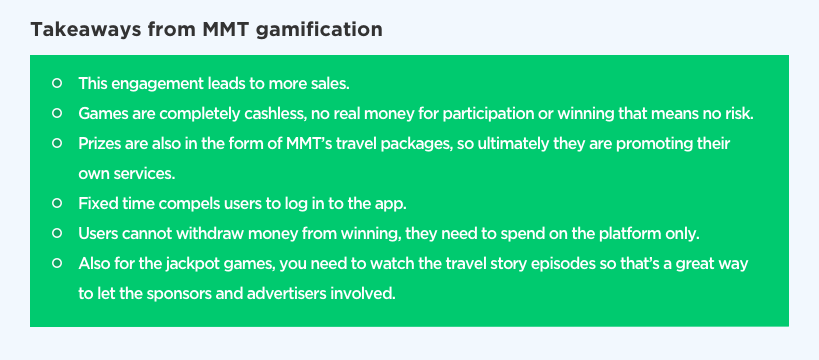 Zomato's Premier League encourages more food orders
The Zomato Premier League is built around the actual matches of Indan Premier League of cricket. Some of its features –
Open inning by ordering: Customers must place an order before playing and they get a 40% discount if they order from partner restaurants.
Make a prediction: While waiting for the orders, users can predict the outcome of the current match.
Win 30% cashback: When a user's predicted team wins, he or she gets a 30% cashback on his or her order which they can redeem on their next order.

Hotstar's Watch n Play increases app time
Hotstar launched its game Watch n Play for Indian Premier League to encourage people to watch matches on the platform. That's because most Indian viewers prefer watching cricket matches on television. This app helped break the convention. Some features –
Guess the outcome: The users will need their official Hotstar ID to start playing. There are quizzes based on live matches.
Fantasy cricket: Users can also play fantasy cricket based on IPL and win prizes.
Coupons: Prizes are given away in the form of coupons from Paytm, Oyo Rooms, Yatra, Phone pe, Domino's or Ajio.
Time-bound: The quizzes are time-bound, users have to answer within the given time during the live matches.
Levels: Upon answering each question, users can cross levels after another and unlock the coupons. The more they play, the more they win.

Colors TV's Premier League enhances TRPs
Colors TV collaborated with the IPL team The Mumbai Indians to create an exclusive fantasy cricket league. This makes users watch Color TV more in exchange for playing and winning prizes. Some features –
Interactive microsite: This is a mobile site that allows users to play while watching Colours TV. Fans can answer questions while watching during primetime 7-11 pm.
Create leagues: Fans can create their own leagues at home through this site, participate and score.
Tickets: With every right answer, they will be able to score runs and win tickets to watch Mumbai Indian matches LIVE at the stadium.
Bumper prize: There's a bumper prize of an all-expense paid trip to watch the final match of the season will go to viewers who will participate maximum through the season and ensure top scores for themselves.

Vinfotech is your trusted partner in creating gamification experiences for customers regardless of your industry. We have created engaging gaming applications, fantasy sports websites development and fantasy sports mobile app development in the field of sports, stock exchange, education, entertainment, travel, business among others. If you wish to leverage gamification for deeper customer engagement, give us a call.