Fantasy sports players are now willing to pay more, spend more on their favourite games. How can you tap into this fact?
From just 500,000 back in 1988, fantasy sports users are now 59.3 million in USA and Canada alone. These users spend $556 on an average on league-related costs, single-player challenge games and league-related materials in a period of 12 months. No wonder, this is a multi-million dollar industry where online playing is just one aspect of the entire eco-system. There's merchandise, sponsorships, tickets to actual games, draft parties, brand marketing and so on. Fantasy sports players have today become the biggest influencers in further elevating the popularity of their respective real game counterparts. And that's a Yay!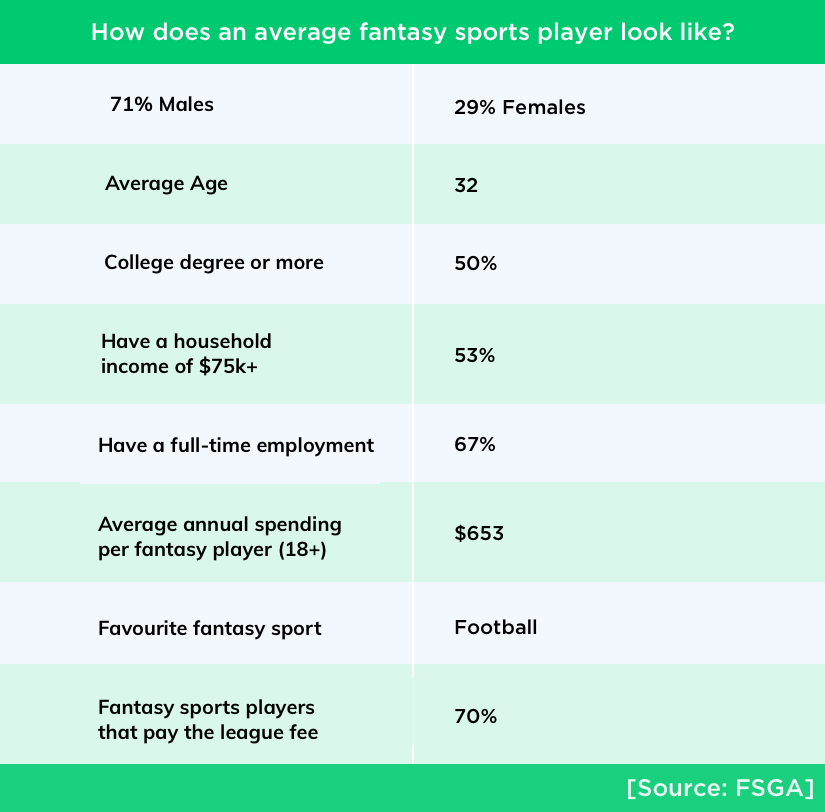 The above table clarifies that fantasy sports are definitely something that players are ready to spend their money on. If on an average fantasy sports players are ready to shell out $556 in a year, you need to pay attention to this demographic. Seasoned fantasy sports players almost always engage in paid games. For them, the thrill and excitement of using their knowledge of both real and fantasy games are everything. As a result, they do understand that unless they engage in quality paid games, they wouldn't be able to compete against the best players on the platform.
Fantasy sports players have a strong FOMO
There are some interesting stats that prove that fantasy sports players have a strong Fear Of Missing Out (FOMO) that compels them to spend so much time, money and energy on the games. The FSGA reports that 61% of the fantasy sports players say that they read more about sports because of fantasy. Sports news media groups, sports content companies, and sports channels have so much to offer this demographic through either individual fantasy sports platforms or as add-ons. Among the fantasy sports mobile users, 16% log in to check the score of their fantasy games, and about the same percentage of users check the scores of other games in their leagues. Most daily fantasy sports players engage in playing online for at least three days in a month.
Fantasy sports players like to spend on related material
FSGA says that fantasy sports players (18+ years) spend an average of $46 annually on fantasy sports materials. They would spend $14 on a premium fantasy sports website, $9 on fantasy sports magazines, $7 on draft board labels, $6 on cheat sheets or draft kits, $5 on draft software $4 on tablet or smartphone apps.
Fantasy sports industry is where your money should be
Fantasy sports players have made the industry so big that any enterprise that is able to create an engaging fantasy sports platform has greater chances of succeeding today. According to a study, over the next five years, the Fantasy Sports market will register a 13.24% CAGR in terms of revenue, the global market size will reach US$ 33199.64 million by 2025.
Vinfotech can help you tap into the potential
Vinfotech has a long list of successful fantasy sports platform development projects Fanview, Betsperts, Refpredictor, Funtasy11 to name a few– most of these are today bestsellers in the industry. If you think you have a business idea for this industry, we can convert it into a winning fantasy sports solutions. Let us know.