A game that involves a loser paying money to the winner is considered gambling in the UAE. What about fantasy sports?
Legal or not? Game of skill or of chance? Anything that's lucrative and poised to grow is often most questioned, debated and talked about. The case in point being fantasy sports, now specifically in the Middle East.
The stand in the US
Fantasy sports in the US are excluded from the Federal Unlawful Internet Gambling and Enforcement Act (UIGEA). This means fantasy sport are exempt from the law as long as people are not betting on the outcome of a single game or the performance of a single player. As a result, each state is allowed to determine its own position. Yet, fantasy sports have the largest demographic of users in the USA (more than 40 million).
Fantasy sports and the Middle East
The key to understanding the legal framework of fantasy sports in the Middle East is the Federal Law No. 3 of 1987. This specific law considers gambling as a game where between the two playing parties, one agrees to pay the other party an amount of money if the latter wins the game. Gambling is a punishable offense in the UAE according to the Penal Code. Several Emirates replicate this law.
What's crucial is to understand that the debate about the game of skill or chance does not necessarily apply in the UAE because as stated above, the law here defines gambling in a completely different way.
This broadens the scope of the Penal Code about fantasy sports and gambling since any game – online or offline – that involves paying the winner from the loser's money is considered gambling and hence punishable. Since most fantasy sports involve prizes, entry fees, they are likely deemed illegal under the Middle East law. Apart from traditional gambling, if there are games that pay to play in a fantasy football tournament with the purpose of collecting winning money would definitely be considered gambling. There's one more important law to be considered here.
The Federal Law No 5 of 2012 on Combating Cybercrimes (the "Cyber Crimes Law") in Article 17 sets out penalties for any online material that's considered indecent and used for exploitation or may afflict public morals is considered illegal.
In this light, fantasy sports business can be seen as definitely a business that's not promoting any affliction on public morals yet is a proposition that would attract attention in UAE.
So what should fantasy sports businesses and startups do? Should they close shops or find greener pastures elsewhere? Not really, because there are examples such as EA Sports Fantasy Premiere League and ESPN Fantasy Football being successfully run in the UAE and promoted widely. What did they do?
Providing fantasy sports by decreasing stakes
The definition of gambling in the UAE is about the involvement of payment by the loser to the winner. If this aspect is eliminated, the position for both the players as well as the operators and businesses is greatly improved. If there's no payment involved from the loser to the winner, then fantasy sports cannot fall under the definition of gambling and can easily operate.
The next question is about anything that "may afflict the public morals". Article 15 states that it is prohibited to use the internet or IT services for "encouragement of sin". So if the operators provide free games, the authorities would not consider these games as an act of gambling or as an affliction to public morals. However, here's a line of caution. It's vital that fantasy sports operators avoid any gambling-like activities within the free games framework. Now since the winner does get a reward in cash or kind, it definitely may attract the attention of the authorities, provided someone raises a complaint.
Two successful use cases
Arabian Gulf League is a noted sports league in the Middle East. The league created a fan engagement platform for its traditional fans. It smartly included fantasy sports in its platform giving league fans an opportunity to play fantasy games for free, win prizes and improve upon their knowledge of the league games. The fan engagement platform proved to be a significant method of improving brand loyalty for AGL.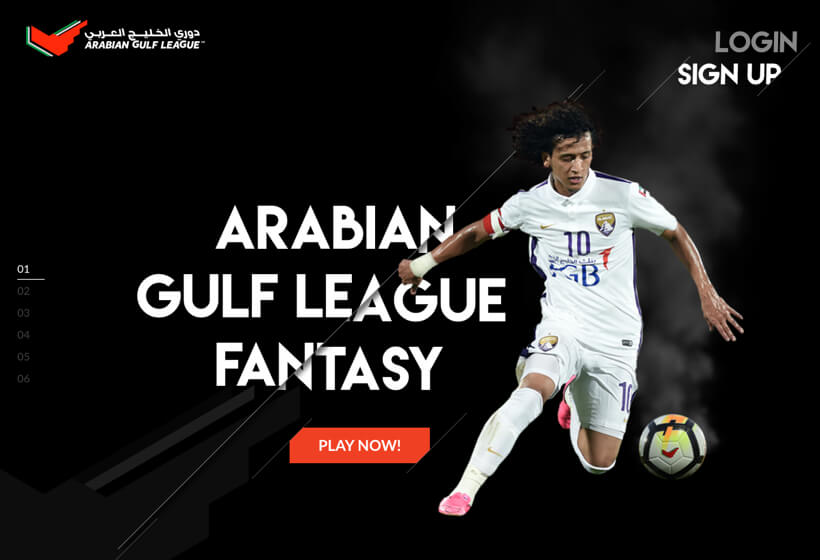 Similarly, Grinta is a season-long fantasy football app that won 50,000 users in seven days of its launch period. Today, it has more than 100,000 players and is growing every day. This platform offered fantasy football games built around Egyptian and Saudi leagues apart from English and UEFA Champions Leagues. Since Egyptian and Saudi leagues are extremely popular, Grinta attracted the right kind of loyalty demographic for its games, without ever getting into any kind of legal battle. It encouraged fans to increase their knowledge of the games, hence bypassing the 'affliction of public morals' part of the law and didn't fall into gambling since it was offered free of cost.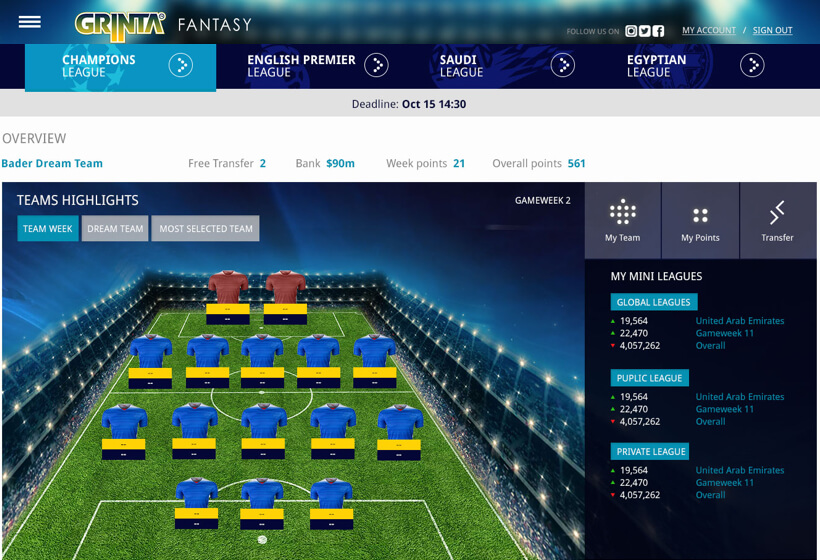 Things to remember before starting a fantasy sports website in UAE
- Make sure the stakes are low in terms of money.
- Make sure the content/material on the website is not considered indecent or illegal.
- Any competition that is designed to promote a brand would require the approval of the relevant department in each Emirate.
- A fantasy sports website that's designed to promote a brand and gives away prizes to winners may require a permit.
- If your fantasy sports website asks users to purchase goods in exchange for entering, you may be required to take explicit permission from the authorities of that specific Emirate.
We have created successful fantasy football website and mobile application for fans from middle east. Grinta and Arabian Gulf League. If you are looking to create a fantasy football website or mobile application in the Middle-East, we can be your partners.