Social commerce platforms are helping companies extend their reach. But is it for everyone? Find out.
You make a Facebook call to a friend about the kind of shoes you want for Christmas. The next day, you start seeing advertisements of shoes in your Facebook newsfeed. Co-incidence? Nope. Analytics? Yes. So what do you do? You check out these shoe ads, which by the way, also have a 'Buy button' to make instant purchases.
Only that you don't always push that Buy button. You still want to see online reviews. A report from SearchEngineLand said that 88% of consumers trust online reviews as much as personal recommendations. So does convenience of, say seeing shoe ads and buy buttons right on a social media platforms, make us really buy? Not necessarily.
There are two use case categories of the 'social' aspect of e-commerce shopping. These would help you see how social commerce integration can or cannot be useful –
Case # 1
The great-social-engagement-but-no-sales case
You are an e-commerce player with great social engagement on various platforms. You have achieved more than the HubSpot Social Media Benchmark of 370,321 followers, and average 11.4 interactions per post. Yet, sales figures are not growing with social media followers. So you also add the 'Buy' button right there, and yet people don't necessarily buy from say your Facebook or Twitter pages. This is a classical case where only the existing customers or those who absolutely need your product are your customers and a lot of your social media followers are there just for the fun content you share and not for your products. Here's where you have a gap between your e-commerce website's pricing, quality or USP and the fun social media content that you are sharing. For instance, an Indian brand Ustraa sells beard oil, the target demographic being millennial and Gen-X men who don't like to shave and love their beards. Ustraa uses social commerce integration and has 659,044 followers on Facebook but a lot of these followers are women who love the content of this e-commerce player.
Case # 2
The killer-e-commerce-purchases-but-no-social-presence case
You put all of your best selling strategy on your e-commerce website and did some or negligible social commerce integration. Your social media platforms aren't looking fantastic engagement-wise yet you get considerable traffic on your website. That means your buyers have great faith in your e-commerce brand, they trust you because you have consistently served them well. The only flip side of this is you may be losing out on a lot of new potential customers through engaging social media platforms.
Enter social commerce
Founded on the consumer psyche of shopping being an inherently social experience, e-commerce and social media had to come up with a win-win solution that would blur the line between buying on say Facebook or Twitter and buying on an e-commerce website. This happened because marketers felt that e-commerce experience was not very social and the way to combine socializing with shopping was to enable shoppers to buy right from the platform where they view an e-commerce advert. So now when you see the buy buttons on Facebook, Twitter or Pinterest, know that you are about to experience what's now termed as 'social commerce'.
What social commerce is not?
Before you jump into the bandwagon of social commerce, understand that it is still a nascent market. Take a look at this table to understand how many buyers are really 'into' social commerce.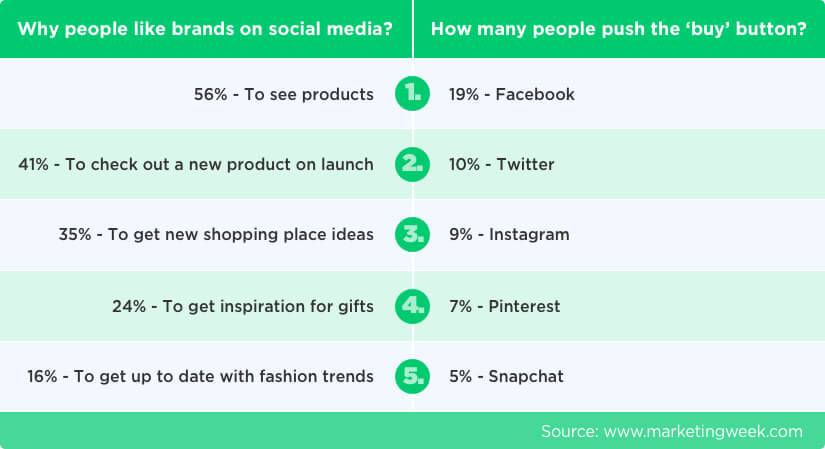 Another report pointed out that only 35% millennials who are generally more tech-savvy are likely to buy directly from Facebook. Yet, if Internet Retail Social Media Report is to be believed, the rate of e-commerce growth from social shopping is exceeding the overall growth rate of e-commerce in the US by about 10%. This inconsistency only adds to the whole social commerce confusion.
So here are the two social commerce factors that you need to know –
/ Native social commerce (meaning shopping directly from social platforms or social integration) helps e-commerce companies extend their reach and find new buyers that they would have completely missed otherwise.
/ Native social commerce does remove the friction of browsing on social media and then redirecting to another side. It gets buyers closer to buying.
What's the message here?
Social commerce is NOT a full-fledged e-commerce store, even though technically it can be converted into one through integration. You will always need your e-commerce website even if you go for social commerce platform design and development.
Should e-commerce companies engage in social commerce platform development?
Regardless of the size and reach, it is advisable that companies must have a social commerce integration into their brands. If your brand is making for the kill without social commerce and doing well, focus on your current strategy but still keep an eye on the changing buying behaviours of your customers on social commerce sites.
Here's what you can do –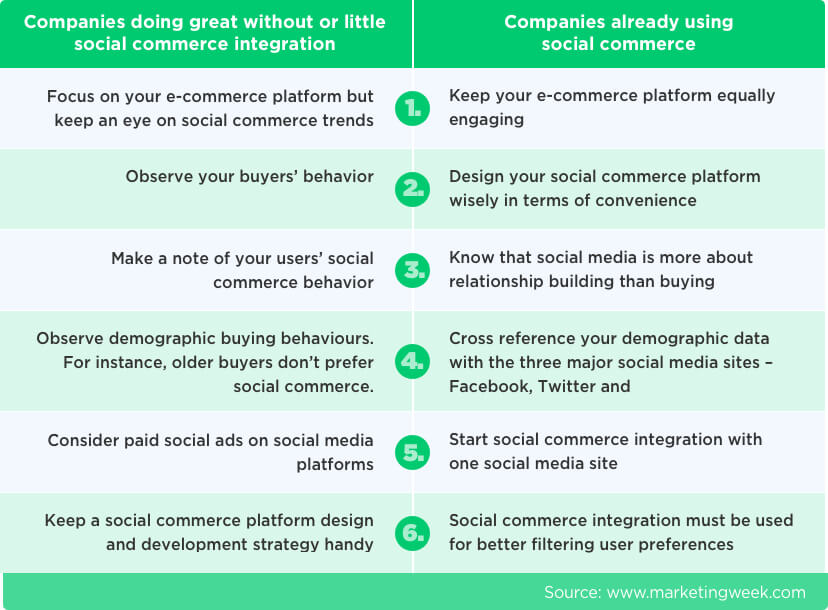 Vinfotech has been engaged in the design and development of social commerce platforms for almost five years now. We have helped clients in social commerce integration successfully converting their purchase strategy. If you are looking for social commerce integration or are simply curious about what social commerce is, do give us a call.