People see React Native as a write-once-deploy-anywhere solution, potentially speeding up development process for applications that need to be written for both iOS and Android and making it possible for Web Developers to easily write custom mobile applications. Perhaps, is React Native the best choice for your next project?
Traditionally, mobile apps have been developed as hybrid apps or native apps. Development of hybrid mobile apps have seen a long evolution for HTML, CSS and JavaScript, whereas building a Native mobile app with cutting-edge technology like React Native are built from ground keeping operating systems in mind, using various toolkits. React native UI toolkits prove to be the best sources of creating rich UI experience.
Every developer dream of developing an app which is easy to debug, high in performance on every targeted platform without compromising with fun of development. Ideally React Native app development serves the purpose.
What is React Native?
As the mobile applications developed in React Native do not have to be written separately for various operating systems, this is a one stay solution to boost the entire development process speed. Writing apps for a specific operating system, means Native app creation. React native is simply facilitating the developer to reuse code for various OS. Already discussed fact about developing in native is engineers don't need to code again and again, it's once in for all.
What's great about React Native is that there are very little differences between a finished app built in Objective-C or Java and one built using React Native. Every developer looks out to follow a process which is as convenient as possible also easy to develop providing end-user satisfaction. This creates high chances for React Native to stay in future.
Based on JavaScript
Dynamic mobile app with the best features is everyone's fantasy. JavaScript is one of the language used to power the UI and UX of pages. Extensions such as jQuery, AngularJS, JSON and AJAX broadens the flexibility of JavaScripts.
Gradual enhancement in the features of mobile device and their operating systems, the landscape of mobile app development got complicated. Generating a need for developers to learn multiple operating systems to develop cross-platform app. Here, React Native serves as a savior to the fact that it is a write-once-deploy-anywhere solution for many platforms.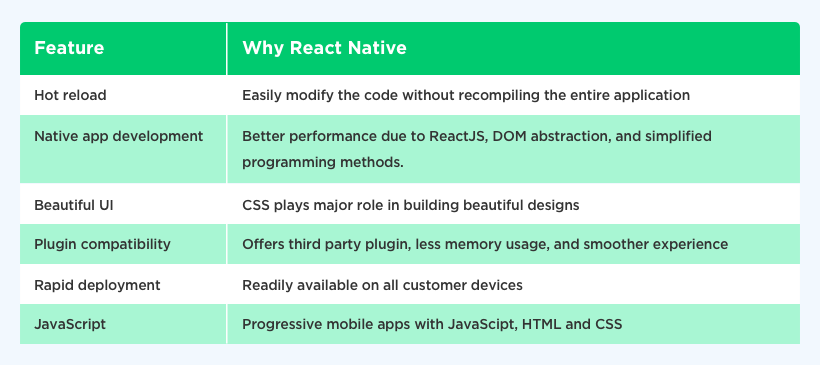 Is React Native better than native?
"The answer is conditional", deciding factor is "type of the app". Here, type means iOS or Android or both platform application. If the client says that the only platform they are interested in is android then it makes no sense to develop the app in React Native, vice versa. We empathize user and give the best recommendation for mobile app development.
React Native is a great technology to build user-experience rich mobile apps. Choosing React native is a one stop solution for majority of business as there are proven case studies of increasing the development speed up to 40%. React Native mobile app development is the best solution for short event apps which needs small run build cycle. These kinds of apps can also be benefited from the fast release and dynamic capacity of React Native.
However, after knowing React Native and other technologies for so long we can say that React Native has a long path to cover to be stable in the market. Also, Facebook has planned to invest more money in React Native in order to bring advancements to the technology. With the hope of progress in React Native we can say that this technology can be the future for every mobile app. Connect with us to know more and build your app in React Native today!