Explore the innovative proposal to introduce DFS Tournaments in Casinos and Sportsbooks, revolutionizing user engagement and attracting new audiences.
Embark on a journey into the dynamic world of Daily Fantasy Sports (DFS) Tournaments, where individual gaming meets the thrill of strategic tournament play. In this comprehensive exploration, we unveil the transformative power of DFS Tournaments for sportsbooks and casinos, illustrating how they become a linchpin for user engagement and revenue growth.
1. What is DFS?
Daily Fantasy Sports (DFS) is the perfect blend of fantasy gaming and real-world sports. Participants create virtual teams based on actual player performance in a single game or series of matches. Players have the ability to create or modify teams before the match begins, adding a strategic layer to the experience.
DFS is known for its quick nature, typically lasting for a single game, making it a favorite among bettors who appreciate its rapid pace. Live learboards reflect the player's position in comparison to other players in the same contest. This adds a competitive edge, allowing participants to track their performance against others. This dynamic and strategic approach transforms sports spectatorship into an interactive and thrilling gaming experience.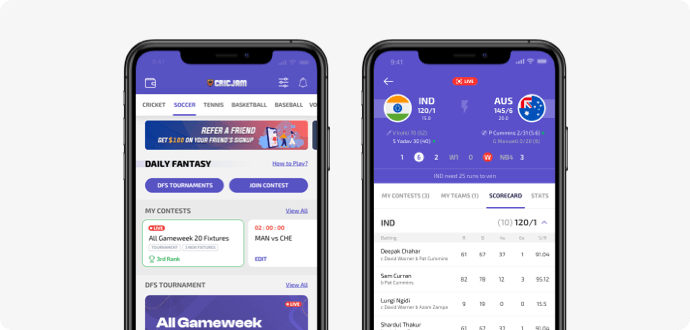 2. What is DFS Tournament?
DFS Tournaments transcend the boundaries of individual matchups by aggregating multiple DFS games into a larger, more exciting competition. Users participate in creating teams for each game within the tournament, accumulating points not only for individual victories but also for contributing to an overarching tournament leaderboard.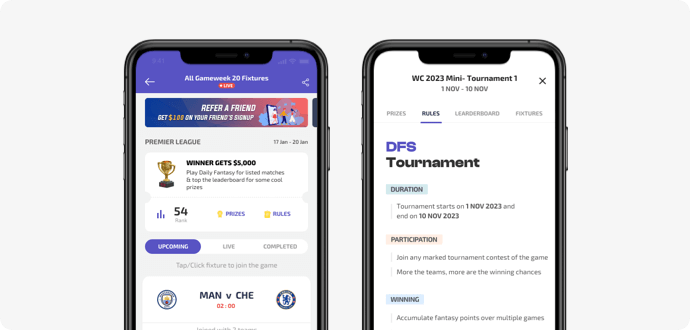 Tournament Flexibility: Selecting Matches and Durations: An essential feature of DFS Tournaments is the flexibility in setting up the competition. Administrators or operators have the power to curate the tournament by choosing specific matches, durations, or even entire tournaments. This flexibility allows for targeted engagement, be it games over a weekend, a series of weeks, selected matches over a duration, or encompassing an entire tournament.
Scoring in DFS Tournaments: DFS Tournaments provide a versatile scoring landscape, offering users and organizers multiple options for scoring:
Cumulative Scores: Points are tallied across all teams and games in the tournament.
Top Score: Only the highest-scoring team from all games is considered, promoting strategic team-building.
Top Score from Best 5 Games: Dynamic scoring, where only the best scores from a set number of games contribute to a user's overall tournament standing.
Example: Premier League Football Tournament Setup (Week 25 to Week 26): Imagine a Premier League DFS Tournament spanning from Week 25 to Week 26. Users enthusiastically create teams for each game during this period. The tournament setup considers the best 7 teams for each user, creating a leaderboard based on cumulative scores or top scores from the specified games. This keeps users engaged throughout the tournament duration, fostering brand recall and loyalty.
3. Unlocking Success: How Casinos and Sportsbooks can use DFS Tournaments
Casinos and sportsbooks possess a potent tool in DFS Tournaments, strategically utilizing them to not only elevate user engagement but also drive remarkable results.
Engaging Entry Points: By offering free games and tournaments, platforms create a welcoming entry point, enticing users to participate regularly. The allure of competing for exciting rewards in the tournament serves as a powerful motivator, fostering daily engagement and reinforcing brand recall.
Enhanced User Engagement: Sportsbooks and casinos can harness the dynamic nature of DFS Tournaments to significantly enhance user engagement. Offering free games and tournaments with exciting rewards motivates users to create teams regularly, even if they face setbacks in individual games. Scores accumulate on the tournament leaderboard, fostering a daily desire to compete and score high. A tournament structure, like considering only the best 5 games, encourages users to participate consistently, increasing brand recall. This consistency becomes a powerful tool for conversion, effortlessly transitioning engaged users into paid participants.
Compelling Reward Structures: Rather than rewarding every individual game, casinos and sportsbooks can optimize resources by focusing on the overall tournament leaderboard. This approach allows platforms to offer a satisfying gaming experience without overwhelming expenses, contributing to a sustainable and rewarding environment.
Transition to Revenue Generation: As user engagement flourishes, the transition to revenue generation becomes a natural progression. Introducing paid entry options capitalizes on the established user base. DFS Tournaments seamlessly transform into a robust source of revenue, with users willingly participating in paid contests for a chance at greater rewards. This strategic shift not only monetizes the engagement but also solidifies the platform's financial sustainability.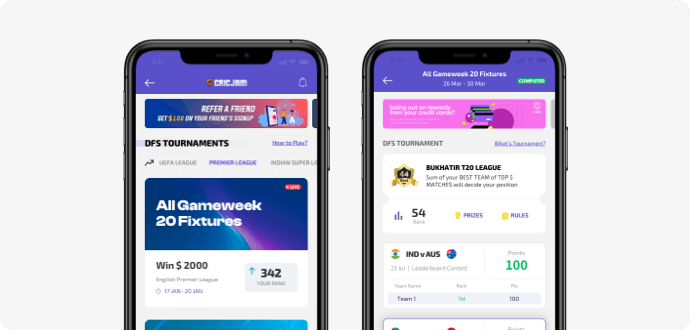 In Summary DFS Tournaments emerge as a strategic cornerstone for sportsbooks and casinos, propelling user engagement to new heights. The fusion of individual game dynamics with the allure of tournaments creates a dynamic and thrilling user experience. As DFS Tournaments evolve, they not only solidify brand loyalty but also lay the foundation for a sustainable revenue stream, making them an indispensable tool for engaging sports fans and gaming enthusiasts alike. It's time to harness the full potential of DFS Tournaments and redefine the landscape of user engagement in the gaming industry.