We have created a product exactly on the lines of fantasy world cup, a software that fans love to play on. We provide an ultra-modern tournament mode fantasy sports solution that can accelerate the growth of your fantasy sports business. It is a ready-made software that can be quickly launched as white label or can be tailor made as per your requirement.
Features of our World Cup Fantasy Software
A robust, versatile, and scalable platform for your ultimate fantasy sports website/app experience.
Sign-up

While signing up, users need to provide necessary details like First Name, Last Name, Username, Email, Country, and Phone number. They will also have to verify their account by verifying your email. We also offer social media sign-up (Facebook, Google, and Apple Login).
Home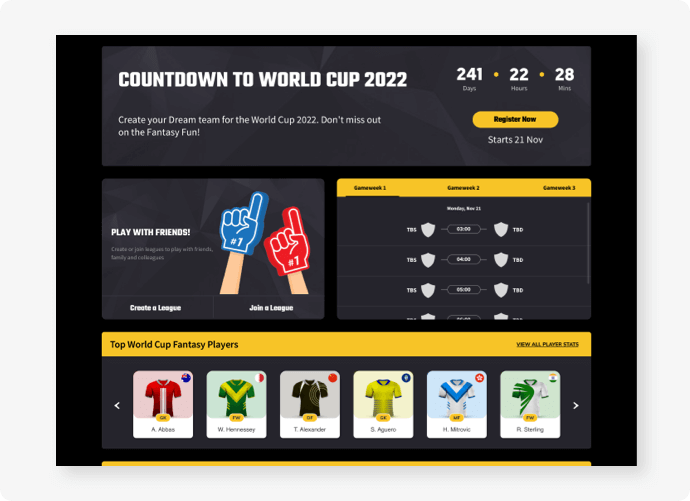 The homepage is beautifully designed, robust, and features enriched to suit all your user needs. Home is a page where users can view the overall stats like earned scores, top-performing players, team overview, and more.
Top scoring player

The top 10 scoring players are listed in uniquely designed widgets with player name, player position, team logo, and points scored in that week. On clicking the player widget, we get a detailed player card with the player's overall statistics.
Information banner

The space dedicated to the introduction of the latest features, product advancements, and product details.
My Team overview

The overview of the user's team's performance is represented with current scores, overall points, overall rank, no. of free transfers, remaining amount & team value.
Create Team
Here users can create their team using their skills, run their research, and pick the best players to create a super-efficient team.
Squad size

To participate in the contest, users have to join the game by selecting a fantasy football squad of 15 players, consisting of:

2 Goalkeepers

5 Defenders

5 Midfielders

3 Forwards

Users must select 11 players who can play on the field and 4 players on the bench. All points for the game week will be scored by those 11 players.

Bench player consists of 1GK and 3 other position players, which are set to priority position from the GK as 1st priority, 2nd priority, 3rd priority.

Users get a pitch view and list view which provides the listing of the players selected and their salary and total points along with player details.
Budget

Upon sign up, users will be given the default budget to create their team. The price of players varies from 4.0 - 13.0 million Dollars depending upon their performances. Initially, they start with a price that depends upon how the player has played last tournament, and then the price may change accordingly depending on his current performance.
Auto-pick draft

When using the "Auto pick Draft" option, the system automatically drafts players to each team in the league on a scheduled draft date, so team owners don't have to be online during the draft. Owners can pre-rank players in their draft lists to enhance their chances of getting their dream roster.
Bench player

In team sports, substitution (or interchange) is replacing one player with another during a match. Substitute players not in the starting lineup (also known as bench players, backups, alternates, or reserves) reside on the bench and substitute for a starter
Boosters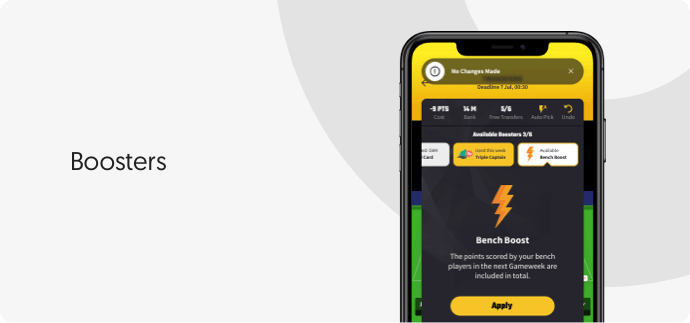 In our world cup fantasy software solution, 4 types of boosters (Bench Boost, Free Hit, Triple captain, and Wildcard) are available for users to enhance performance and score higher points.
Free Hit

Free Hit lets users make unlimited transfers that are applied to one game a week only. At the next deadline, the original squad is returned. The Free Hit can be used once a tournament and cannot be cancelled once played.
Wildcard

The transfers (including those already made) made by the user in the game week are free of charge. The Wildcard chip can be used twice a tournament, once in the first half of the Tournament and once in the second half of the tournament. The Wildcard chip is played when confirming transfers that cost points and cannot be cancelled once played.

The Bench Boost and Triple Captain chips can each be used only once a tournament and can be cancelled at any time before the Game week deadline.

The Free Hit Chip can be used once a tournament and cannot be cancelled once played.

The Wildcard chip can be used twice a tournament, once in the first half of the tournament and once in the second half of the tournament. The Wildcard chip is played when confirming transfers that cost points and cannot be cancelled once played.
Transfers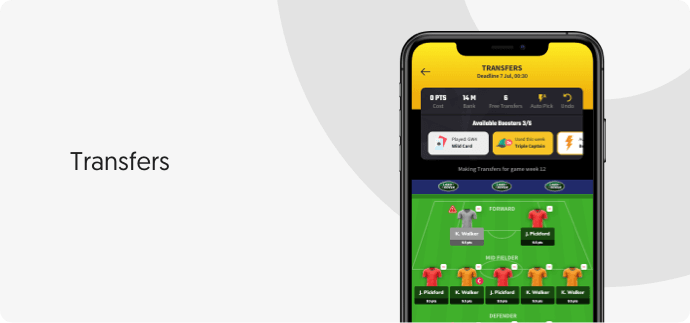 Transfer Process

After selecting the squad users can buy and sell players in the transfer market. Unlimited transfers can be made at no cost until the first deadline. After the first deadline participant will receive 2 free transfers each week. Additional transfer in the same gameweek will deduct 4 points from your total score.
Fixtures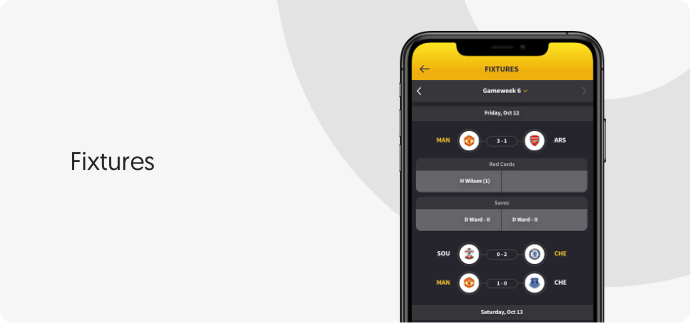 Fixtures are a list view, consisting of the upcoming and past weeks of the tournament and information about yellow cards, saves, goals, and assists.
Special Notifications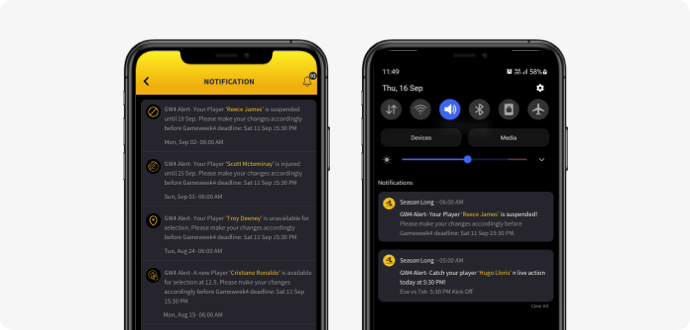 Unmissable Notifications added to World Cup Fantasy! Amazing live Notifications through Email, Push and In-App mediums which takes care of injuries, suspensions, unavailability and many more. Now you can forget to add reminders. We do that for you.
Leagues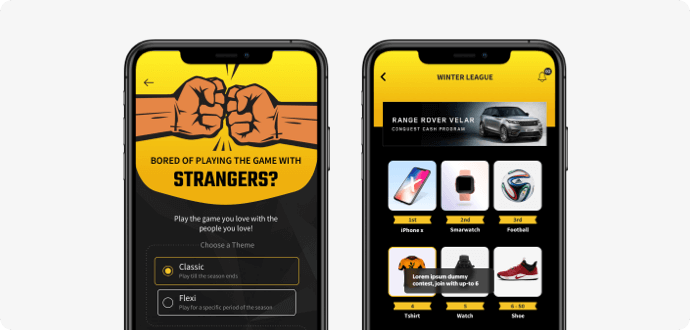 After creating a squad, we can join and create leagues to compete with friends, family and colleagues. The various league types are-
Mini league

Mini Leagues are created for a specific number of game weeks. Users can simply join Mini Leagues and win exciting prizes by playing the game for a shorter duration. Play the game you love not just for banter or points, but for prizes also from now on!
Player Comparison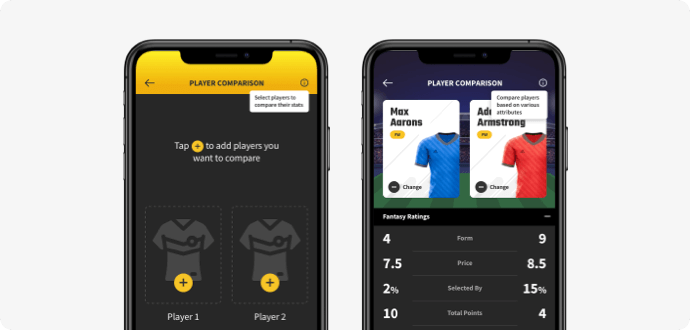 Compare players before you make decisions every week. Detailed in-depth stats that help you choose the best performing players while you make your transfers. Save a lot of time, all the numbers in one screen!
User Statistics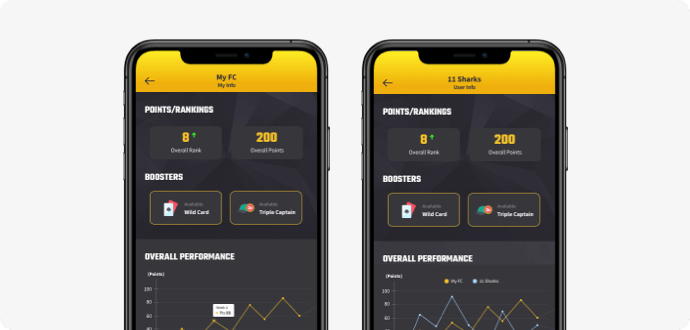 Users can now see a detailed report of their own performance and others who are playing with them. Now it is easy to track the overall performance and also compare your performance against any rival at the click of a button! Rank, points and the boosters available can be viewed without any hassle.
Scoring
World Cup Fantasy Software provide a variety of scoring parameters that can be managed from the admin panel. You can set your own scoring rules for the overall game play. During the tournament, the fantasy football players chosen by the users in their respective teams will be allocated points based on their performance in the league.
The scoring system is entirely customizable, and you can make the changes from the admin section. It can be automated, or we can also provide a manual entry system.
Penalties

In the case of a penalty, an assist is calculated for the player earning the penalty if a goal is scored. But not if the player played it himself, in that case, the assist is not counted.
Assists

Assists are awarded to the player from the goal-scoring team, who makes the final pass before a goal is scored. An assist is awarded whether the pass was intentional (that it creates the chance) or unintentional (that the player had to dribble the ball or an inadvertent touch or shot created the chance).
If an opposing player touches the ball after the final pass before a goal is scored, significantly altering the intended destination of the ball, then no assist is awarded. Should a touch by an opposing player be followed by a defensive error by another opposing outfield player then no assist will be awarded. If the goal scorer loses and then regains possession, then no assist is awarded.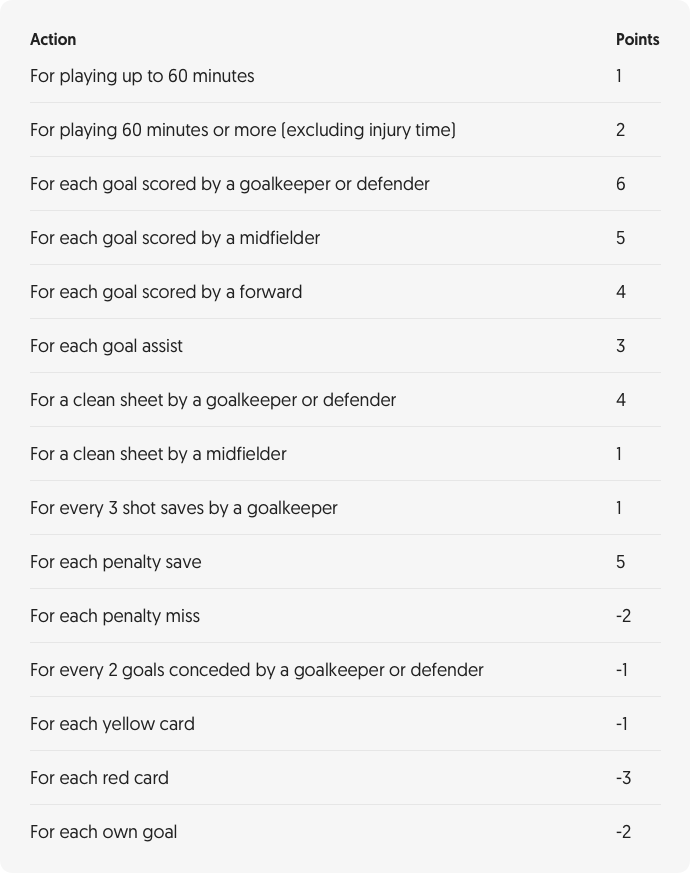 Static Pages
We all know the importance of static pages namely About Us, Contact Us, how it works, Rules and Scoring, Terms of Use, and Privacy policy. Transparency about your company's core values and history, reliable contact information, rules and regulations about the game, terms of user engagement can help you develop user trust and loyalty.
Administration Portal
Our admin panel empowers you to manage everything - marketing, finance, daily operations, sponsorships, and reporting.
Player Management

You can manage player-related functionalities like player position, player salaries, activation, and deactivation of players in the player management module of the admin panel.
Manage Users

If you want to search users, configure permissions, manage user details, rankings, deposits, document approvals, reports, and pretty much anything else, you can do it from the Manage Users panel. Admin can add users from the user management to encourage user participation. This will save the user from the tedious sign-up process and ensure smooth engagement.
Google Analytics with event tracking

With support to SEO capabilities and analytics platforms like Google Firebase, Google analytics, and Singular analytics, you will be able to organically grow your presence and uncover valuable data.