Social commerce is going to be inevitable in 2018. This is good news because it would help establish more trust when it comes to buying directly via social media sites.
Your consumers today are hyper-empowered and tech-augmented. They are more in control of the branded messages they receive and how they interact with brands. There are two characteristics of today's consumer that any social commerce platform owner cannot ignore-
- Immediacy
- Relevance
So unless your social commerce integration gives consumers these two advantages, it is neither effective nor worthy of investment. You still need those vital touchpoints in the purchase journey of your consumers.
What does social commerce mean in 2018?
Social commerce is essentially any and all e-commerce that uses social media to promote or enable an online transaction. It includes the following –
- product reviews by users on social networks
- product reviews on e-commerce sites
- ads on social network feeds that lead users on an e-commerce website
- P2P (peer to peer) buying and selling
- money transfer via Buy button redirection without having to leave that specific social media platform
The rise of the social commerce customer
The customers of social commerce are mostly millennials and Gen-Zs who have often demonstrated that brands need to stand for a meaningful purpose. They have similar preferences for social commerce. That's precisely why Amazon, Ali Baba come up with meaningful promotional campaigns touching the emotions or a certain social cause on occasion.
If you have done enough research to really understand your customer, it would open up actionable details to kill it on your social commerce game.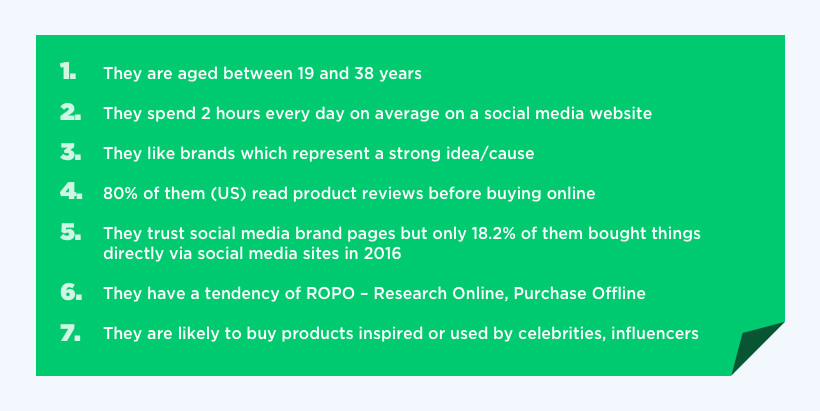 The Buy Button brings discovery and purchase closer
The journey of a social commerce customer begins when he makes up his mind to buy something. He then browses the web. Owners of social commerce platform must think of integration of strong web analytics in order to target this customer on social media sites based on his browsing history. Social commerce design and development partners must give their B2B clients chat bots and automatic messenger replies on social media messengers such as FB messenger, WhatsApp, Instagram, SnapChat etc.
When this happens, this customer feels a sense of serendipity when he starts seeing relevant ads to his needs on all social media sites. When he sees buyable products that he is in need of, he is most likely to make a purchase. Facebook social commerce integration involves a Buy button; Instagram has shoppable photo tags; Pinterest has buyable pins. But Facebook has been the strongest in social commerce integration platform because it has several hypertargetting options. So much so that even when two users are talking on Facebook calling option, they would most likely see relevant ads the next day targeted at them based on their conversation. Facebook Marketplace is another option that's available only on Mobile currently where social commerce integration involves a native social media store. Snapchat and Wechat have also successfully tapped into social commerce. Now those involved in social commerce platform design and development are actively integrating these two messenger apps.
With social commerce integration becoming deeper with each day, it is safe to say that 2018 may be the year when social commerce finally becomes a norm.
How should e-commerce companies handle social commerce?
#1. Integrate mobile commerce
Your social commerce design and development should be mobile-first. If we had to take an average of all the mobile commerce surveys available, we can tell you that at least 17-20% of daily Snapchat users, 15-17% of daily Instagram and Pinterest users use smartphones for their shopping. And this number would only grow in 2018.
#2. Focus on building trust
You must target all kinds of customers, including older ones if you wish to establish trust on your social commerce platform. Make your e-commerce brand stand for something meaningful. Several hand-woven apparel companies in India use photos of actual artisans in all of their social media ads. This establishes an affinity and trust for the brand. Unless this happens, there's no way you can make your buyers push that 'buy' button on your social commerce platform.
# 3. Make it as smooth as possible
Hire experts of social commerce platform design and development and instruct them to build a seamless social commerce integration. Your buyers must feel like buying on social commerce is the same as buying on an e-commerce site.
# 4. Create a social commerce brand experience
Add fun features, social messages or acknowledgement when customers buy on social media. Follow these customers with message or updates on social media platforms.
Social commerce is going to be inevitable in 2018. And this is good news because it would help establish more trust when it comes to buying directly via social media sites. Vinfotech has been building trustworthy social commerce experiences for almost five years now. If you wish to share your challenges in social commerce integration or wish to hire partners for social commerce platform design and development, give us a call.