Healthcare intranet software helps large chain hospitals get better returns, ensure patient safety and forge staff collaboration.
Hospitals around the world lose money and resources on issues that can be handled easily on a technology platform. The bigger the hospital, the more are the losses. Large chain hospitals often lose on factors such as staff negligence, lack of sufficient data to back a decision, administrative errors and paperwork related mistakes. A study says that 86% of the mistakes that are made in the healthcare industry are related to administration. About 80% of all serious medical errors involve miscommunication during care transitions (to different care settings).
Take a look at how much one factor – referral leakage – costs large hospitals –

Common challenges large chain hospitals face-
Compliance involving staff
Large chain hospitals have thousands of staff who need training and implementation basics in order to deal the medical compliances. They need tools that ensure that all the staff is rostered within working time regulations. There are compliances related to patient data and information which if compromised can cost the hospitals a lot of money and in some cases, their licenses.
Accuracy
Another real-world challenge for large chain hospitals is the accurate collection of employee hours worked for payroll and any discrepancies thereof.
Negligence v/s patient safety
The Washington Post reported in 2016 that researchers said that medical errors are the third leading cause of deaths in the United States. A Times of India report stated in 2016 that 70% of deaths in hospitals are a result of miscommunication. This is particularly challenging when such a hospital is a large one with chains spread across the country. How do such hospitals ensure patient safety across all cities?
Consistent staffing
The workload in large chain hospitals can be sporadic while overstaffing incurs heavy costs and under staffing leads to precarious situations for patient care. Peaks and troughs of productivity need to be constantly identified using hard data. Data helps managers in redistributing staff, reducing workload and getting sufficient coverage during transitional shifts to avoid overtime.
Controlling costs
Hospitals incur heavy costs just on staffing and optimization of the workforce. In the absence of a healthcare intranet software, hospitals find it hard to control escalating costs. They need to regulate workflow patterns and staffing imbalances in order to cut costs. They need to reduce man-hours to optimal levels in order to get good returns on investment. Then there are costs related to supply chain management as well. According to a research, some hospitals will see supply chain costs overtake the cost of labour by 2022.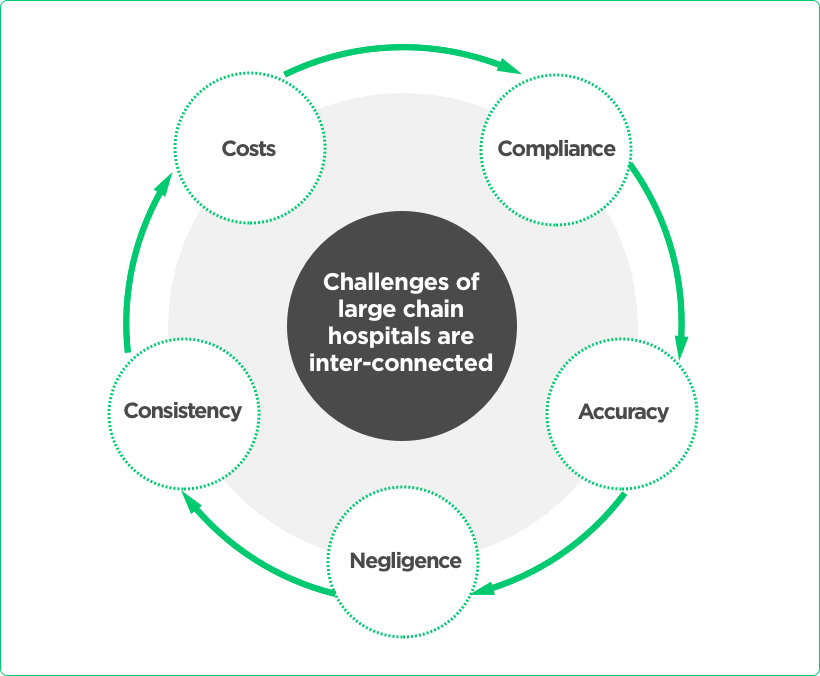 Time to build healthcare intranet software
If large chain hospitals still intend to expand and grow, they will need healthcare intranet software. And looking at the growing number of medical forums and the way today's millennial employees are communicating; healthcare intranet software is any day a better bet.
Hospital workforce now is more tech-savvy than ever before. In its survey of clinical managers and human resource leaders, Emerging Roles in Healthcare 2014 by AMN Healthcare found that while a majority of healthcare professionals are aware of new and emerging workforce roles, hospitals and health systems are not adequately planning to staff these new positions.
Hospitals thus need to wake up to a new way of workforce management. Here's how healthcare intranet software can help –
#1 Automation
Healthcare intranet software work like internal forums, only more systematic and categorized with admin controls. As a result, a lot of clinical routine work can be automated and knowledge easily shared within the community. This helps in managing day-to-day but time-taking tasks such as scheduling hours, managing employee hours and staffing demands.
#2 A compliant workforce
A healthcare intranet software is HIPAA-compliant and allows doctors to collaborate with patients, clinical staff, and other doctors to discuss patient cases. Information sharing can easily be controlled as per permission-based communication system so there's no leakage of sensitive information. This alone saves so much of costs and builds a credible chain hospital.
# 3 Better coordination for patient safety
Through healthcare intranet software, hospitals are easily able to coordinate with all departments, branches, and chains across the country in less time and with more efficiency. This automatically leads to better coordination.
# 4 Forges positive collaboration
One of the biggest advantages of having a community environment for managing workforce is the atmosphere that gets created in the process. Clinical staff are better equipped information-wise and hence are more aware of their responsibilities. As a result, they get time to help peers, share useful information within permissions and are able to help other departments ensure better healthcare delivery.
# 5 Knowledgebase
While healthcare industry faces an acute shortage of physicians, it's become crucial to save and store useful information for future references. Healthcare intranet software easily allows for the storage of information on one platform. This coupled with compliances and appropriate user controls can help hospitals function even in the wake of less staff or lack of the sufficient number of physicians.
# 6 Superior analytics
It's not only possible to capture insights of each user in a healthcare intranet software but also analyze that information for future action or during crucial decisions. A data-driven healthcare community automatically becomes more accurate and efficient in delivering healthcare and patient safety.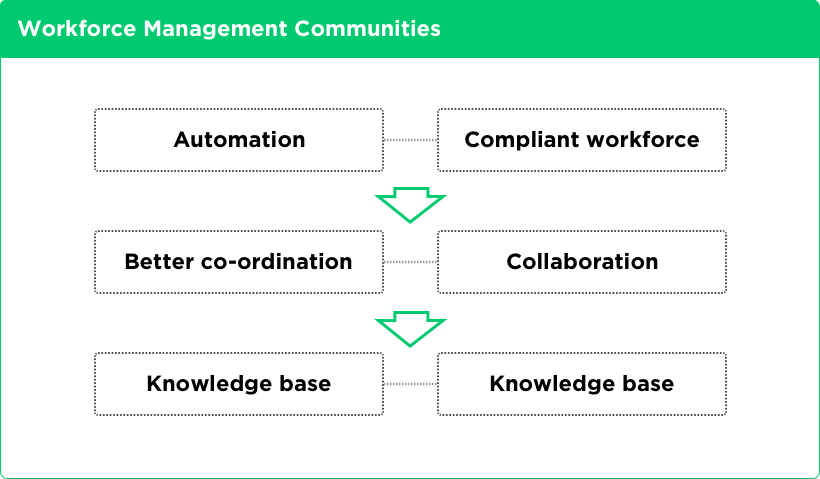 Vinfotech has what it takes to connect people in fun and engaging healthcare communities where users feel like connecting happily. We also ensure an initial set of engaged users to put your community on fast track growth. Call us to understand more how building a healthcare intranet software with Vinfotech can help you get efficient returns on your investment.