One in every five internet users has sought to connect with others having similar health concerns. You must consider online patient communities.
Whether you have to find directions to a place, get reviews for a product, know what all happened on a particular day in the entire history, or know anything about anything, the internet is undeniably a huge source of information. No wonder, it is being used for gathering medical and healthcare information as well.
One in every five internet users has sought to connect with others having similar health concerns. This ratio was 1:4 in case of people living with a chronic disease or having loved ones with a chronic disease.
You may know information-seekers around you who generally perform a research before seeing a healthcare provider and after being diagnosed. This helps in understanding-
/ how to identify an illness
/ what causes the illness
/ how to prevent it
/ how to cure it
/ the treatment's fight-mechanism etc.
The research also lets the researcher have a first-hand perspective of the illness from someone who's already going through/ gone through the same problem. Wikipedia, articles, and blogs are the static sources of information but people out there want more interactive experience when it comes to a sensitive subject like health. This need of having an interactive experience has led to the development of online patient communities with more to offer.
An online patient community is a web-based community where patients and their families meet to learn about and discuss their health concerns. It is also called a health community because it is open for everyone to be a part of it- for informative, curative or preventive purposes. Healthcare professionals may or may not have an oversight on these communities depending on the typology of the platform. The various participants of a healthcare community can be-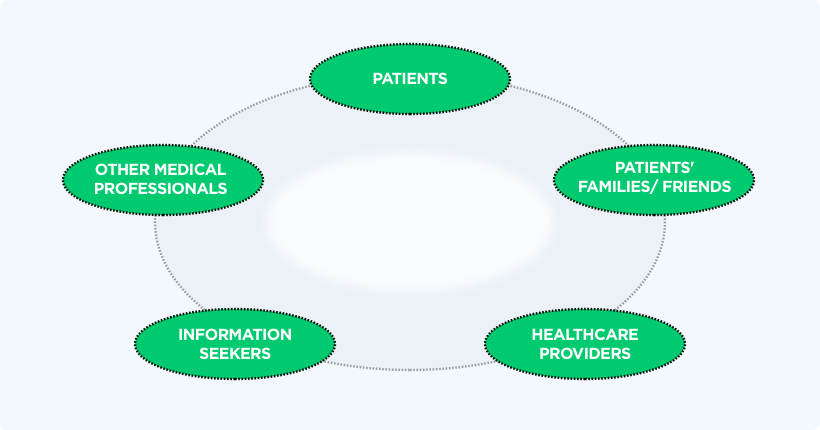 The sharing of knowledge among users can play a crucial role in the quick and healthy recovery of patients. Cancer patients can share their post-chemotherapy experiences, someone suffering from eczema can tell the effect of avoiding using certain chemicals, patients' families or friends can share the ways they opt to keep the patients with severe diseases motivated and positive. So, these online patient communities help to-
/ Boost patient empowerment
/ Spread information
/ Promote healthy lifestyle choices
/ Solicit feedback from users
You might have seen the health awareness spreading its wings through social media as well. Nutritionists, trainers, doctors are all actively taking the lead to initiate health consciousness among people. There are several groups and communities on Instagram, Quora, Facebook, LinkedIn, Twitter etc. There are online subscription programmes too. However, this culture has taken an even bigger shape because special technologies dedicated particularly to health have been developed. Vinfotech for instance, is developing online platforms for healthcare communities.
Having talked of the benefits from information seekers', patients' and their families' end, let's see how these communities can benefit healthcare providers. You, being a provider, can-
/ Address the queries of potential patients
/ Create knowledge base of exciting and helpful content
/ Strengthen patient support
/ Share inspiring patient recovery and research stories
/ Facilitate discussions around your hospital, doctors, patients, and treatment
/ Organize and promote health events
/ Conduct polls and surveys for data collection
But it's not all really sorted because still there are a few challenges that need to be addressed and resolved-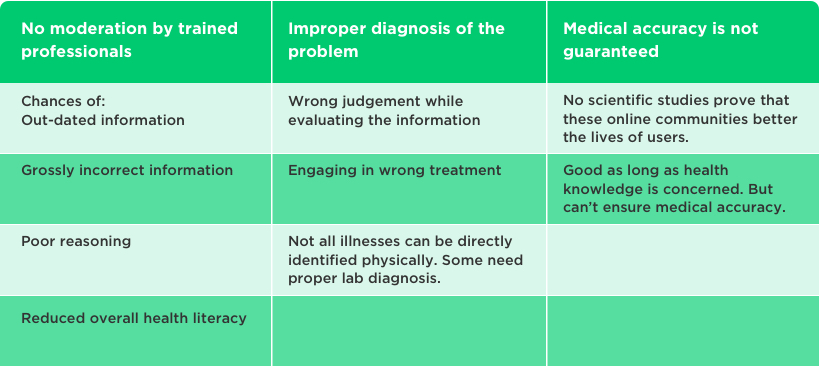 If these challenges are addressed while development of online communities, they can become a huge source of opportunity for better healthcare. It cannot be denied that online patient communities offer a wide range of benefits in their current format too. So, if you're to know whether they're worth your time or not- sure they are! You only need to keep a couple of things in mind regarding participating in online health communities-
/ If you are a provider, invest serious time in these communities only if your involvement brings clear business benefits.
/ If your team cannot find time out of your daily tight schedule to post regularly, answer queries that you're mentioned in, or sell services remotely, it is better to keep yourself from participating at all.
/ Considering liability, avoid giving any advice pertaining to health without the opportunity to give a proper consultation.
If you aren't obstructed by any of these issues, go ahead and participate in these communities to build a goodwill, establish yourself as an expert, and help in making the world a healthier place.
For knowing how these healthcare communities are impacting the medical services, do have a look at the online health community offering by Vinfotech, a company that is meticulously analysing every aspect of these communities before developing them for advanced healthcare. We have a track record of building and developing HIPAA-compliant IT products for healthcare providers.