Custom telehealth solutions are now the demand of the healthcare industry with more patients getting comfortable with telehealth.
How would you feel if you didn't have to visit your doctor for a certain physical ailment? Strange as it may feel, you would probably be more comfortable consulting him online. That's because you are a millennial and you prefer a virtual interaction any day because it saves time and reduces a certain degree of consciousness. This is precisely why custom telehealth applications are being largely adopted by hospitals every year. In healthcare industry, this particular millennial trait has become extremely crucial. A 2015 survey reported that the number of patients using telemedicine services will increase to 7 million in 2018 in the US alone. In 2018, this user demographic is going to impact how you choose to make healthcare more effective and reachable.
Custom telehealth apps are here to positively impact the healthcare industry by their feasibility of use and the cost-effectiveness that they offer. If you are a healthcare provider, you may often wonder how should a custom telehealth solution for your organization look like.
Who needs custom telehealth software systems?
1.Physicians – Today, patients prefer video consultations over phone or email. Physicians may need custom telehealth mobile solutions for better and remote consultation.
2.Medical practice – Convenience today is at the heart of healthcare. When medical practice enterprises are able to provide telehealth systems to patients, they are more likely to get ahead. Telehealth solution providers such as Vinfotech offer HIPAA-compliant telehealth applications for such medical enterprises.
3.Primary care clinics – These clinics offer face challenges in case of follow-ups of treatments and patients. Custom telehealth applications help them automate tasks and be more available when the patients need them.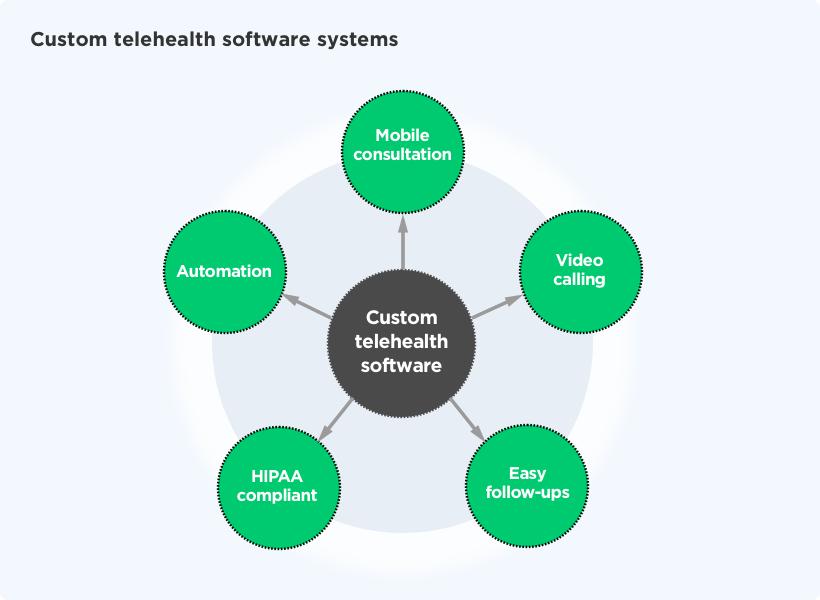 The adoption of telehealth solutions
/ The telehealth market value is set to hit $36.2 billion by 2020, up from $14.3 billion in 2014.
/ 29 states and the District of Columbia in the USA currently uphold laws mandating health plans cover telemedicine services.
/ 57 percent of primary care physicians are open to holding appointments with patients via video
/ An overwhelming majority (90 percent) of healthcare executives said their organizations have implemented or are developing a telemedicine program
However, the success of any telehealth solution is never overnight. It's always a make or break situation where you build a complete healthcare environment around the application. Therefore, it is imperative that you must look for dependable telehealth solution developers who can pull of a great custom software for you.
Here are some important factors that you must consider while partners with developers for any custom telehealth software.
# 1. An interface that clicks with users
Remember 10 years ago what happened to EMR software? It was cluttered and boring. But most importantly, it wasn't motivating for users. If you really want your users to adopt your telehealth software quickly, you need to ensure that the user experience and user interface are nothing less than perfect. Your UX needs to address two demographics directly - providers and patients. A few factors should help –

# 2 Data security as per compliances
Patient health information is confidential according to HIPAA Privacy Rule that states that health plans, certain healthcare providers and health care clearing houses need to protect PHI. The security of PHI should be at the centre of your telehealth programme. These are industry's time-tested measures for achieving data security –

# 4. Accessibility settings
It's important that your team works closely with subject matter experts from clinical staff about accessibility settings. That's because for users such as disabled, elderly or sick, accessibility is extremely crucial.

# 5. Data transmission and interoperability
For the smooth functioning of your custom telehealth solution, you need low latency video and audio but with high quality. But will all your patients have high-speed internet? This is why your telehealth app needs to be good enough for low bandwidth in remote locations. Similarly, your custom telehealth software would most likely be integrating with EHRs and EMRs that may get hard to adapt. For this, you need to work with your tech team to allocate time for data governance. Once the data is aggregated, a standard workflow can be generated for effective integration.

# 6 Big data and analytics
Breaking data silos is golden for custom telehealth systems. Almost 80% of medical data is unstructured but if this problem is addressed, it can benefit patients immensely. Ask your telehealth provider to integrate a powerful analytics module. If your budget permits, you must use a big data platform to structure and analyse data. Your custom telehealth app would be doubly effective if you are able to detect disease or condition patterns for effective prevention.

# Choose telehealth app partners
The market is full of several telehealth app providers, designers, and developers. But it's important that you choose a development company that knows legal constraints, follows design thinking methodology and helps your app scale up.
Vinfotech has been creating custom telehealth solutions for almost 10 years now. Empathy is at the core of our healthcare software development solutions because we practice design thinking. We have developed telehealth software systems for hospitals, doctors, doctorpreneurs and healthcare providers over the years. Do give us a call.