As e-sports and online entertainment continue to grow, sporting events are the latest to revolutionize fan interaction with fantasy sports. Fantasy sports is a game where participants create their own virtual teams of real players of a professional sport and these teams compete based on the statistical performance of those players in actual games.
The performance is converted into points that are compiled and calculated and the winner is announced. The final reward is based on the type of contest the user opts-in the initial stage. It is an entire ecosystem with aspects like online playing, sponsorships, draft parties, merchandise, actual game tickets, brand marketing, etc. Fantasy games today are a more than $ 7.22 billion industry with over 75 million people worldwide engaged in this kind of gaming indefinitely.
Key Drivers of the Global Fantasy Sports Market
Rising consumer spending on recreational activities and growth in the urban population is driving the demand for fantasy sports across the world. Furthermore, young consumers prefer fantasy sports as an alternative to other online games. Technology advancement and rising consumer awareness in untapped markets are expected to boost the growth of the fantasy sports market in the near future.
The disposable income of the millennial population has increased significantly during recent years. Thus, consumers are willing to spend on multiple entertainment alternatives. Affordable subscriptions of mobile apps and the low cost of the internet is shaping consumer attitude and preference for innovative recreational activities such as fantasy sports. Moreover, key companies engaged in the development of fantasy sports platforms are designing more user-friendly and easy-to-understand mobile applications at reasonable membership charges.
BENEFITS OF FANTASY SPORTS TO GAMING COMPANIES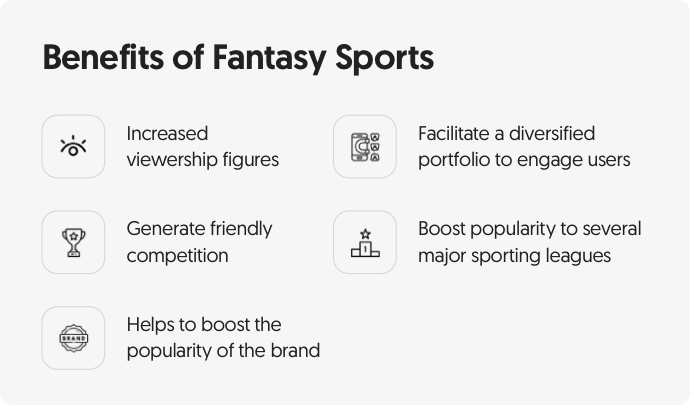 One of the biggest benefits to the world of fantasy sport is the increased viewership figures. Those that have participated in fantasy sports, tend to watch the games much more.
In addition to the viewership figures, it is important to note that it can generate friendly competition. Whether this is in the workplace or between friends, this friendly competition can help to benefit a wide range of sports and keep people interested. This is a brand new and exciting way of keeping people involved in Cricket, football, and other sports.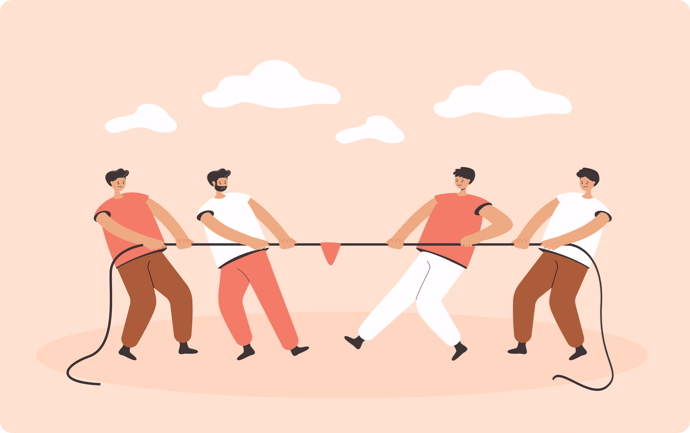 This is a huge step in the right direction for an industry that is leaning more towards e-sports and other online content. This not only helps to generate revenue it can help to boost popularity to several major sporting leagues.
Data analysis is yet another huge part of being successful when it comes to fantasy sports. This is because choosing your favorite players in a sporting team is not enough for you to rack up points as they may not perform well.
As a result, analyzing data and the way that players continue to play within matches will help you to climb the leaderboard.
This is a huge benefit to the sporting associations that are holding the matches as viewership is set to rise across several different channels. Whether this is social media channels or matches on sporting TV channels, this can help to boost the name of the brand. This is particularly beneficial for smaller leagues globally as it can help to build the popularity surrounding the league. These are huge investments that are sure to see a return of investment for some of the smaller teams as it helps to boost the popularity of the brand as more and more people take part in fantasy leagues.
Adding fantasy sports applications/platforms to your existing gaming business can help you to create a healthy product mix that will facilitate a diversified portfolio to engage users/ customers. A diversified portfolio will attract more users to your gaming platform. Fantasy sports help you evolve as a multi-sports gaming platform and engage users from every sport. We have witnessed adding fantasy sports to a gaming portal increases user engagement by 14% and revenue by around 8%.
These numbers are probably sufficient to explain the need of adding fantasy sports applications to a gaming portal. The quality of fantasy sports applications is the major deciding factor for a loyal customer base. If your app is attractive and user-friendly, the audience will like it more than other apps in the competition. Fantasy sports app development is not just about coding or admin panel, but also more to understand its demographics and target market.
Vinfotech today has millions of users on its developed app, benefiting owners in more ways than one. High revenue is just for keeping score, but creating a brand image also helps gaming companies build more involvement and collaboration around the brand name, which is indirect but a major source of income from the app. Another important advantage of fantasy sports is that it brings a lot of traffic to your gaming portal, which is the ultimate goal of any gaming company to succeed.
Individuals across the world love sports and it will be simple for the gaming companies to focus on the crowds as they have been hanging tight for their number one games for eternity. Fantasy sports can help bring in users from around the world to your gaming portal, which will result in global recognition and internationalization of your business. Vinfotech offers the technology you need to build and deploy the most engaging global fantasy sports & gaming experience with multi-lingual and multi-currency features.
Fantasy sports can not only help gaming companies in enhancing users' loyalty but also increase the number of repeat users. With this in mind, there are a huge number of benefits that come from fantasy Sports.
We at Vinfotech are in constant pursuit of evolving alongside the industry to ensure that our clients get the best product and best of our advice. With our latest product upgrade, we have launched a comprehensive admin panel for all the engagement needs of fans. We are committed to providing high-quality solutions to our clients venturing into the fantasy sports space. Contact us and we will be happy to guide you in the right direction.