Sadde Kings 2020, a brainchild of the IPL team Kings XI Punjab, launched an ultimate player auction platform for the hardcore fans of the team.
Vinfotech, a leading fantasy sports and social networking software development company, designed and engineered India's first auction platform for Kings XI Punjab. When we say that we are the experts of fantasy gaming, we mean it! Our association with Kings XI Punjab is a testimony of our in-depth knowledge and expertise.
Kings XI Punjab, one of the oldest teams of IPL has a huge fan base. The fans are a vital part of any sports team and KXIP wanted to instill a sense of passion by delivering an engaging experience to their fans with the intention of making them feel connected.
"The major challenge for us was to develop something that has never been made in India before. The design needed to be simple yet intuitive and the performance needed to be amazing to cater to the huge fanbase of Kings XI Punjab. To deliver the best, we deployed our best people on Sadde Kings 2020", said Murtuza Fida, Project Lead.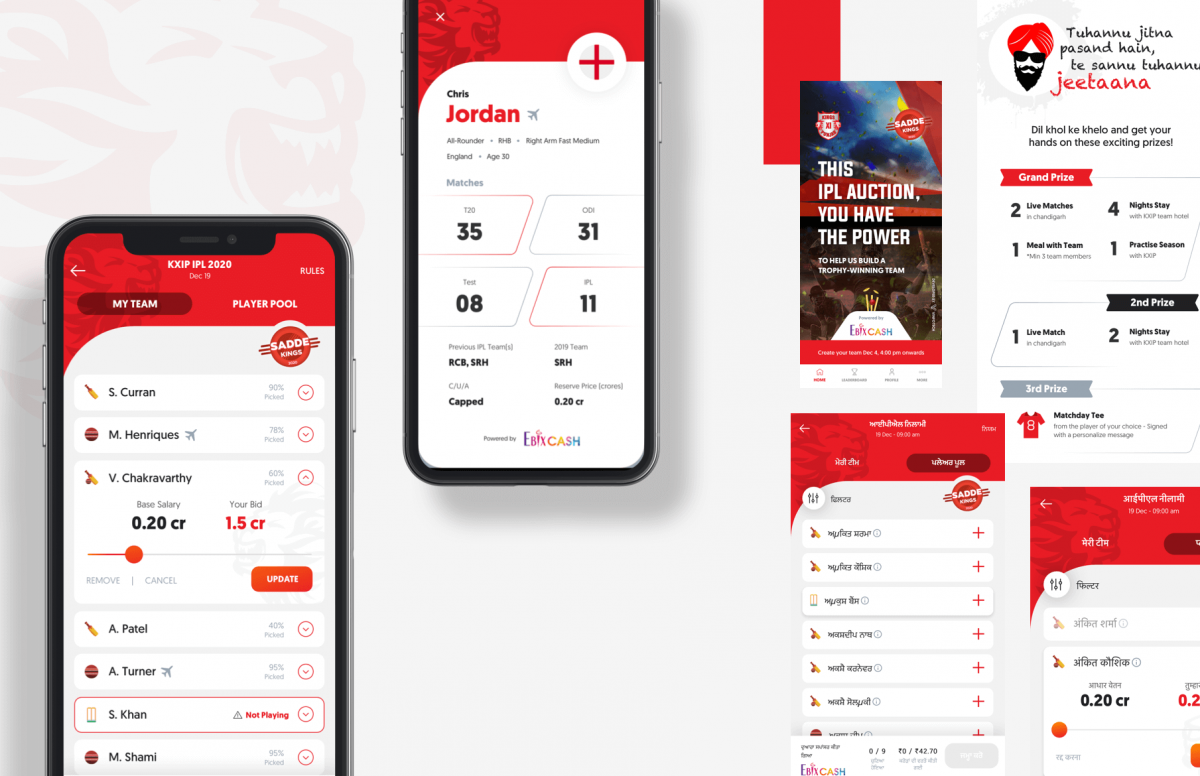 Sadde Kings 2020 is the first-ever auction platform of India, designed and engineered by our experienced developers. The free-to-play auction platform offers a unique experience wherein the fans can choose and bid for players who they think will be a great asset to the franchise. If the management thinks in the same way and the chosen players are picked-up in the team and the user will get a chance to win tickets to the live-action in Chandigarh. Other prizes include lunch/dinner with the team and merchandising. The platform is stacked with energizing features like player cards and multilingualism to guarantee top tier customer experience. For more, please visit- https://auction2020.kxip.in/
We believe that it's an amazing way of making the fans feel special and we are pretty confident that this association will be highly lucrative for the franchise.
About Vinfotech
Vinfotech creates the world's best fantasy sports-based entertainment, marketing and rewards platforms for fantasy sports startups, sports leagues, casinos and media companies. We promise an initial set of real engaged users to put a turbo in your fantasy platform growth. Our award-winning software vFantasy™ allows us to build a stellar rewards platform faster and better.
For more information about Vinfotech, please visit https://www.vinfotech.com/ or email at info@vinfotech.com
About Kings XI Punjab
The Kings XI Punjab (KXIP) is a franchise cricket team based in Mohali (Chandigarh CR), Punjab, that plays in the Indian Premier League (IPL). Established in 2008, the franchise's vision is to promote cricket sincerely; within the region by providing global exposure to local talent, and attracting new audiences for the sport through innovative presentation.
For more information about Kings XI Punjab, please visit https://www.kxip.in/ or email at info@kxip.in