Fantasy sports have developed around the world as a billion-dollar industry, sustaining a large ecosystem. Today, with the gathering of major brands, celebrities, gambling, league tournaments (like IPL, ICL, etc.), it is a big business with billions of fans and much more
The Fantasy Sports Business has come a long way since its rather forgotten inception. The medium has evolved to become so much more than just a fun online game played between friends. In India alone, it stands strong and tall like a titan with a market worth Rs 2.5 crore as of 2020, and revenues hitting the ceiling of Rs 16467 crores.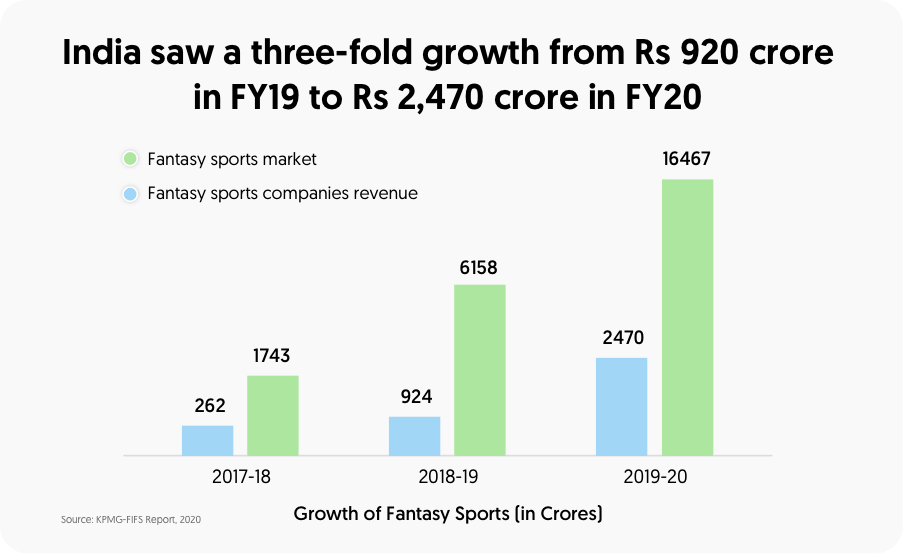 If the success of Dream 11 has proved anything, then the Fantasy Sports industry has become fertile ground for ambitious people to earn themselves a good fortune. However, building a legitimate fantasy sports business is more challenging today than it was years ago when Dream 11 first took baby steps.
In India itself, the industry is becoming increasingly competitive. According to the FIFS-KPMG report, there are more than 140 companies offering fantasy sports services today. Suffice to say, the industry has become a battleground, with multiple companies locked in a vicious fight over market dominance. It is difficult to be heard when there are so many other entities vying for the same level of attention as you. Thus, it is extremely important to offer something unique if you wish to sail smoothly through this shark-infested ocean that is now the Fantasy Sports industry.
At Vinfotech, through our own experiences with clients, we are privy to all the right elements that go into creating a lucrative fantasy sports business from scratch. As such, we feel confident enough to educate you on all the tips and strategies one needs to emphasize when building and managing a formidable fantasy sports empire.
The Indian Fantasy Sports Landscape as Of 2020
It's not just business entities that have struck gold with Fantasy Sports. In fact, many individual users and the Indian Government itself have raked in massive amounts of revenue from fantasy sports platforms. Last year alone, the revenue earned by individual users was estimated to be around an impressive 14 thousand crores. The Government, on the other hand, was able to earn a total of 776 crores in 2020 from TDS and GST taxes.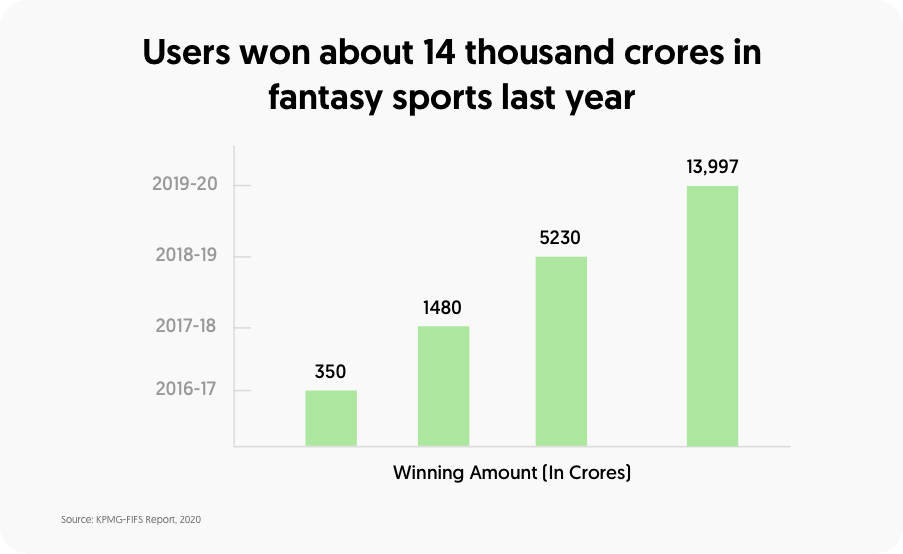 Fantasy Sports Sector is also an industry that now employs 5000 Indians indirectly and additional 3400 people directly. In Hindsight, the Fantasy Sports Industry is undoubtedly turning into a force to be reckoned with, in a perpetually flourishing Indian gaming market.
Important Tips to Follow When Promoting your Fantasy Sports Business
1 – Focus on Growth
It can be tempting to see giants in the industry like Dream 11 operate the way they do and replicate their moves. This is not a wise idea. You have to understand that Dream 11 didn't become profitable overnight. To avoid becoming just another Knock off, focus instead on growing your user base. A sporting company in its initial stages should aim to gather at least 5000 to 10000 active users to their business.
There are many interesting ways by which such a goal can be accomplished. You can start by restricting the number of contests for selective matches and leagues to a bare minimum. A fewer number of contests for popular matches will allow you to channel your entry fees to maintain higher prices.
Rest assured, you can expect lesser than 10000 participants which naturally increases the odds of your users winning on the platform. Such wins act as factors that encourage users to keep investing their time in your app.
2 – Revolve Your Services around your Customers
Loyalty and retention are just as important, or even more so than new user acquisition. Unfortunately, many businesses do not pay attention to them. We've already mentioned how important winning is to your users. Use this to your advantage in earning their loyalty and maintaining a healthy retention rate.
Charm your users with impeccable customer support. Be extremely quick in processing their withdrawals and try to always be in touch with them through clear communication channels. You can also earn your users' loyalty by being more forthcoming with them with regards to the people working behind the scenes of the app, conveying the brand's vision to them, and more.
Providing an excellent experience to your users will earn you their loyalty, which can later be harnessed to generate word-of-mouth publicity for your brand that helps acquire new users.
3 - Start at Home
When starting out, it is wise to start small and start from home. Direct marketing efforts to boost your local presence before you even consider going big. Many fantasy sports startups have found success by initially acquiring users from their local towns and cities. The idea is to establish a strong local user base for your brand, and eventually launch effective large-scale marketing campaigns by piggybacking on the goodwill and reputation you managed to garner among users in your region.
4 – Rely on Friends and Family Rather than Famous Celebrities
You can see many big celebrities endorsing a plethora of brands, from sodas to mobile phones and even automobiles. However, their effectiveness in reaching out to customers is debatable, to say the least. Relying on the influence of one's friends and family members, on the other hand, can exhibit interesting results.
As friends and family are 4-5 times more likely to influence one's decision when it comes to making purchases, budding businesses stand to benefit more from such deeply connected influences than the influence of popular celebrities.
So it is imperative to focus on marketing strategies that take advantage of such familiar influences. Strategies such as running referral schemes, rewarding loyalty, etc. can encourage user actions and turn them into convincing advocates for your brand.
5 – Use Multiple Innovative Ways to Reach Your Audience
One of the most widely used marketing strategies today is social media marketing. Businesses use it because of its simple and cost-effective nature. However, it is also a strategy being used by your competitors as well. So it suffers from a case of oversaturation. Therefore, it can become extremely challenging to carve out a niche for yourself on popular platforms such as Facebook, Twitter, and YouTube.
Use multiple strategies instead to spread awareness about your brand. Try advertising in local newspapers, radio stations, hoardings, and college and university festivals to help reach out to more people and grow your user base.
6 – Your Network is your Net Worth
You may use a number of effective marketing tactics to grow your audience, but ultimately it is your own network that proves to be the most effective. Instead of bleeding money on different types of advertisements, try promoting your product among friends, family, colleagues, and acquaintances. Using your network is the easiest way to spread positive buzz around your brand.
Also, try to meet up with your customers personally if possible. Having one-one conversations with your prospects is a good first step in earning their loyalty. You will gain valuable insight into their perception of your brand, what they desire from it, and what they feel is disappointing about it. This will help you acquire new users as well as provide information that can make your product infinitely better.
Things to Consider before you Start a Fantasy Sports Business
Before you indulge in the marketing of your product, you will be in a better position with your fantasy sports business by considering the following fundamental aspects.
1) Define your objective to start a fantasy sports business
There can be many reasons for starting a fantasy sports business. If you are an entrepreneur wanting to venture into this field, you need to spell out your larger business objectives and keep a revenue model in place. If you are a sports league or brand wanting to improve your branding, make sure you have elements of fan engagement in your fantasy sports business. If you are a sports media brand, your objectives would be related to user engagement and growth. Similarly, iGaming players may have the objective of promoting their existing products. The process of defining a clear objective behind starting a fantasy sports business will help you choose the right partners for fantasy sports app development.
2) Do Your Due Diligence
Spend considerable time researching and establishing a proper roadmap for your brand. Find out which sport is trending in your country, learn of the competition you expect to face when entering the fantasy sports arena. Finalize your budget, your potential audience, your team, the legalities, and lastly, the features you aim to offer your users.
3) Finalize the list of Sports and leagues to be included
According to a report published by KPMG, 32% of users who were surveyed by the medium confirmed they engaged with more than one sport on their fantasy sports platform. This explains why it is important for fantasy sports companies to provide more than one sports offering. In India, 77% of users engage more with Cricket than any other sport. So it is advisable to focus more on delivering an impeccable Cricket experience while also offering alternatives in the form of Football and Basketball to diversify the user base.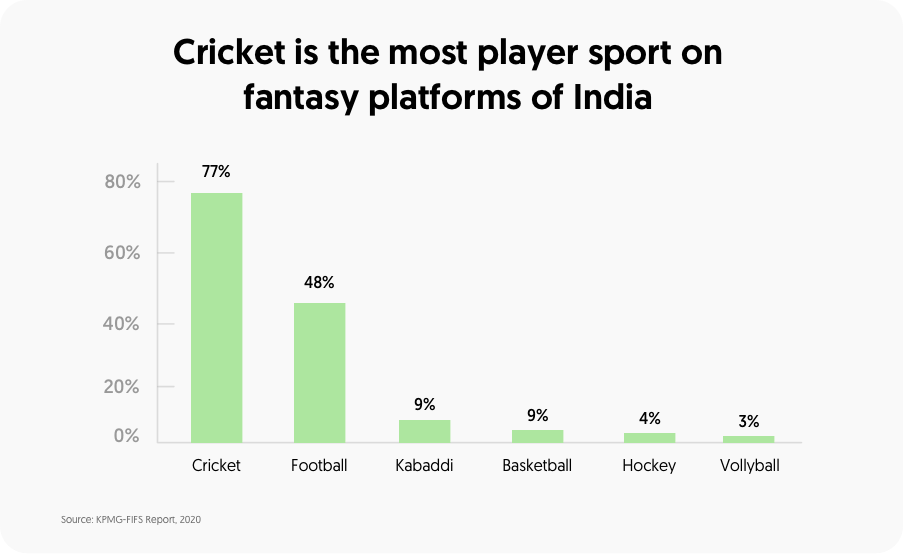 4) Define your USP
It is crucial to determine your brand's USP before you put it in front of your potential audience. Consider the factors that distinguish you from your competitors. Defining your USP will help your app development partners include features that are unique to your fantasy sports business.
5) Define Game Rules and Format
Determining the game rules and formats exclusive to your app is one way of defining your USP. The game rules and formats you decide should be established in a way that contributes to positive player engagement. Your app development partner can help you accomplish this goal without an issue.
6) Finding a Reliable Data Provider
This is without a doubt, the most fundamental element of creating a fantasy sports business. You have to settle on a reliable data provider that has prior experience in the sports and leagues sector.
7) Plan the launch carefully
A lot of businesses go with a fantasy sports website first followed by a mobile application. As a result, their launch strategy needs to be in sync with a long-term plan. Make sure you have a good pre-launch strategy where you create some buzz around your fantasy sports website or application. You may take the help of your in-house marketing team or hire development partners who can help you here
8) Choose development partners who offer user engagement
This is one of the most determining factors in starting a fantasy sports business. Look for development partners who you can trust thick and thin. Ideally, a development partner who can get you the initial set of user engagement along with a pre-launch strategy forms the best foundation for a good business. Your development partners should follow user empathy and must have a good fantasy sports related portfolio.
The Bottom Line
Starting a successful fantasy sports business may be challenging, but it is not impossible. With the right strategy and trick up your sleeves, you too can create a lucrative niche for yourself among India's biggest names in the Fantasy Sports Industry.
All you need is a proper plan, the right resolve, and a trusted development partner that can breathe life into your ambitions. At Vinfotech, we can help you create and manage compelling fantasy sports mobile apps and websites that attract sports enthusiasts and incite consistent engagement.
We have helped many aspiring companies realize their dream of becoming a profitable fantasy sports business, and can do the same for you. So if you dream of making it big in this ever-expanding industry, then get in touch with us to know how we can turn your dreams into a tangible reality.