Starting and operating a real-money gaming website online is hard work. This is particularly because this industry is very competitive and has developed steadily over the past few years, with more players entering the gaming industry.
2020 was the year that things did not go as expected for many companies around the globe. However, the gaming industry was among the big earners for 2020. In India, gaming has become one of the most exciting industries, with more and more investment pouring in every year from both businesses and customers. Adding to the excitement is the rapid rise of interactive mobile gaming apps and real money gaming platforms.
For a gaming enthusiast looking to make some serious money, the stellar growth of real money games creates a massive opportunity awaiting to be leveraged. Of course, by actually participating in games and putting their sports knowledge to use, most people automatically think of how they would make money. However, this is also unlikely to be done by the average person, and there are better ways of making money than becoming a player in the system, such as being a source of knowledge or starting your own gaming business.
Below are some steps that you should follow when starting an online real money gaming website in order to stay ahead of the competition.
Offer multiple exciting games
One of the successful ways to get more players on to your gaming platform is by continually adding exciting games to your portoflio. Multi game platforms like MPL, PayTM First Games are considered next generation games, acing the gaming world by offering a variety of interesting game types to their user base. From casual games like Rummy, Poker, Chess, Quizzes to skill based games like Fantasy Football, Fantasy Cricket and Predictions, these multi-gaming platforms offer users a chance to earn real money by just playing. Multi gaming platforms also work best as client acquisition tools as they are capable to easily attract audiences of various age groups with their exciting game types.
Our iGaming software can help you offer a diverse catalog of real-money games, to attract users in millions. We can also help seamlessly integrate rummy, poker with our core game products to offer a multi-gaming platform for your users.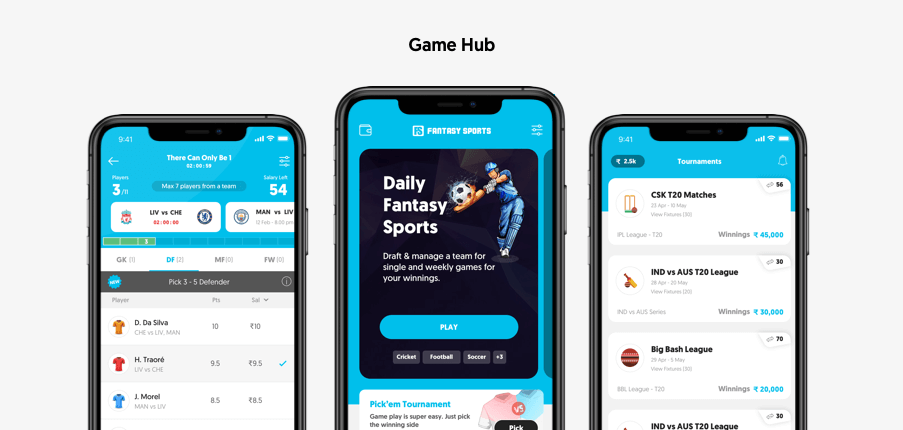 Introduce cash-coin system
Multi gaming apps work on cash coins system. Users pay in cash and receive coins to pay the game. Build a easy and simple coin management system to deliver an hassle free experience to your users. Coins are not only restricted to only being the virtual game currency, they are also the motivators that drive user actions. Introduce gamification levels that enables users to earn coins on various game activities like daily sign-ins, referring a friend & on being the active user. These coins can also be exchanged for real cash, bonus cash, and gift coupons.
Integrate payment providers
As a business owner, you need to make arrangements with various payment system providers so that you can have several payment solutions that are reliable and hassle-free for your players. In order to enhance the gaming experience for your players, conventional payment methods such as vouchers and credit cards are incorporated, which is a common internet payment method.
You can select an iGaming software provider that can do this for you and provide services such as payment processing system, multi-currency assistance, fraud prevention, advanced risk management, KYC verifications, and integration with key e-merchants. Also when selecting a software provider, look for one that can provide a versatile platform for payment processing that complies with many jurisdictions worldwide.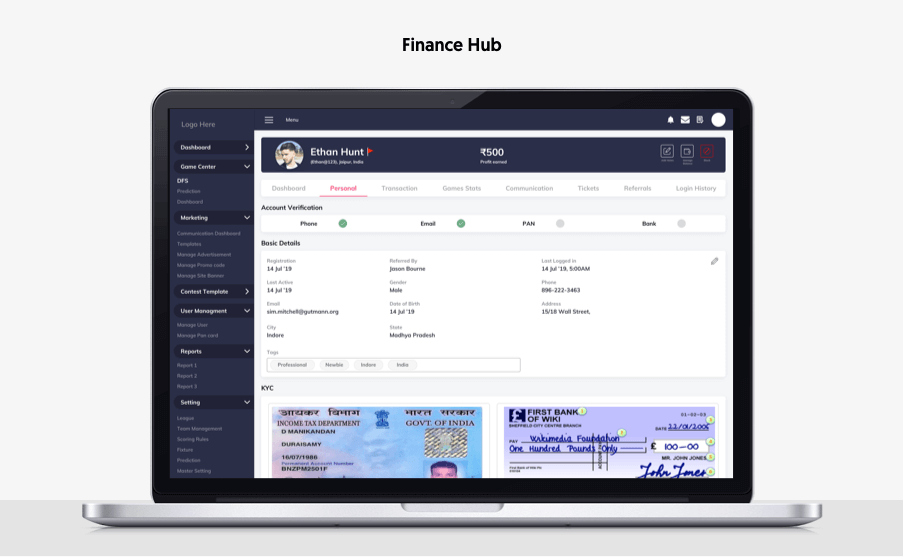 Implement an effective marketing strategy
The other tip to starting a successful online real- money gaming business is by developing a sound marketing strategy and implementing it on all stages. The online gaming market is very competitive; hence, you need to plan on how to get new players to your gaming business as well as retain existing ones. An efficient platform equipped with comprehensive business intelligence and reporting features, will help you target the right player at the right moment, and create a truly personalised experience for the players. Vinfotech's igaming software is developed with highly advanced user segmentation technology that allows you to track the actions of your users. It makes understanding their behaviors, personas, preferences, and motivations easy in real-time. This will help you build strategies, campaigns, and communications around it to maintain customer satisfaction and safeguard retention of your players.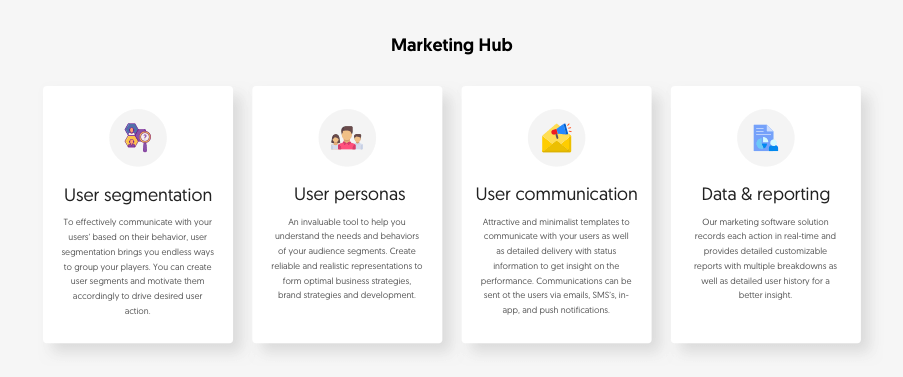 Consider an effective affiliate system
Users trust their peers, friends, and people they admire more than the companies selling the products and services. Implementing an effective affiliate system surely enables website engagement, increases traffic and can help you boost your revenue. Affiliates employ a vast array of advertising techniques, such as email, Facebook advertising, pay-per-click, guest blogging, influencer marketing and product comparisons, to ensure all avenues are covered. We offer a simplified affiliate management solution that allows affiliates to easily promote the platform with dedicated referral links, pre-designed banners, emails, and more. The iGaming software is also equipped with registration and commission options without monetary caps, obligations, or minimum commitment for efficient player acquisition. A simplified affiliate management solution that allows affiliates to easily promote the platform with dedicated referral links, pre-designed banners, emails, and more.
Business development & management
Nevertheless, starting and operating a real-money gaming company online is hard work. This is particularly because this industry is very competitive and has developed steadily over the past few years, with more players entering the industry. However you need to make ongoing efforts to create a profitable online gaming business, such as effective processing of complex administration tasks that reduce complicated, time-consuming processes and manages end-to-end gaming operations. Every touchpoint & user interaction like signups, deposits, site rake, app usage and others have to be analysed for smooth functioning of your gaming business. Our end-to-end game management technology empowers you to manage everything - marketing, finance, daily operations, sponsorships, and even reporting.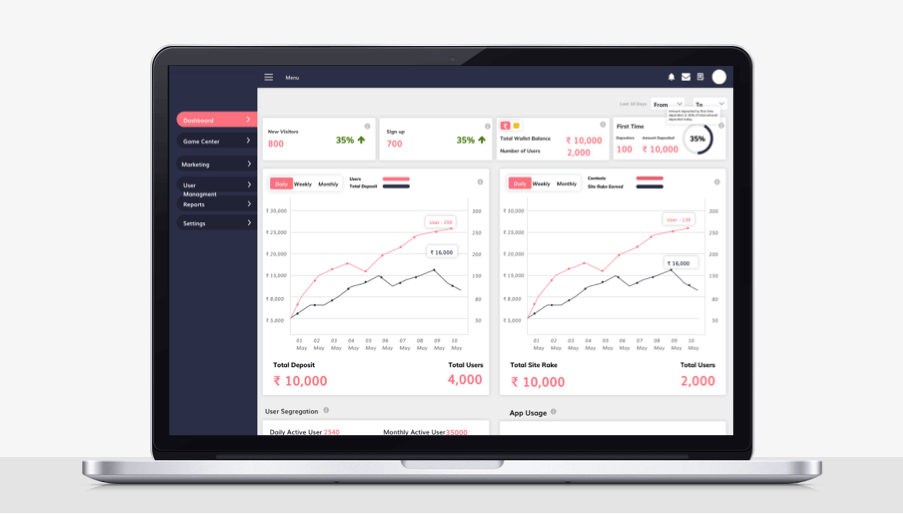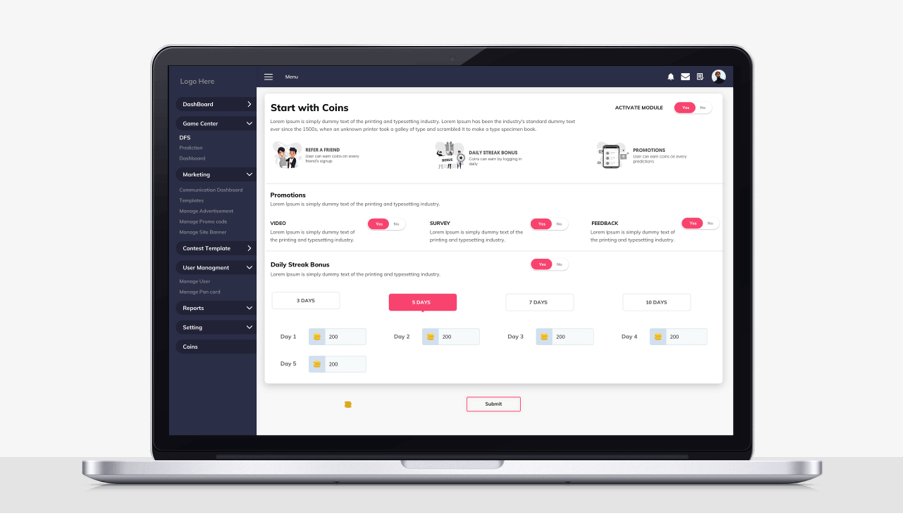 Conclusion
Real money games in India are the "next large segment" with a compound average growth of 40 percent a year, according to to a report from Bernstein Research. As major gaming companies and start-ups in this region aim to make the gaming experience more fun-filled and interactive, real money games are likely to drive the growth of the country's overall gaming industry. To do it right, you need the right combination of business operation and gaming experience and we will assist you to lead a successful and rewarding real-money online business.
The gaming engine of Vinfotech is a powerhouse in itself. The engine enables game operators to integrate multiple payment gateways, derive outstanding financial reports, incorporate promotion and marketing, and provide incredible security to effectively operate a heavy transaction sector such as gaming. With the aid of this approach, any company interested in entering the gaming space will be up and running with their business in less than a month. Visit our iGaming software page for more.