Fantasy sports market in India has grown to 16.5 thousand crore rupees in the last two to three years. Furthermore, Dream11 being the proud recipient of IPL 2020 title sponsorship, India is set to witness a progressive transformation of the sports ecosystem from the bottom up.
The buzz of the two leagues has surrounded the Indian sports industry. One is the Indian Premier League(IPL), and another is fantasy sports, played on the mobile screens of 9 crore users. Dream 11 being India's leading fantasy sports platform, bagged the title sponsorship of IPL 2020. This shows how big fantasy sports have become in India - so big that Dream11 managed to outbid biggies like TATA and Byju's. After this accolade, fantasy sports is proudly ushering into a new era of business and is transforming into a household name in India.
Introduction to fantasy sports
Online fantasy sports gaming (OFSG) is a type of skill-based online sports gaming in which sports fans can build their own team consisting of real-life players from forthcoming matches. Fantasy games are played across multiple sports types like cricket, football, and others. These virtual teams are awarded points based on their actual statistical performance during the real-life match, and the winner is selected accordingly.
Fantasy sports are an extension of real-life sporting events. More specifically, it entails picking virtual players, forming a team, playing games, and then assessing those individuals on their performance in both the virtual and real worlds. To understand the potential of the market, let's discuss how online fantasy sports businesses work.

How fantasy businesses work and make money?
When a large number of people participate in a contest, a large reward pool is created. Following that, these platforms disburse cash awards after preserving a 15-30% profit margin for themselves. They also make a lot of money from advertising and league sponsorship.

In a sense, you can go risk-free because our white label fantasy software allows you to establish a contest that, if a certain number of people don't join the pool, will be immediately canceled and the entries will be refunded to users.
The direct revenue of the fantasy sports business is subjective to 3 basic elements
- Number of active users
- Average monthly spends
- Site rake/margin

Other sources of revenue
Advertising- If there are a large number of users, you can also advertise other products and services on the platform. Fantasy users are active and login every day to see new games and contests. This can boost the sales of official merchandises of you sports leagues or your sponsors.
Rewards- Everyboay likes to win. Users who refer their friends receive rewards. It can be bonus cash, real cash or anything else that you decide. Offering rewards can boost your user acquisitions and build brand value. The platform operator can also decide to reward users only when a referred friend actually deposits some amount to play with. Possibilities are endless.
Private contests- Through private contest users don't need to play with everyone, but they can just play with their circle of friends. The benefits are- reduced cost of user acquisition and the creator of the contest gets some money which keeps them excited and motivated to keep conducting contests and increase your user engagement.
The upward trajectory of the fantasy sports segment
Millions of young sports fans around the country have been hooked to fantasy sports websites and apps, and the number is steadily increasing. According to the Indian Federation of Sports Gaming (IFSG) and KPMG's report titled "The Evolving Landscape of Sports Gaming in India," by 2021, the user base will have surpassed 100 million. The growing user base and a deeper engagement towards sports have given birth to an opportunity worth $1 Billion.
In 2016, there were less than ten companies in this segment. Today there are more than 140 companies. The market has grown 9 times, from Rs 1,743 crore to Rs 16,467 crore in the last 4 years. Fantasy sports companies were also the fortunate beneficiaries of over 2.5 thousand crores in revenue while the government made 776 million in tax revenue. The math is simple. The total number of customers multiplied by their monthly expenditures equals your prize pool, from which you can set aside your margins (site rake) and distribute the remaining funds as cash rewards.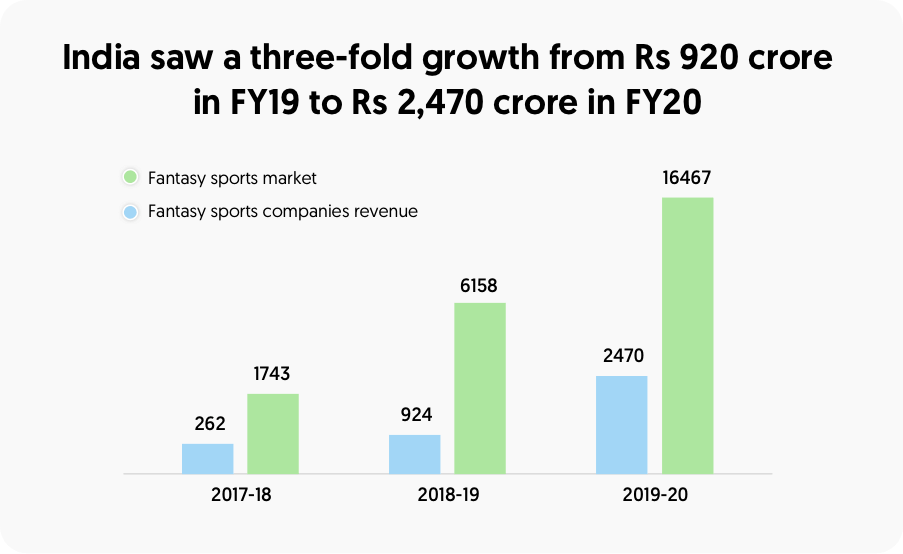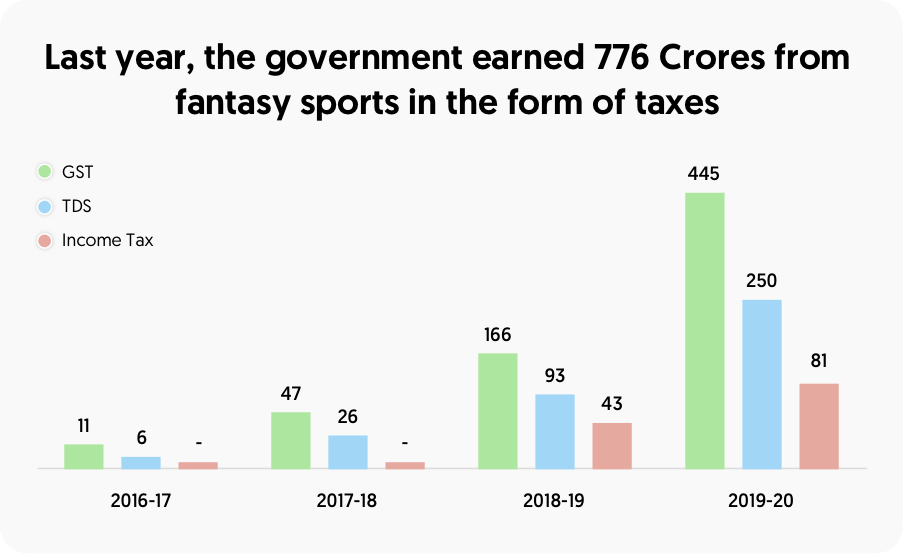 Users are earning more than the FS companies
Fantasy sports play an increasingly important role in connecting fans to their favorite sports. Young sports aficionados are hooked on to this virtual game and are increasing rapidly. The user base of online fantasy sports platforms, including Dream11, has grown from 20 lakh in the year 2016 to 9 crores in the year 2019. With increasing participation, the earnings of the FS players are also growing tremendously. In the last year alone, fantasy sports gamers took home rewards worth 14 thousand crores.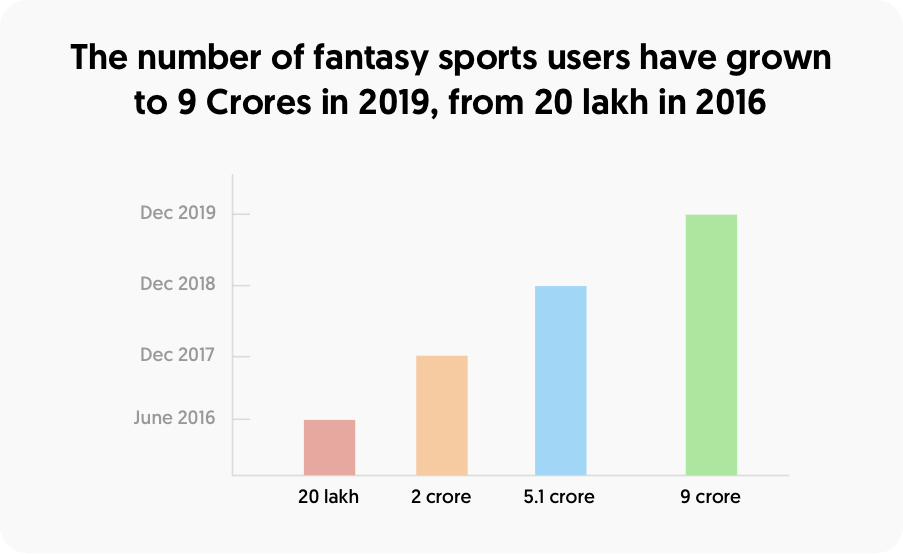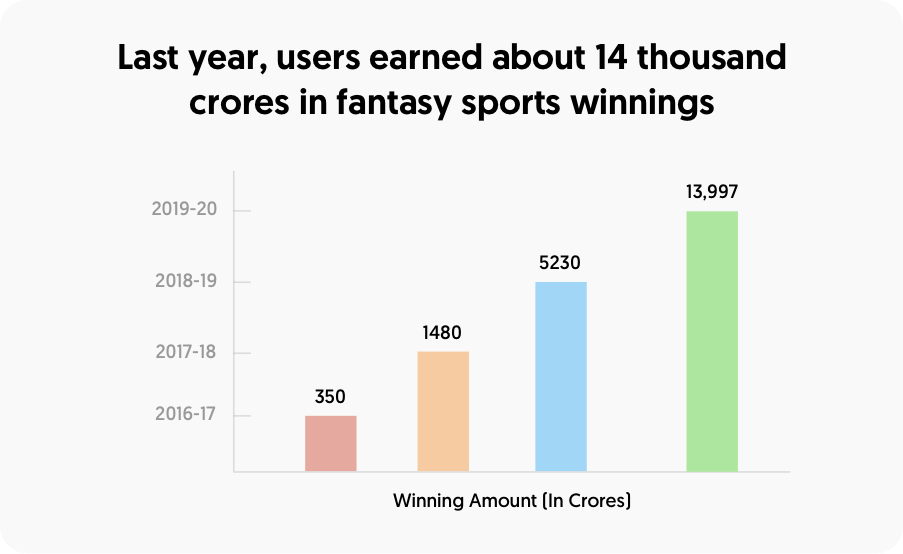 Online fantasy sports platforms are also contributing to the overall growth of the Indian economy through sponsorships, in executing advertising campaigns, building IT infrastructure, among others. Moreover, last year about half of the online transactions on fantasy platforms were initiated from Tier 2 and Tier 3 cities, thereby advancing digital payment proficiency and adoption. Needless to say, the fantasy sports business has created an ecosystem that is lucrative to all parties involved.
Growth in employment
Fantasy sports has not only contributed to India's economy but has also created various employment and career opportunities. In the year 2016-17, employment of about 1500 people was dependent on the segment directly and indirectly. Currently, 3,400 people work in the fantasy sports segment and about 5,100 people are indirectly dependent on the fantasy sports market. Needless to say, the fantasy sports business has created an ecosystem that is lucrative to all parties involved.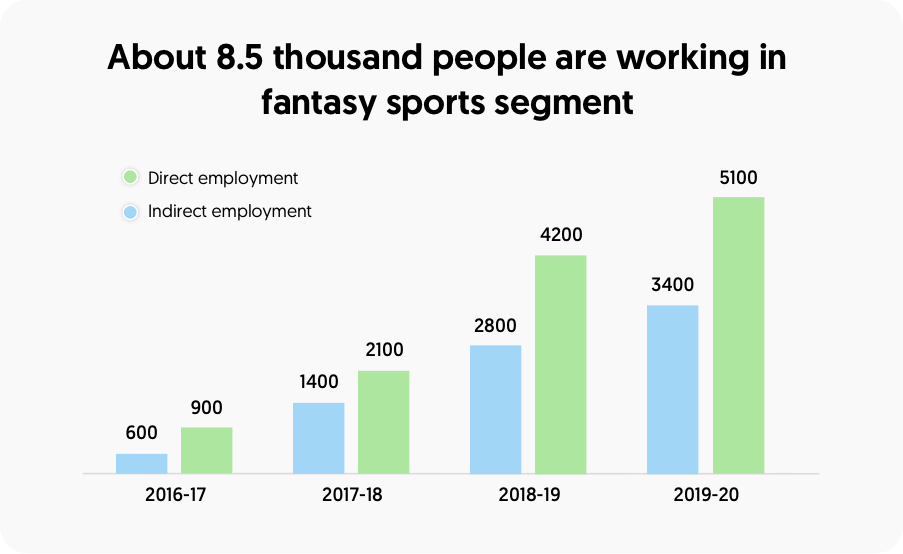 Cricket is dominant among other sports
With the introduction of multiple sporting leagues in India, fantasy sports are now widely played across cricket, football, kabaddi, and basketball. Though 77% of the users enjoy playing cricket the most, the number of users in other games is increasing as well.
These users are independent, working professionals with disposable income who view fantasy sports as a means for entertainment as well as a crucial part of their sports experience.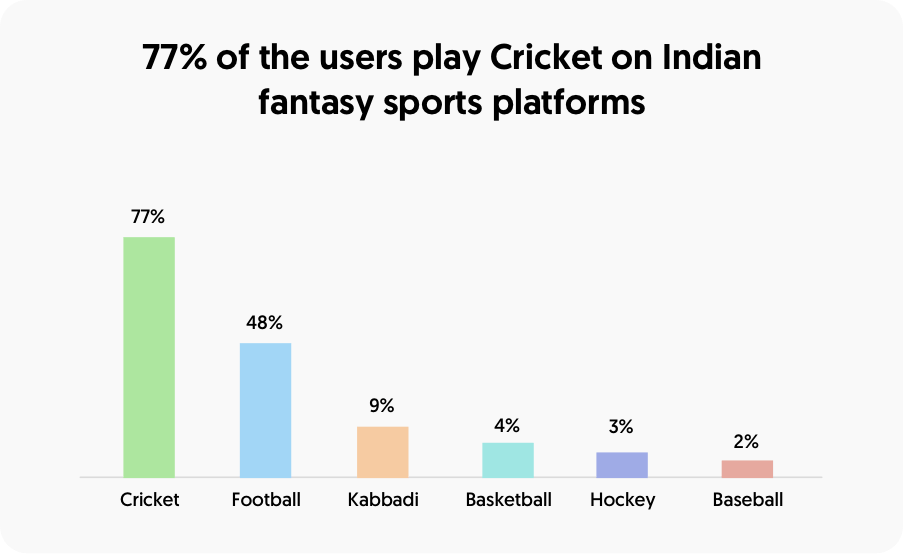 Women in gaming
The Indian fantasy sports market has grown at an exponential rate in recent years. Despite the notion that gaming is linked with men, YouGov data shows that active engagement comes from women.
According to the research, one-third (34%) of urban Indians claim to have played online fantasy sports for money in the previous month, with female players outnumbering males almost equally (35 percent men vs 32 percent women). Furthermore, nearly three-quarters (28%) of urban Indians indicated they plan to play fantasy sports for money in the next 30 days, with more than a quarter of women (26%) stating the same.
Online casino slot games and online poker appear to be popular among urban Indian women, with about a quarter (23%) reporting that they played these games for money in the previous month. Dream11 has emerged as the most popular app among women for playing money games online. The app is used almost equally by men and women (43% vs 39%).
In India, a third of female fantasy players spend less money (up to Rs 1,000) on fantasy sports games on a monthly basis (33 per cent ). Almost one-fifth (21%) said they spend between $1,000 and $10,000 on online fantasy gaming, while only 16% said they spend more than $10,000. this group of women is more likely to be married with children (56%) and live in tier-1 cities (52 per cent ). A considerable majority of them (44%) are between the ages of 30 and 44 and hail from middle-income families (45 per cent). They are more likely to live in India's north and south (32 per cent and 27 per cent, respectively).
Fantasy sports- The best investment opportunity
India's online gaming industry is still in its infancy. Fantasy Sports was one of the first well-known pay-to-play games, laying the way for a massive expansion in India. It is one of the most rapidly growing gaming markets. Access to affordable internet, the greatest adolescent population, and a number of other factors have all contributed to the industry's rapid expansion.When compared to other nations, the current levels are quite low, and it is predicted that by 2024, the whole market would be 10X the current size in terms of money spent on fantasy sports. Fantasy Sports has developed an entire sports ecosystem in addition to increasing consumer engagement.
Sports betting was legalised in the United States, and within a year, the industry's earnings had surged. If sports betting is permitted in India, the current fantasy sports operator will have an even greater chance to develop their user base. It also opens up acquisition opportunities for large betting companies throughout the world, who will see India as a potentially profitable market.

Fantasy Sports has not only increased the interest of users but also spawned a whole sports ecosystem. Prompted by the emergence of technology, digital payments & investments, FS has converted viewers into dedicated sports fans & is contributing to the growth of sports culture in India.
We at Vinfotech, are in constant pursuit of evolving alongside the industry and invent at the boundaries of technology to facilitate a stronger fantasy sports business. Our commitment to providing you a high-quality solution will elevate your users' game experience whilst increasing your revenue.
Contact us and we will be happy to help you galvanize the opportunity and fulfill your aspiration of becoming a fantasy sports entrepreneur.