Gamification simplified the method of interacting with fans. Gamification has evolved from the concept of using badges, points, and leaderboards to maximise interaction into an increasingly effective marketing tool.
As the Fantasy sports industry continues to grow by leaps and bounds, managers and marketers running these platforms have found creating constant engagement with fans increasingly challenging. This has made growing a business and accomplishing targeted revenues difficult as well. So in recent years, fantasy sports marketers have deployed an array of tactics in a bid to better engage their users with varying results.
In this process, most successful OFSP's have understood the value of fan engagement, community building and gradually taking a prospect from the need stage to the buying stage. One tactic that has assisted in this evolution in an ingenious manner is the technologically intuitive strategy of Gamification.
What is Gamification?
Gamification involves the use of game mechanics in a non-game activity in an effort to make the game more engaging. Such game mechanics include virtual currency, achievement badges, contests, leaderboards, rankings, points, levels, and much more.
Although initially met with widespread skepticism, the reception for Gamification has become warmer in recent years, especially in the fantasy sports industry. Today it is a trusted marketing practice that has transformed the manner in which fans interact with their selected teams.
Such increased investment by fans is essential if a fantasy sports business seeks to beat its competition, grow consistently and make a killing when it comes to revenue generation.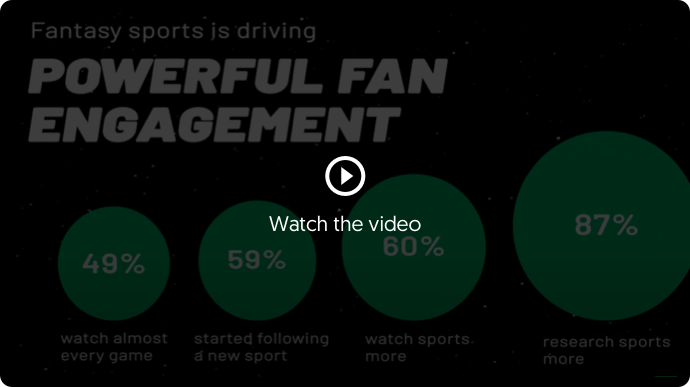 Understand the Fantasy Sports Market in India
India is a country of die hard cricket fans who will not think twice before indulging in some cricket-related content. Businesses like Dream 11 understood this and have accomplished colossal success as a result. There are a total of over 200 million cricket fans in India.
According to a recently published IFSG report, fantasy sports platforms in India have grown by 200% since 2017. A major credit for this growth is attributed to the Gamification tactics being used by such platforms to make their offerings appear more competitive, and as a result, more interesting to prospective users.
Current Trends of Gamification in India
Apart from Fantasy sports, gamification is also being used by other industries as well to deliver their message and interact with fans effectively.
Indian brands have not only acknowledged the value Gamification holds, but are also widely adopting them in their own marketing strategies. Around 10% of campaigns designed by the mobile marketing platform Vserv are based on gamification.
Brands like Horlicks launched an augmented reality-based game to improve their brand recall, as a result of which the brand saw a rise of 2.5% in their click-through rate.
The use of gamification is only expected to rise in the coming years as Internet connection speeds become faster and smartphone penetration becomes more pervasive in the country.
Now let's jump to the meat of this article and look at the 5 best Gamification strategies that can be used to grow your fantasy sports app or website.
1 – Social Proofing with Gamification
Users, especially in India prefer to first test their products before they pay for them. However, you can't possibly touch or experience the service first-hand when paying for an online service. This is where social proofing comes into play. In the absence of actual tangibility, one can employ visual and word-based social proof to earn the trust of their prospects.
Social proof can be deployed in the form of reviews, ads, and a full-fledged website or app. Gamification only allows you to enhance the quality of your social proofing activities. By using the gamification model, users can be encouraged with points, badges, and ranks to post comments, forward recommendations, and give or share a positive review. This is a good strategy to attract new users to your platform. Users can also be enticed with discount coupons for sharing promotional campaigns online on your platform's behalf. Furthermore, competitive users can be lured by higher rankings on leaderboards for being consistent in social sharing.
Social Proofing allows one to boost user engagement, create a giant list of positive reviews for your brand and design an enticing message for your target audience.

2 – Freemium model
Freemium has become one of the dominant business models among internet companies. Users can get basic features of the app for no cost but charging for rich functionalities can be a good idea. Your free features will be enough to entice your fans to want more from your app, and this will be enough to see your premium features gain traction.
You can introduce free to play contests on your platform and offer winners with coupons, merchandise, or game coins to boost their confidence and build their trust in your platform. According to a report shared by KPMG, 54% of the users play fantasy sports for free and the opportunity to win money is the biggest motivator for 30% users of Indian fantasy sports platforms. Big brands like Dream11, Myteam11, Fantain also work on freemium business models & their fame speaks for their success.

3- Introduce Bargains or Bids
Who on this planet doesn't like a great deal? Sports fans are enthralled by merchandise. Consider how you could sell your products through your app, but in a new way. Consider the fans haggling for a piece of merchandise. They can, for example, click on a button that says BARGAIN, and the item's price will drop as a result of their action. Now comes the fun part: the fans will share the item's connection with their friends who also use the app, and these friends would negotiate on behalf of the original sender of the link.
This can also be done with bids and by virtual game currency like coins. Enable users to bid for a piece of merchandise between a certain price range, but with a twist. Despite considering the user with the highest bid as the winner, ask your users for app referrals. The user with highest referrals wins the bid and gets the merchandise for the cost they bid on.
4- Increase the gamification of your fantasy leagues
Just because it's off season doesn't mean sports fans aren't looking for some action. Introduce new and enhanced immersive features to your fantasy league games on your app to get them hooked. Fantasy leagues are a fantastic and profitable way to make money. It could also serve as a revenue stream if you could only allow a collection of players to be freely available and pitch the more talented, experienced, or in-form players as premium, i.e. available at a cost.
5 – Brand Marketing with Gamification
If Gamification was being exploited extensively for any purpose today, then it would be to optimize an organization's brand marketing strategy. Introducing gaming elements like rewarding participants for their action can make the marketing campaign more captivating and interactive.
Advertising is without a doubt the most effective way for a sports team to generate sales. As a marketer, if you can capitalise on this reality and gamify the promotional experience by incorporating product placements, you'll have a leg up on the competition. Imagine putting the advertisers' goods in such a way that they don't interrupt the fans' experience while also delivering what the advertisers have promised. A gaming app with banner space for advertisers like hoardings shown inside the stadium during the game is an example.
Thus, Gamification naturally improves the interaction between users and brands. Constant interaction can eventually result in the strengthening of one's brand. It is in the best interest of a business to share more content that can potentially increase engagement with fans.

6 - Trivia
There's a lot you can do with trivia now. The sky's the limit when it comes to asking questions about teams or players, as well as the game itself. Making the sponsors backup Trivia might be a good and simple way to monetize it. Your winners may be eligible for free tickets or merchandise provided solely by your sponsors.

7 – Gamification for Your Team
A business grows not only with an increasing user base but also with the joint effort of all involved behind the scenes of your fantasy sports platform. Your business teams, especially in the sales department are equally responsible for the growth of any business. So you would be well-advised to keep them happy, satisfied and motivated. Gamification helps you accomplish just that.
Almost 72% of employees around the world have claimed that gamification inspires them to work harder. Almost 95% of employees like to use gaming-inspired elements in their work. Leaderboards can be created to rank your team members on the basis of their performance. This will encourage them to work in the interest of your business. You can set targets for your sales team. Achieving these targets can be rewarded with ranks, digital badges, and points.
Understanding Intrinsic Motivation is Key to offering a Compelling Gamified experience.
Now that you know what Gamification is, it is also imperative to understand how it can be implemented effectively to boost engagement. Although Gamification pertains to application of game-like mechanics, there is more to a good gamified experience than the offering of mechanics like badges, points and leaderboards.
The game mechanics you employ should offer an intrinsic kind of joy to the player. It should engage the player cerebrally through a well-conceived progression system that rewards them for their indulgence. The game-like mechanics should imbue a feeling of personal transformation in the gamer. In other words, a compelling gamified experience puts strong emphasis on character transformation. The mechanics employed like points or badges are just markers along the way to the actual goal.
To better understand the importance of considering 'Intrinsic Motivation' while gamifiying your business, let's take some excerpts from the book Drive by Dan Pink as an example. The book states that in order to offer an actual engaging experience, you must harness a user's genuine motivations.
The book further claims that Intrinsic Motivation has three key ingredients. They are – Autonomy, Mastery and Purpose.
1. Autonomy
This refers to the user harboring feelings of control over their own destiny.
2. Mastery
This refers to the user's feelings of getting better at something through persistence.
3. Purpose
This refers to connecting or relating to a shared cause, a cause that the user believes is bigger than them.
It is important to understand the above three aspects to decipher what makes a customer click. Understanding a Customer's Intrinsic Motivation will help you engage with customers in a more compelling fashion, which can result in customers cultivating a positive perception about your business.
Dream 11 is the perfect example of a platform that has understood the Intrinsic Motivations of its customers and harnessed it effectively to their advantage.
Dream 11 exhibits Autonomy by allowing its users to pick players for both the teams and build a team with a budget of 100 credits. The user is expected to rely on their knowledge of sports to create this team. They earn rewards when their prediction about a player's performance gets better. The players get a sense of Mastery in the fantasy sport as they get better in their game.
Moreover, when people have the autonomy of building their own team, they develop an affinity to it. This feeling of connection between a player and the team they've created can be defined as Purpose.
Suffice to say, Dream 11 masterfully harnesses their customer's intrinsic motivations to better engage with users on their platform. This is just one of the reasons why this fantasy sports platform is a behemoth in India.
The Bottom Line
Many had their concerns with Gamification when it was first introduced to the world in 2008. As technology advanced, more and more businesses have realized the importance of this model in the maintenance of healthy user engagement. Introducing gaming mechanisms into fantasy sports apps and websites is a proven way of ensuring your platform attracts more users and grows into a revenue-generating behemoth in the process.
If you too seek to gamify your business, look no further than Vinfotech - a real-money game development company that has helped many companies realize their desired goals in the OFSP industry. We possess the experience, insight, and resources needed to help integrate state-of-the-art gamification mechanics that are guaranteed to provide an engaging experience to your customers.