Millennials, depending on which endpoints you use to define the generation, account for some 75 million Americans and roughly 2 billion people worldwide. They are difficult to reach, and it's hard to get their attention even when you do reach them
Most of the leagues must have now realized that for them to survive, they must court, foster, and cultivate millennial interest in their brand. Alienating millennials today would be their biggest mistake or rather it could certainly lead to plummeting their brand equity and popularity. Maybe that's why a lot of teams and leagues are pouring their energy into figuring out how to attract and retain millennial fans. That's easier said than done, of course.
Younger generations have so many other entertainment options at their fingertips now that leagues are fighting for their attention and, in many cases, losing. There isn't one magical solution for creating life-long loyalty and fandom. If there was, how great would it be? However, a few basic strategies might help teams and leagues forge a path toward stronger connections with millennial fans.
Different fan-engagement strategies to make Millennial fans stick to your brand
Digital technology in sports has brought fans closer to events than ever before, but the channels and methods of engagement are vast and many.
Content
In today's fast-paced world, we consume content much differently than we did just 10 years ago. But in this particular period, millennials are demanding the freedom to consume content on their own terms. And that league that will provide millennials the content which they want, when they want, and most important where they want, is going to win the game. First of all, let's start with the Content They Want!!
1) Contextualized Content
Opening accounts in local languages on local platforms of choice, adapting the content according to the requirements of that platform, and building the right content strategies using local market experts have opened new doors for leagues to better engage and personalize the online fan experience. Arsenal FC's Facebook page by the name Arsenal Hindi is the best example when it comes to contextualizing content.
2) Fan-focused Content
Your content can't just be informative, useful, and engaging, it has to be relevant to the taste of your fan at that moment in time when it is consumed. That's the only way your message in a bottle is going to be opened. It is not as difficult as it looks. Instead, it will become very easy once you shift your focus from your league and pay attention to what your fans really want. This will increase engagement, help in strengthening the relationship between fans and your league and ensure they keep returning to the site.
3) Athlete-led Content
Fans prefer to connect with concrete players rather than the club or league. Fans view athletes as role models and ambassadors for their teams. That's why some players are a lot more popular than the team, club, or organization they represent. For example, Paris Saint-Germain's forward Leo Messi has 293 million Instagram followers, while his club is followed by "only" 54 million people.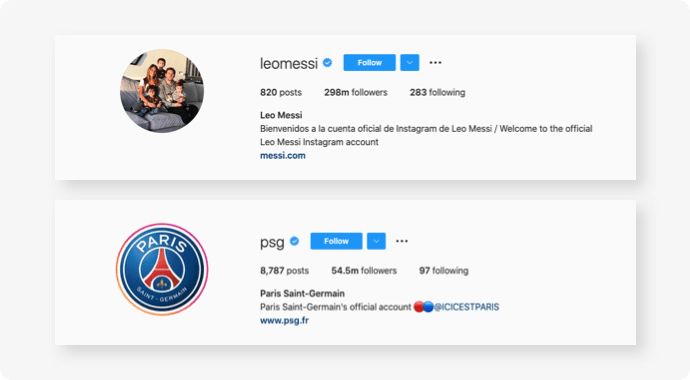 What the NBA already understands yet so many other leagues still miss, is the value of powerful player-generated content in engaging fans. This is also known as personal branding activities.
The best method to build engagement and awareness for your brand among the fans is to let your "heroes" create genuine content for you.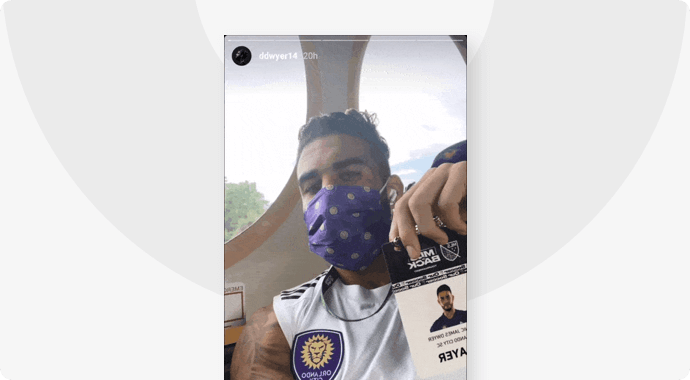 Picture credit: @sproutsocial.com
To leverage athlete power, leagues or clubs should share videos on Virtual player meet, Home workout classes, Interviews with players, Fan parties, and Hashtag challenges. Also, players too can share videos of their day-to-day lives and behind the scenes. Athletes and teams alike should take full advantage of this kind of content to stay fresh in the minds of their followers.
4) Leverage Video Content
There can be no better example of user engagement through video content than NBA. Every evening they post videos called "Top 5 Plays of the Night". Also weekly they share videos of highlights presenting "Top Dunks", "Ankle-breakers" and many more. They didn't stop here though. During a match, they cut out the most interesting pieces of the games and immediately post them on their social media channels which allows them to quickly go viral and generate a huge number of viewers.
Leagues should create videos of various lengths and formats to cater to different audiences. Behind-the-scenes, live streams, short athlete interviews, game recaps, 'Best moments' videos, 'Top 10' countdowns are some ideas for video content. If you are not using video content to promote your league yet, then you are missing out on the best means to engage your audience.
Social Engagement
Do you know that Millennials spend an average of 2 hours and 38 minutes on social media per day? Also, they divide their time between several different platforms rather than sticking to just one. So a league should have a combined strategy to cover all the social media platforms where their fans are present to stay ahead in the game.
Much of what makes sports so buzzworthy for social media is the fact that games happen in real-time. And so anything leagues can do to capture and encourage those real-time engagements is a plus. Some popular tactics for doing so include:
Live Tweeting events such as games, press conferences, or drafts
Providing fans with a team or game-specific hashtag to publish to
Gathering fan feedback via polls or Q&A sessions on Instagram or Facebook Live.
For example, let's check out how Tottenham Hotspur uses both Twitter and Instagram to build hype during a match. Using their #COYS ("Come on you Spurs!") tag, the team Twitter account posts firsthand videos to share with fans. Meanwhile, they provide play-by-play updates, stadium footage, and goal announcements through their Instagram Stories. Also, fans are likewise encouraged to vote for their favorite players after the match is over to keep the hype train going.
A screenshot of Instagram story of Tottenham Hotspur @Spursofficial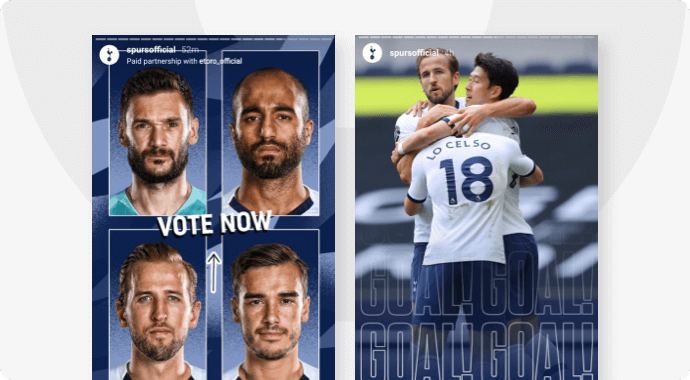 Picture credit: @sproutsocial.com
Exploring new technologies
Unlike members of every generation before them, Millennials are always drawn to the next big and innovative thing. That's why many professional leagues are increasingly looking towards new and emerging technologies to bridge the gap and tap into a wider audience. These include live-streaming, OTT, video-on-demand, VR/AR simulations, artificial intelligence, and blockchain, which have opened up new and innovative ways to reach a younger and more digitally-savvy fan base.
Live-streaming Platform:- Paris Saint-Germain soccer club has used their Twitch account for broadcasting live commentary during a PSG vs. Bayern Munich match from the club's Match Center.
A screenshot of @PSG live stream on Twitch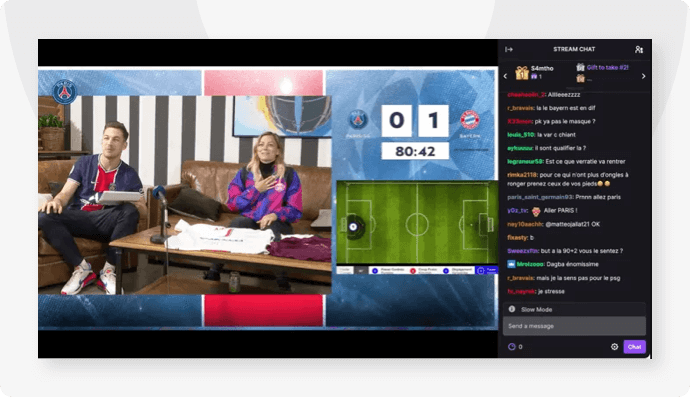 Picture credit: @objectstyle.com
OTT Platform:- Amazon's 'All or Nothing' series has also proved that with greater demand for content, several sports leagues and teams are opening up their doors to let fans in to see more behind-the-scenes. This series had been hugely successful and had featured several sports teams such as soccer's Manchester City, Tottenham Hotspur, and many more.
VR/AR simulations:- The "Pose with the Pros" photo booth put up by the Dallas Cowboys at AT&T Stadium in Texas is a great example of AR/VR-supported activities that are so engaging and get fans talking about your club to their family and friends.
Photo credit: @ATT
A platform to give fans a voice
To harness the unfettered power of Millennials in the 21st-century marketplace, leagues must understand that fans not only want to be confined to consuming content only, rather they want to have a direct impact on things or they want to be in control. Many sports brands nowadays allow fans to influence brand choices, player drafts and transfers, and even in-game decisions as a way to increase engagement. You can allow your fans to have a say in:
Brand decisions (brand style, sponsors, donations)
Team decisions ( official appointments, player drafts)
Venue decisions (food, performers, music, etc.)
Your fans need to feel heard and by providing a platform welcoming their feedback, suggestions, and feelings, you can win them for life.
Gamification and Fantasy sports
Did you know that 77% of Millennials play online games? Or that they spend more time gaming than on any other form of entertainment?
The average amount of time that Millennial gamers spend playing games per week is 6 hours and 50 minutes. Hence, many sports leagues need to pay attention to this important trend.
By effectively utilizing gamification platforms to engage consumers, sports leagues are ideally positioned to connect with their audience in a deeper manner than ever before, leading to a new world of possibilities.
Here are 5 amazing gamification ideas to add to your fan engagement strategy
1. Trivia:- If you are new to the concept of gamification, a trivia quiz is the best option for you. It is one of the easiest ways to add a layer of gamification. The competitive element can be added by implementing points, a timer, and leaderboards into your quizzes that enhance the experience.
2. Sports Predictions:- Fans enjoy the thrill of predicting how a sports match unfolds on the field before or during a live game. And communicating their predictions with other fans live through chats, messaging boards, etc, gives fans the chance to connect and share their passion for sports across real and virtual worlds. And the joy they experience when their prediction is right is second to none!
3. Fantasy Sports:- Fantasy leagues are a powerful gamified experience to drive high engagement amongst new and existing fans. Being one of the most prominent gamification examples in the sports industry, Fantasy sports bring fans together to invest time, money, and passion in a fan-to-fan competitive tournament.
4. eSports:- eSports provides a competitive gamified experience where fans play against each other, usually in front of a spectator audience like traditional sports. This type of gamified experience is a powerful tool for reaching a global fan base. Many sports teams have their own branded and well-funded esports teams; some official leagues have their official eSports leagues.
The French LFP, for example, was the first major domestic football league organizer to create and run its in-house virtual league with over 100,000 players and 32,000+ engaged social media followers.
5. Sports Betting:- Many sporting organizations harness the sports betting industry to increase awareness of their brand and drive sponsorship. With prediction bets, sports fans who feel they have an added skill advantage are enticed to engage with their betting product and, in turn, spend even more time following the leagues to learn more about their brand.
So in this blog, we've discussed different strategies to drive user engagement for your sports league. Still, gamification is and will continue to be a mechanism to increase engagement with a larger audience before, during, and after match day.
The league can speed up its growth by simply providing fans a great platform to discuss, play, comment, and enjoy the sports matches that happen each season.
At Vinfotech, we have a great framework ready for such engagement platforms and have a long list of its successful implementations like Arabian Gulf League, MyFFPC, Professional Darts Corporation, who by using this framework took their fan experience to a whole new level.
Want to see how Vinfotech can help you integrate gamification into your fan experience to drive revenue and engagement? Let's talk.