Between the months of May and November, there are five important world cups happening. Read how to engage these fans.
Yeap you heard that right! There are five world cups happening between May and November 2019 and it's about time you did something about this. Let's start with naming these world cups-
# ICC Cricket World Cup
# IRB Rugby World Cup
# FIFA Women's Cup
# FIBA Basketball Cup
# Netball World Cup
Imagine the opportunity these cups present before sports brands and associations along with other companies to engage fans before, during and after each of these cups. If there was a full dedicated year of a Jack Pot, this is it – the year 2019. The experiences that you can create and the fan interactions that you can generate from these five world cups can be massive. Out of the five world cups, two are based on some of the most followed sports in the world – football and basketball. Cricket has a sizeable following with one billion cricket fans around the world, 90% of which reside in India.
What can you do to engage fans of 2019 world cups?
Give the fans a 'part of the team' experience
Noted British Premier League team Manchester United, while unveiling its 2016 jersey, involved fans in an unthinkable way. The team gathered fans of all ethnicities, races, countries and shot a video of them marching on the streets singing Glory Glory Man United. The video went viral and created millions of interactions across the globe for both the league as well as the team. You need to think like Manchester United. What are the ways in which you can involve fans and users so they feel part of the team? What offers, discounts can you come up with that also have a chance to win actual tickets or being part of their favorite team?
Pre and post event engagement
Imagine the amount of business and engagement you can generate from five world cups before and after their schedules. Sports leagues, associations, and companies looking for fan engagement can learn from existing ideas that have worked so well in the past. Remember FIFA's Trophy Tours where the trophy travels all over the world and generates attention? You can create events both online and offline around these worlds cups to involve fans from all countries and ethnicities. Online fan engagement platforms specially provide tremendous opportunities for brands and companies to create a massive pre-event buzz around a world cup. Creating fan interactions online doesn't take long but its effect lasts longer than you think. Similarly, you can create online or virtual awards and games around the event testing the knowledge of the fans post the actual event. This creates a long-term branding and engagement and fans remember your brand for a long time leading to sales.
Maximizing in-stadium experiences
The center of any world cup would be the actual world cup, nothing can beat that. There would be millions of fans inside the stadium and 10 times more than that number would be glued to screens for watching the games. Companies should create in-stadium fan experiences to get the attention of both fans. Prediction games, quizzes, fantasy sports etc can be created to compel fans watching the game both inside as well as outside the stadium. Fans today carry their devices along with them while watching a match live in a stadium, use the breaks, use the commercial intervals in order to engage them in online activities.
A word about women's football
According to a report by the BBC, football and self-confidence were closely linked among women. The research said, "80% of girls that are involved in football said that playing made them feel more confident and 58% said they had overcome a lack of self-confidence as a result of playing football." This is how women's football is making women feel and fans are most likely to feel the same. Companies aiming at engaging fans for FIFA Women's Cup have a tremendous opportunity for creating fantasy platforms or fan engagement interactions that revolve around both football and self-confidence.
Some examples of fan engagement platforms
Brand activation – Premier League Badminton
Funtasy11 was the first to introduce fantasy badminton in India, the fantasy sports app development for Premier Badminton League. The company chose Vinfotech for building the application. We realized that fantasy sports players, in general, are always looking for something new and even fantasy cricket players would be open to playing fantasy badminton if the game plays were interesting. We kept fantasy games and prediction at the heart of the platform along with providing news and updates about various badminton leagues.
Re-branding through fan engagement – Arabian Gulf League
The Arabian Gulf League (AGL) is the top professional football league in the United Arab Emirates (UAE). The League was founded in 1973 as the UAE Football League and was renamed to what it is today in the 2013-14 season. Fourteen clubs compete in the League that operates on a system of promotion and relegation with the UAE First Division. UAE Pro League Committee - that holds all the commercial rights - realized that the league was still operating traditionally and needed better recognition and connectivity from millennial and Gen-Z fans. For creating a fan engagement platform, they hired Vinfotech that built an interesting fantasy football website design & app development around the league. This helped the league win new fans and give old fans a completely different playing experience.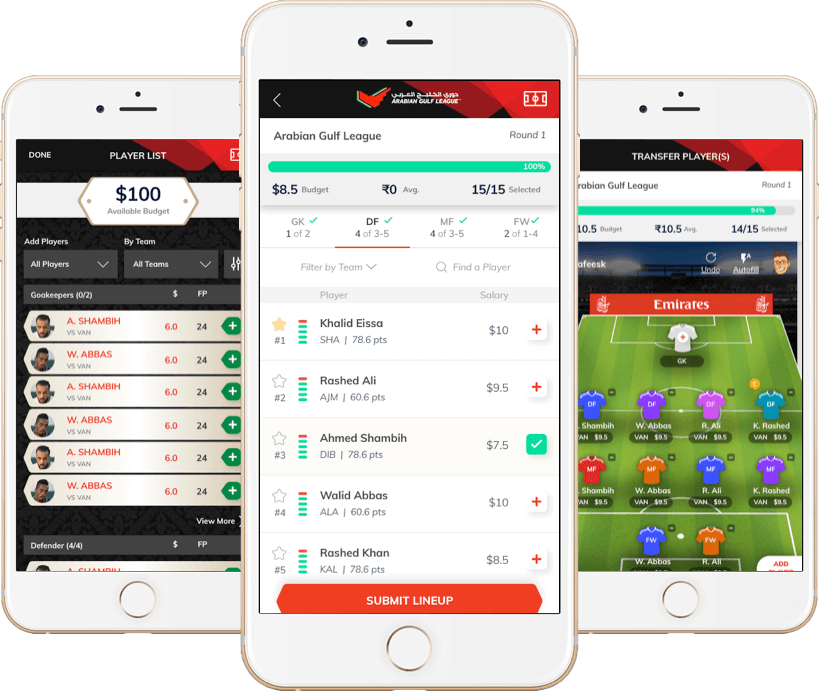 Vinfotech loves fantasy sports platform development for fan engagement and jumps at the challenge of creating such platforms for companies around the world. With more than eight years of experience in the field, we have helped sports and non-sports brands in brand activation, customer engagement, fantasy sports website design and gaming hub platform development. If you are someone who wishes to make the best of the give forthcoming world cups, give us a call.