New Jersey is where sports betting is legal. Has that affected fantasy sports?
A new report by Fantasy Sports and Gaming Association (FSGA) compared national average in the United States with that of New Jersey about participation in fantasy sports and sports betting. Turns out, New Jersey has a higher crossover between fantasy sports and sports betting, owing to die-hard fans in the state for both the types of gaming.
As much as 52% New Jersians who participated in sports betting said that they had played more fantasy sports in 2018. This percentage is higher than the national average for sports bettors. This is a welcome trend because this means the legalization of sports betting has not in any way diminished interest in fantasy sports.
Sports betting trends in New Jersey

New Jersians prefer legal games
The report also stated that the percent who bet with family and friends and those who bet in the casino was almost equal (39% vs 35%). This shows a clear trend that new bettors are more inclined to seek out legal ways to bet instead of the gray market.
Bookie bettors in New Jersey
The core bettors among New Jersey Sports bettors are Bookie Bettors. These bettors deposit more money frequently ie. more than 2-in-5 deposit weekly. They also deposit a lot more money in their accounts on an average in comparison. Some of their traits are –
# They value simplicity and efficiency
# They like competitive odds/payouts
# They like good promotions and bonuses
So what's the message here? Legal channels will need to encourage bookie bettors to start betting more legally.
Participation in Fantasy Sports and Sports Betting in New Jersey

Among these, only 7% play exclusively fantasy sports, 25% are exclusive sports bettors and 68% are crossover players.
Change in sports betting/fantasy sports in the past year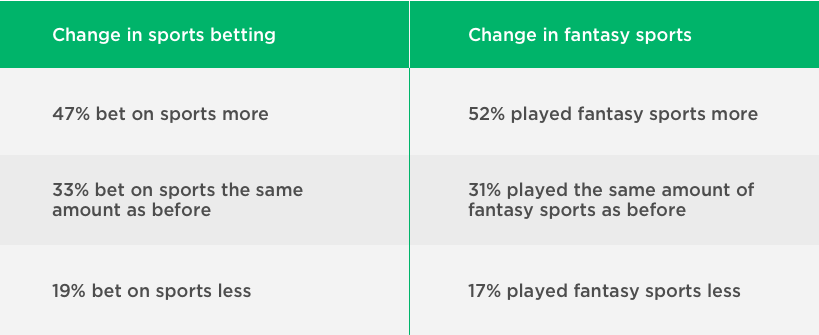 New Jersey indeed seems to have a higher crossover between fantasy sports and sports betting. The percentage is 68%. Thus, those wishing to tap this market must create gaming websites and applications that combine fantasy sports and betting.
Vinfotech understands legal betting and has catered to clients around the world, with specialization in the US market. Our team is well-versed in betting laws along with being experts of fantasy sports game development. If you are looking for a complete fantasy sports product or sports betting product, we can help you build and launch the product successfully.
Due to our more than ten years of expertise, our team is able to deliver products with precision and has a deep understanding of millennial and Gen-Z gamers. If you have been contemplating creating a fantasy sports website or custom sports betting platform, give us a call.