India is a country where cricket is not only played or watched, but is celebrated to its core. Apart from being a cricket-crazy nation, we are increasingly exhibiting love for other sports such as football, kabaddi and tennis.
Millions of young sports enthusiasts across the country are now hooked on to fantasy sports Websites & Applications like Dream11, and the number is rising rapidly: 20 million at last count, up from just two million some 18 months ago. And if one goes by industry body Indian Federation of Sports Gaming (IFSG) and KPMG's report titled 'The Evolving Landscape of Sports Gaming in India', the user base will cross 100 million by 2021.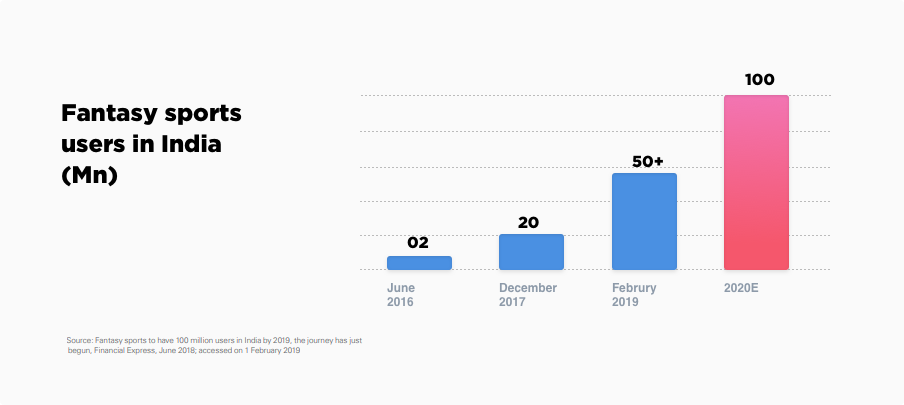 "The underlying factor for this growth is fans passion for deeper engagement with the sport, and a desire to be part of the action," said Harsh Jain, cofounder of Dream 11. "Every person has an opinion about sports and fantasy sports gives these people a right to brag by selecting their team," he said.
With a market opportunity of over $1 billion, there is room for more entrepreneurs to raise the stakes and play their cards right. But how can businessman leverage upon this huge opportunity? The answer to this question is quite simple – by starting a Fantasy Gaming Platform.
Let's try to understand how a Fantasy Sports Platform can be profitable:
1) Paid Contests
Fantasy Platforms have various Free & Paid contests for the users. While the Free contests are for bringing in more users, Paid contests bring in major part of the revenue. By joining a paid contest, user pays an entry fees ranging anything from Rs 10 to Rs 5000. This amount then goes into the prize pool. The prizes are distributed to the winners after removing the site-rake or in simpler terms, the margin of the site.
Fantasy Platforms take home a margin of 20%-30% which is still way better than many other businesses in India.
2) 3rd Party Advertising
Trends show that users tend to visit Fantasy Platforms frequently to check their standings, new contests and to win free coins. 50% of the users visit the platforms at least thrice a week. This opens up the path for 3rd party advertising.

Advertising on such platforms can be quite fruitful for brands as it widespreads their online presence and help them reach out to the right audience. Funtasy11, the official fantasy app of PBL has partnered with brands like Carlsberg to cash-in this opportunity.
3) Merchandising
Other than the real money involved, Fantasy Sports Platform also offers other rewards such as virtual currency in the form of coins and sponsored prizes as merchandise. These rewards can be won by participating in predictions, topping the Hall of Fame and by actively joining the contests. This motivates 47% of the users to actively participate in contests which subsequently brings in more revenue (Source-KPMG)

4) League Partnerships
The rise of online fantasy sports gaming in India is driving a deeper connection between sports fans and real life sports. Fantasy sports has converted many casual sports viewers into dedicated fans. When a sports user evolves into a fantasy sports user, he or she consumes 80 percent more sports (Source-Financial Express). Therefore, by increasing the connection between the live sporting action and fantasy game, fantasy sports helps increase user engagement and player recognition, which in turn facilitates increased league popularity. Hence you will have an amazing scope for partnering with emerging as well established sports leagues.
Having talked about the revenue streams, it's important to understand the costs involved. To set up a Fantasy Sports Platform, you will have to incur the costs of building the platform, hosting it on the cloud and integrating it with data feed providers. Apparently Hosting and Data Feed charges are roughly around Rs 20,000/month but the cost of building the platform from scratch can be humongous considering the men, money and mind required for it.
Here's where we at Vinfotech can help you out with quick deployment of our White-label Fantasy Sports Platform equipped with empowering admin panel, engaging UI, high scalability and robust architecture. Our white-label offering cut-off the major chunk of costs without compromising on the quality and performance. Our domain expertise acts as a cherry on the top by giving you a hand-holding support throughout your journey to success. People with high business acumen generally tend to prefer a business model with multiple revenue streams. If you are one of them, then it's the right time to enter into Fantasy Sports.